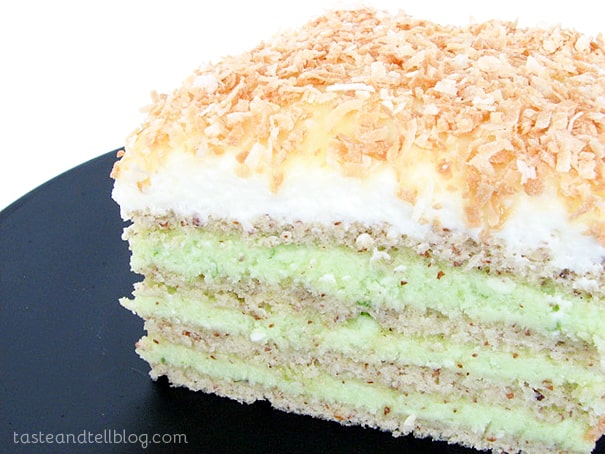 Across the street from where I work, a big 14-screen theater is being built. It's been really interesting to watch – it's right outside the windows, so I usually look up from time to time during the day to watch what is going on. I've never watched something so large being built like I have been watching this theater. I'm not a builder by any means, so I don't know how it all really works, but it seems as if the big concrete walls are poured, one by one, and then just like a gingerbread house, they are raised up to form this big box. I don't know how they get it all to stick together, (but I'm sure it's not with frosting and licorice), but it really is amazing to see it go up.

For some reason this month's Daring Bakers challenge reminded me a lot of the building of that theater. Not that my cake was anywhere near as big, or as heavy, or made of concrete, but it really was a fun challenge to "build".

This month's challenge is an Opera Cake, brought to us by none other than the Daring Bakers founders, Ivonne, of Cream Puffs in Venice, and Lis, of La Mia Cucina. And since the group is so large now, there are two more helpers – Fran of Apples Peaches Pumpkin Pie and Shea at Whiskful.

I had never tried an opera cake before, although I had heard of them. Opera cakes are traditionally flavored with chocolate and coffee, but the hostesses decided to mix it up a bit. We were told we could only use light colors and flavors. I was all about this, since it is springtime and all. They also wanted to honor Barbara of winosandfoodies. I'm sure you all know Barbara and her blog, but she is a cancer survivor and the creator of one of my favorite food blogging events – a Taste of Yellow. And although my challenge this month isn't yellow, I do want to add into all of those other Daring Bakers who are dedicating this to Barbara!
So, to keep this (kinda) short, here's what I ended up with: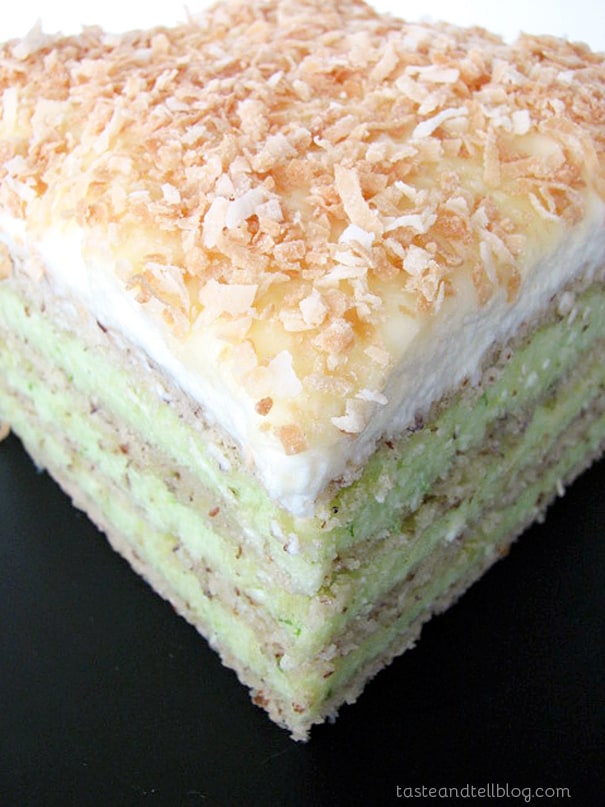 I chose to use coconut and lime as my flavors.
I left the joconde cake plain, using almond meal.
My simple syrup was flavored with coconut extract.
My buttercream was flavored with lime zest and a bit of lime juice (and a splash of color!)
I chose to do the mousse – I left out the liquor, and used just cream and coconut white chocolate
For the glaze, I used coconut white chocolate
I topped the whole thing with toasted coconut.
Since there are only 2 of us, and I have been on a bit of a sugar strike lately, I only made half the recipe. My pan was larger than the one in the recipe, so I had to do some fancy math, but it all worked out. I made my cake a 5-inch square, and had enough cake to actually do 6 layers, but one broke in half, and I decided to just stick with 4. I think I got really lucky, because after the flavor was chosen, I was at the store to buy ingredients, and I came across this coconut white chocolate: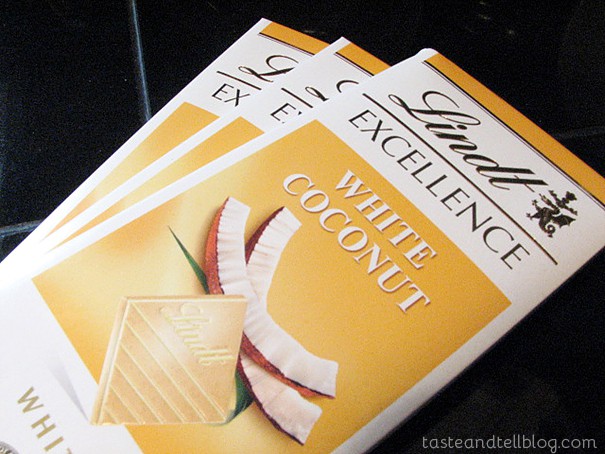 And although my mousse and glaze weren't really smooth because the chocolate had coconut bits in it, it was quite delicious!!
Over all, I had a lot of fun with this. But I do have to say it was a bit too sweet for my tastes. The cake by itself was absolutely delicious, but adding in the syrup, frosting, mousse, and glaze took it a little too over the top for me. But it was beautiful, and there are so many other flavor combinations I've seen out there that I would love to try!!
You can find the recipe here, and make sure you check out all of the other Daring Bakers posts!!