Healthy doesn't have to be boring. This family friendly Southwestern Shrimp and Quinoa Recipe is filled with nutrition and lots of southwestern spice.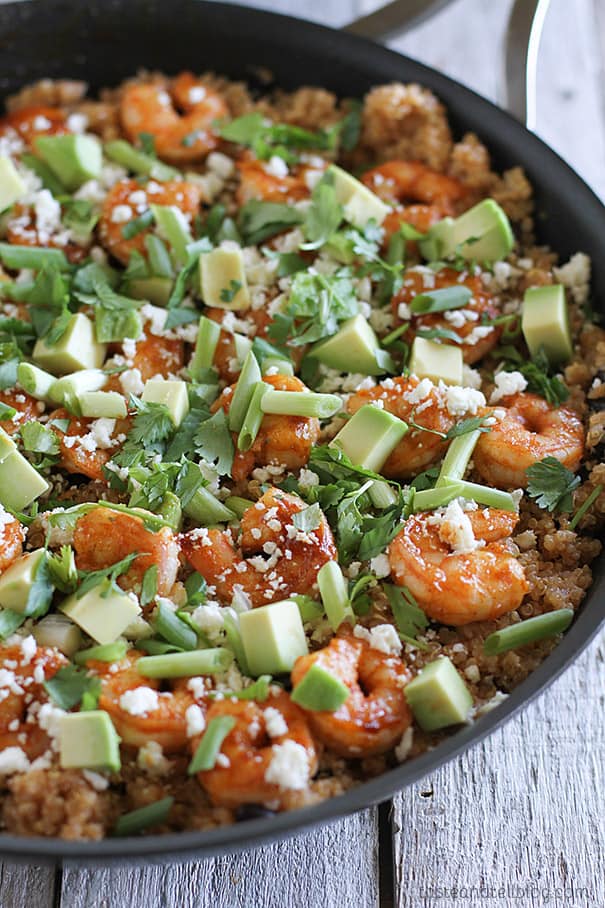 Over 5 years ago, I had my first child. I have never been super skinny, but I loved working out before I had kids. I worked out 5-6 times a week. Then life, kids, and food blogging happened, and while I still like working out, I just don't have the time that I used to have.
And if you are a mother, you know that body post baby is not the same as body pre-baby.
I've been pretty lucky, and I've been able to lose the baby weight after each of my children. But just because the weight on the scale says that my weight has dropped, it doesn't mean that the way my body looks is the same.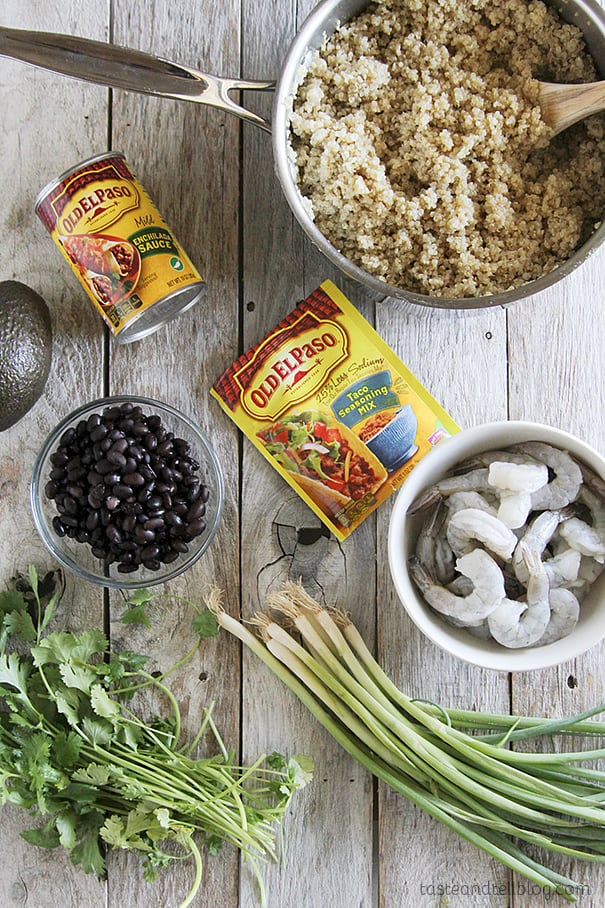 Let me say that I am not "complaining" about what having babies has done to my body. I wouldn't trade my kids for the most perfect body out there. But things just don't look the same, or feel the same, as they did 6 years ago.
And being a food blogger doesn't help. Being a food blogger that wrote a cookbook all about red velvet desserts right after having her third child doesn't help. But I believe in taking care of yourself, and being healthy, even if things have changed.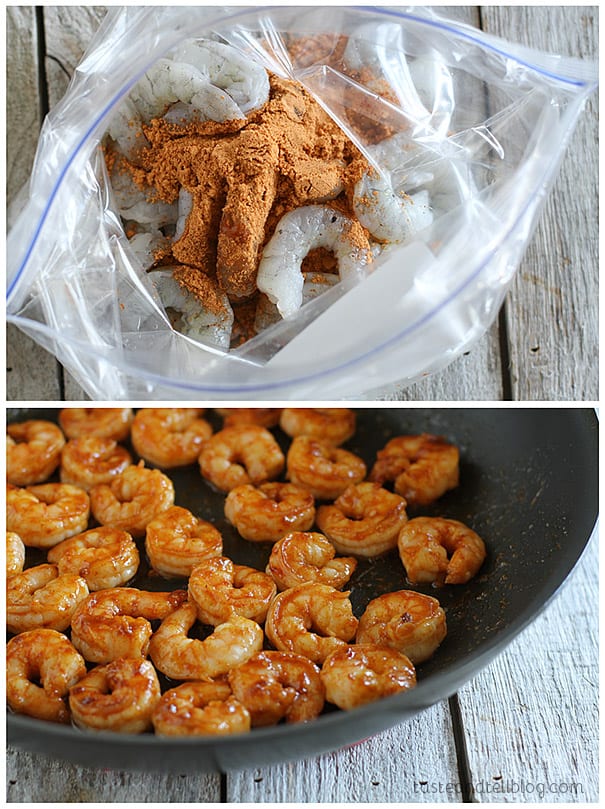 One thing I don't believe in, though, is sacrificing taste for the sake of eating healthy. Bland, dry chicken and a plate of over-steamed vegetables is not my idea of good food. One of my biggest pleasures in life is food, and if you were to take that away from me, I don't think I'd be very happy.
Good for you doesn't have to be dry and bland. In fact, it can be so full of flavor that you'd never even know that you are eating something that is better for you.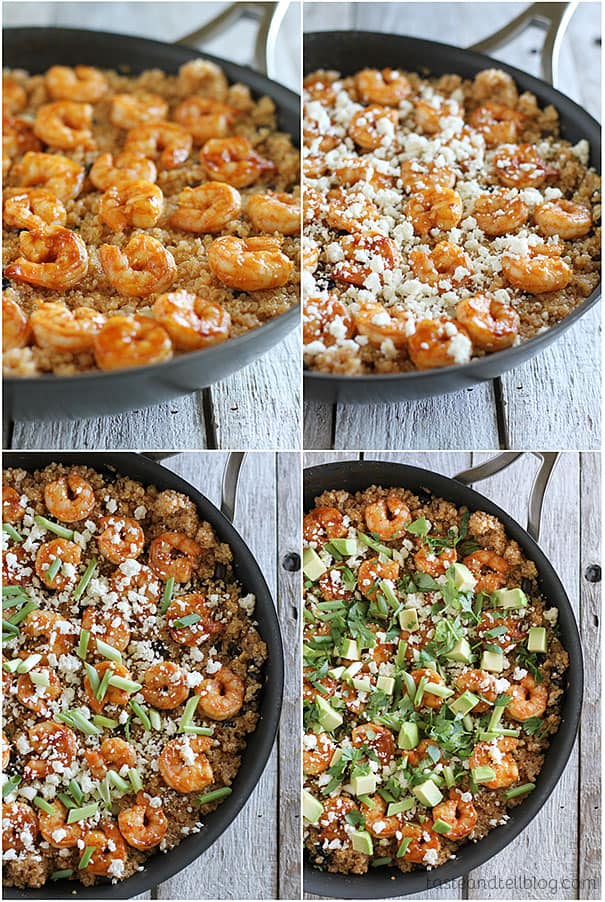 This Southwestern Shrimp Quinoa recipe is proof that eating "well" can be over the top delicious. You all know that I'm crazy about southwestern flavors, and combining them with this quinoa recipe turned out so much better than I imagined.
I start with quinoa, cooked in chicken broth for extra flavor. Then you stir in a can of Old El Paso Enchilada Sauce, which adds a ton of flavor. Talk about a lot of bang for your buck! I love shrimp for so many reasons, one of those being how fast it is to cook. That makes this quinoa recipe not only good for you, but easy enough for a quick weeknight meal. I turned these into southwestern shrimp by coating them in Old El Paso taco seasoning before they are quickly sautéed.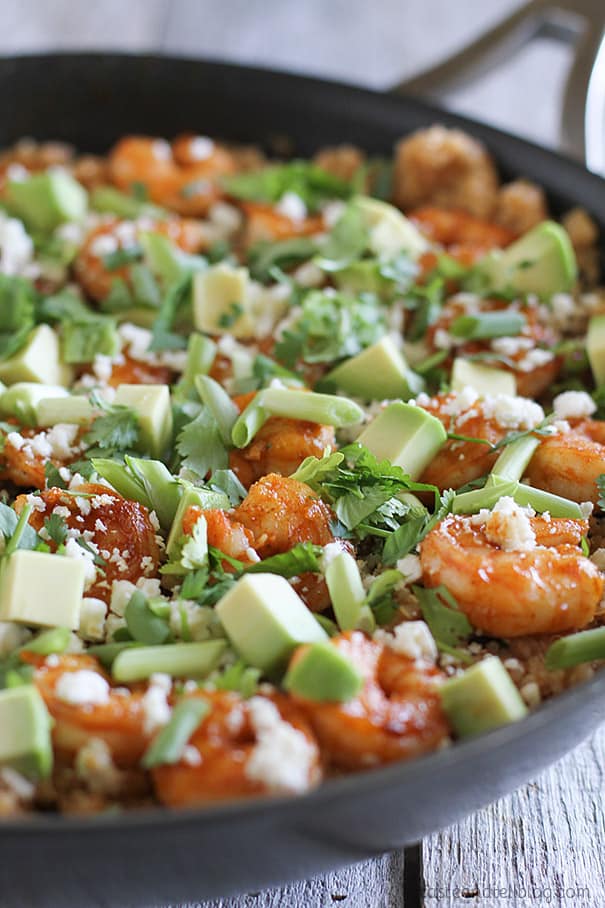 You build this up by combining the quinoa with black beans (even more protein!), then topping the quinoa with the shrimp and lots of fresh goodies. To cut even more calories, you could leave off the cheese and the avocado, but I think they are calories that are well worth it. 🙂
I honestly loved every bite of this Southwestern Shrimp Quinoa Recipe. Even my kids went to town on it. (I'm learning that my kids really do love quinoa, even if my husband still doesn't.) This is a perfect family friendly weeknight dinner, filled with all kinds of good for you ingredients.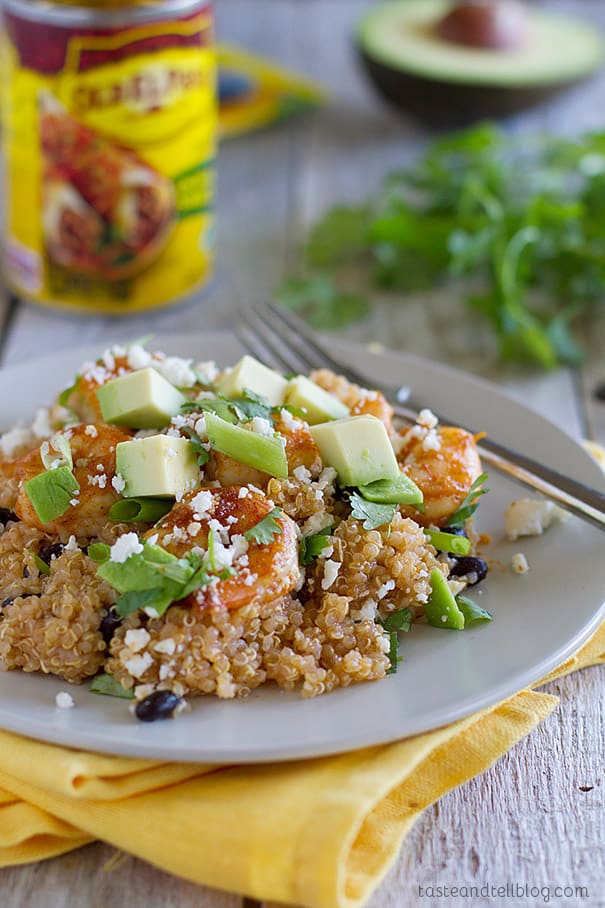 Like what you see here? Make sure you are following Taste and Tell for more great recipes and ideas!!

Facebook ** Pinterest ** Twitter ** Instagram ** Google+
or you can subscribe to my newsletter or Feedly or Bloglovin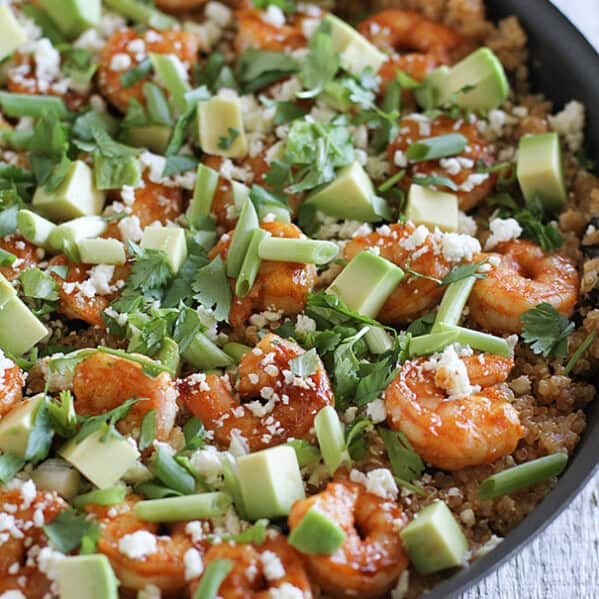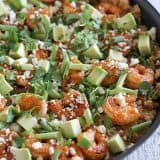 Southwestern Shrimp Quinoa Recipe
---
Prep Time: 15 minutes
Cook Time: 30 minutes
Total Time: 45 minutes
Yield: 6 servings 1x
Description
Healthy doesn't have to be boring. This family friendly Southwestern Shrimp and Quinoa Recipe is filled with nutrition and lots of southwestern spice.
---
Scale
Ingredients
2 tablespoons extra-virgin olive oil, divided
1/2 cup chopped onion
2 cups uncooked quinoa, rinsed
4 cups chicken broth
1 lb large shrimp, deveined and peeled
2 tablespoons Old El Paso Taco Seasoning
1 can (10 oz) Old El Paso Enchilada Sauce
1 can (15 oz) black beans, drained and rinsed
1/2 cup crumbled cotija cheese
sliced green onions, diced avocados and cilantro, for serving
---
Instructions
Heat 1 tablespoon of the olive oil in a medium saucepan over medium heat. Add the onion and sauté until translucent. Add the quinoa and cook, stirring, for a couple of minutes to toast the quinoa. Add the chicken broth, bring to a boil, then reduce heat and cover. Cook for 15-20 minutes, or until all of the liquid has been incorporated. Remove from the heat and fluff.
Meanwhile, heat the remaining tablespoon of olive oil in a large sauté pan or cast iron pan. Toss the shrimp with the taco seasoning in a zip-top bag, then add to the hot oil. Cook until opaque, a minute or two on each side. Remove to a plate.
Add the quinoa to the same skillet the shrimp was cooked in. Pour in the enchilada sauce and black beans. Stir to combine. Top with the cooked shrimp, cotija, slice green onions, avocados and cilantro. Serve immediately.
I am in a working relationship with Old El Paso, and this post has been sponsored. I'm so glad to be able to work with companies and organizations that I truly believe in. Thank you for supporting them, too.