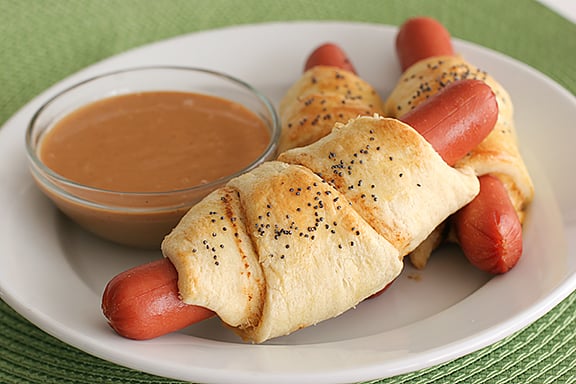 Before I get to the recipe – I just want to let all of you that are subscribers know that I will be updating my blog soon – which includes a switch from Blogger to WordPress.  I'm letting you know now, and I'll make sure and remind you all right before the switch – because I don't want to lose any of you – especially if you follow me via Google Connect.  If you follow via an RSS feed, you should (hopefully) be ok, but those of you that follow through Google Connect will need to update for sure once I've switched.  As soon as I know for sure when the switch will happen, I'll let you know.  But I wanted to prepare you!!
And now to the recipe!  After my trip to the Campbell's Kitchens, I've had football food on my mind.  The Superbowl is getting closer, and if you are like me, the food is the most important part!  So it's time to start planning.  I was searching through Rachael Ray's website, and I came across this recipe.  I think I remember seeing this episode.  If I am correct, Pat Neely made this recipe on her show.  But it is perfect football food.  I love pigs in a blanket, and I loved the addition of the steak sauce in these.  And you can't go wrong with the dipping sauce!  My hot dogs in the picture are really big – for some reason, I bought bun-length instead of regular sized.  But I also think this recipe would be great if you made them half sized so that they were more bite-sized for the big game.
What's your favorite football food?
Cheesy Piggies in a Blanket with Come-Back Sauce
adapted from the Rachael Ray Show
makes 8 servings
1 8-ounce package refrigerated crescent dinner rolls
1/4 cup steak sauce
4 slices American cheese, halved
1 16-ounce package beef hot dogs
1 egg, beaten
1 teaspoon poppy seeds
1/4 cup barbecue sauce
1/4 cup mayonnaise
4 teaspoons Dijon mustard
1 1/2 teaspoons yellow mustard
Heat oven to 350F.
Separate crescent dough into 8 triangles. Brush with steak sauce; top with Singles pieces. Place 1 frank on wide end of each dough triangle; roll up. Place, seam-sides down, on baking sheet. Brush with egg; sprinkle with poppy seed.
Bake 10 to 12 min. or until golden brown, Meanwhile, mix all remaining ingredients until well blended.
Serve franks with sauce.