Truly indulgent, these Enchilada Steak Fries are an adaptation of of the popular San Diego treat – Carne Asada Fries. French fries get topped with steak, guacamole, sour cream and pico de gallo for the perfect southern California dish.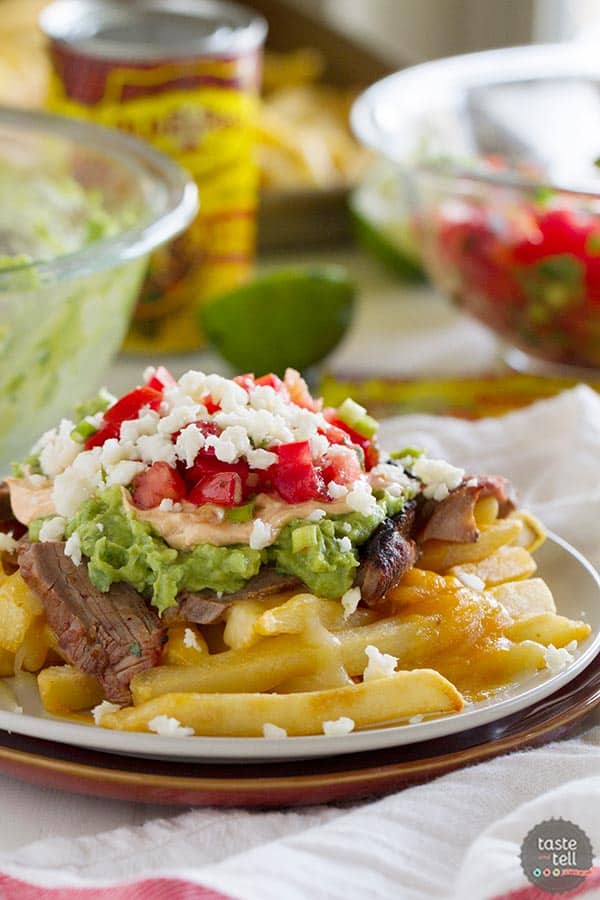 So, you all know that I'm pretty passionate about food. And I'm pretty passionate about travel. So what do you get when you combine the two? Pretty much what my dreams are made of!!
If you've been following me for awhile, you'll know that I love me some Mexican food. And last year, I partnered with Old El Paso to bring you all kinds of great Mexican-inspired recipes, like Easy Breakfast Tostadas, Taco Stuffed Potatoes, and Jalapeño Stuffed Taco Soft Pretzel Sticks, just to name a few. And I'm excited to share that I have signed on for another year of Mexican food bliss with Old El Paso! It is such a perfect partnership since our menu practically revolves around Mexican-inspired food.
A little while back, I headed to San Diego to meet up with the team of bloggers. Which means we spent a day at some of San Diego's best, authentic Mexican restaurants. (Remember our Taco Tour last year in Austin?) Getting to know a city through its food is one of my very favorite things to do, and we definitely feasted that day. (More to come on the tour tomorrow!)
I was so inspired by so many of the foods we ate that day that I went home with a notebook full of ideas – recipes that I wanted to try. But there was one food in particular that I knew I wanted to make asap as soon as I got home.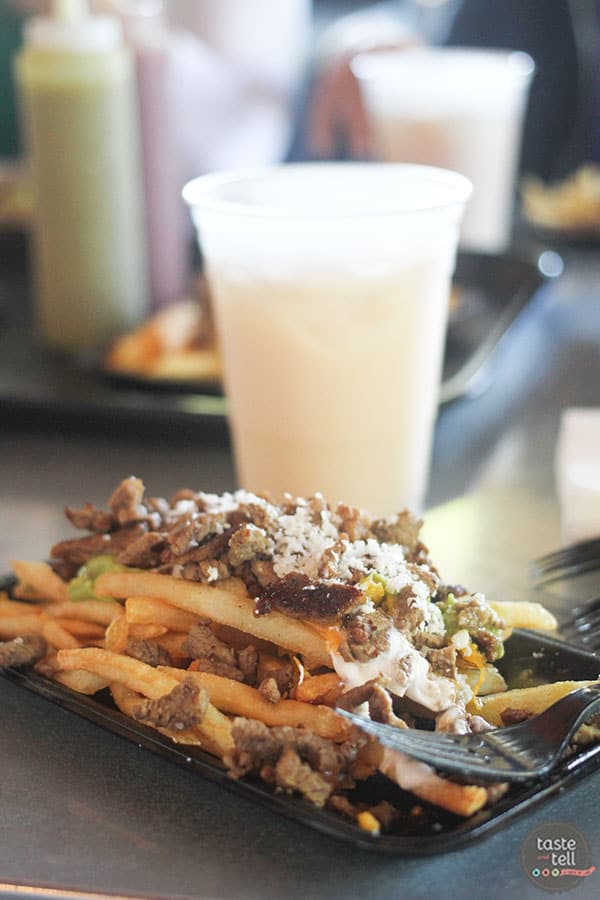 Carne Asada Fries from Lolita's at the Park in San Diego, CA


Carne Asada Fries.
Not being from southern California, these decadent fries were a new experience for me. I was already so stuffed at this point, but I could not stop eating these. French fries topped with cheese, guacamole and some perfect carne asada.
Apparently, these are a San Diego staple, well known and loved by all of the locals. I totally get it. Totally. But since these fries are not a Utah staple, I knew I needed to make them myself when I got home.
PS – here is a little clip from our trip – and me gushing about Mexican food!





You all know I'm all about the no-fuss recipes, and I had an idea to make the steak portion of this very no-fuss. Instead of making a traditional carne asada, I just threw my steak in a ziplock bag with a can of Old El Paso Enchilada Sauce and let it marinate overnight. Then just grill up the steak – minimal ingredients, minimal effort!!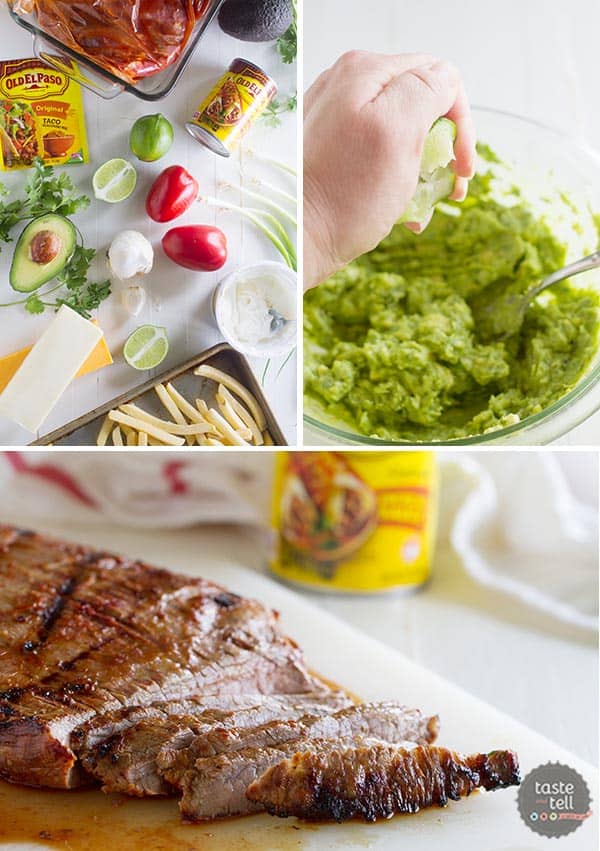 And while you could totally make the fries from scratch (and these would be that much more amazing), I took the no-fuss path again and just used frozen french fries. Bake them up in the oven, then top them with shredded cheese, some of your enchilada steak, guacamole, some taco sour cream (yes!), and some fresh pico de gallo. And then I threw on some Cotija for good measure, because I usually have either Cotija or Queso Fresco on hand anyway.
This is a very unconventional dinner idea, but it's a fun one. And a super tasty one. You could definitely serve a smaller portion as a side dish, but these are so filling that they make a great main dish.
Next time I'm in San Diego, I will be partaking of more Carne Asada Fries, but until then, I'm excited that I can make these Enchilada Steak Fries at home!!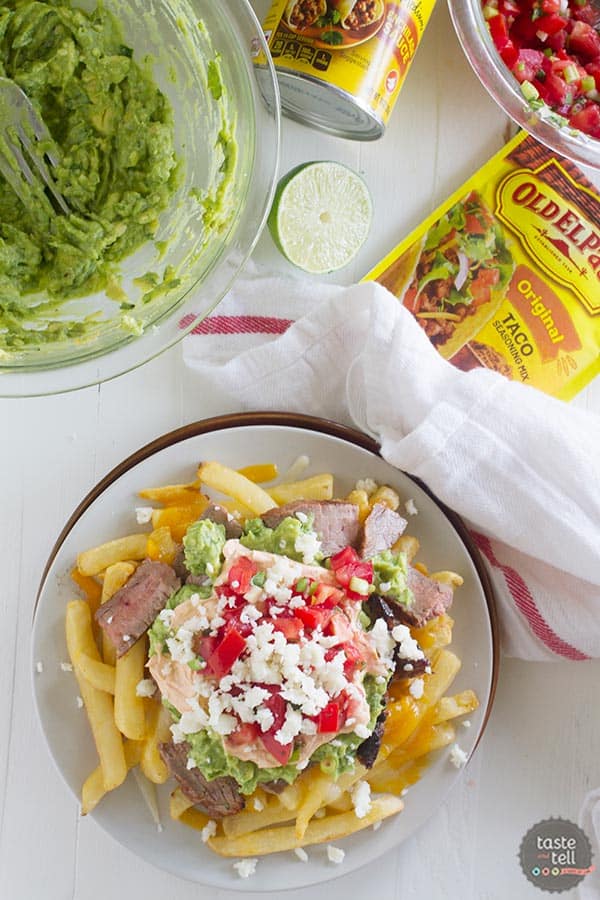 Like what you see here? Make sure you are following Taste and Tell for more recipes and ideas!
Facebook | Pinterest | Instagram | Twitter | Google+ | Weekly Newsletter | Feedly | Bloglovin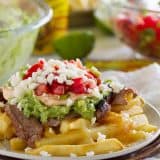 Enchilada Steak Fries
---
Prep Time: 20 mins
Cook Time: 30 mins
Total Time: 50 mins
Yield: 4 servings 1x
Description
Truly indulgent, these Enchilada Steak Fries are an adaptation of of the popular San Diego treat – Carne Asada Fries. French fries get topped with steak, guacamole, sour cream and pico de gallo for the perfect southern California dish.
---
Scale
Ingredients
Steak
2 to 2 1/2 lb flank steak
1 can (10 oz) Old El Paso Enchilada Sauce
Guacamole
2 ripe avocados
2 cloves garlic, minced
juice of 1 lime
2 tablespoons minced cilantro
salt and pepper
Taco Cream
1 cup sour cream
1 tablespoon Old El Paso taco seasoning
Pico de Gallo
2 roma tomatoes, diced
4–5 green onions, sliced
1 tablespoon minced cilantro
juice from 1/2 lime
salt and pepper
Fries
1 bag (30-32 oz) frozen french fries
2 cups shredded cheddar cheese
crumbled cotija cheese
---
Instructions
Place the steak in a large zip top bag. Pour the can of enchilada sauce into the bag and seal. Marinate overnight
Preheat a grill to medium-high heat. Oil the grill, then cook until medium rare, 5-7 minutes per side, depending on thickness. Let the steak sit for at least 5-10 minutes, then slice against the grain.
While the steak cooks, cook the fries according to package direction.
To make the guacamole, roughly mash the avocados in a medium bowl. Stir in the garlic, lime juice and cilantro. Season to taste with salt and pepper.
In another bowl, stir together the sour cream and taco seasoning.
In a third bowl, stir together the tomatoes, onions, cilantro and lime juice. Season to taste with salt and pepper.
Place 1/4 of the fries on a plate and top with 1/4 of the shredded cheese. Place some of the steak on top of the cheese, followed by the guacamole, taco cream, and pico de gallo. Sprinkle the cotija over the top. Serve immediately.
Don't miss a thing! Follow me on Pinterest to see what I'm pinning!
Visit Taste and Tell's profile on Pinterest.






I am in a working relationship with Old El Paso, and this post has been sponsored. I'm so glad to be able to work with companies and organizations that I truly believe in. Thank you for supporting them, too.