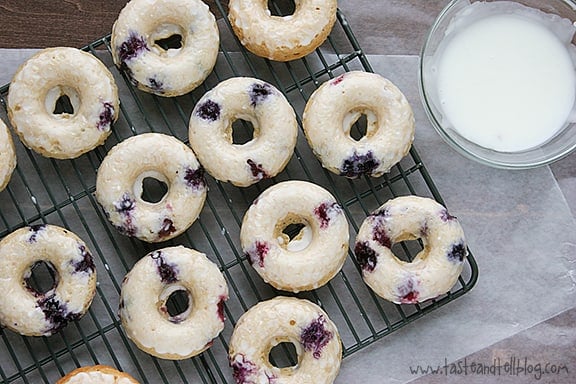 The only 4th of July tradition that I can remember as a kid was of course, watching the city fireworks, but I also remember going to a park with my grandparents, near their house, where we would have a fireworks show of our own.  It was a popular park for family fireworks.  They were never anything big – just things like fountains and sparklers, but it was always such a big deal when we were young.  There was one year that we all walked over to the park, only to discover that the sprinklers were on.  Now, I don't know if the city did this on purpose to discourage the fireworks at this park, or if the timers were on and never adjusted for the holiday, but I just remember how dissapointed all of us kids were.  Well, my grandpa didn't want to disappoint any of us!  He grabbed a big metal transh can and covered up one of those sprinklers, giving us enough space to light our fireworks!  It was definitely a memorable 4th of July.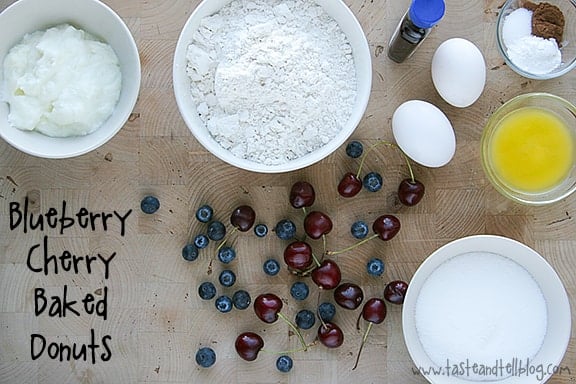 We have started some traditions now that I have a family of my own.  The day starts with the balloon festival, followed by the parade, and then watching one of the big fireworks shows that night.  We have to get up pretty early in the morning for the balloon festival, so breakfast has normally been eaten on the run.  This year, I had this idea that I want to make donuts ahead of time – perfect to take with us!!  Like I mentioned on Saturday, these definitely didn't turn out red, white and blue like I had hoped for, but I didn't even care when I took a bite of one of these donuts. My husband and I seriously loved them.  I was originally going to try to make a strawberry version, but I found some cherries at the farmer's market and just couldn't resist combining the blueberries and cherries!
A few notes on these – these are very tender donuts.  You have to be pretty gentle when you dip them in the icing.  And I stored them in a plastic container, but I didn't completely cover it overnight, because I knew they would just fall apart if I did that.  Even uncovered, these were still super moist 2 days later!
Whether or not they are red, white and blue, I know these would make a perfect, easy breakfast for the 4th!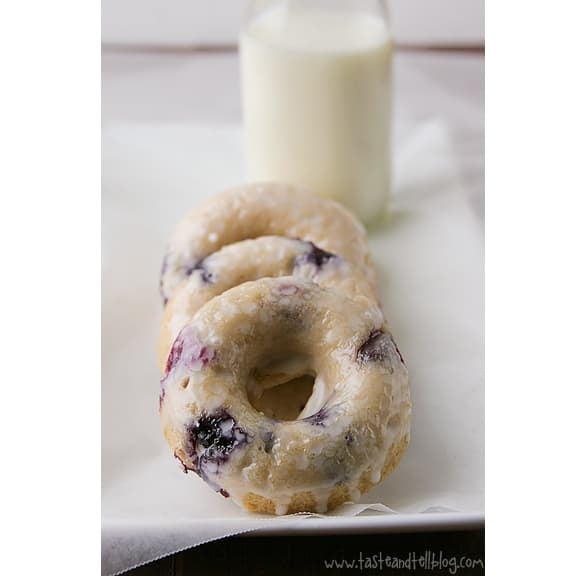 More ideas for your 4th of July breakfast:
4th of July Toast from Taste and Tell
Blueberry and Raspberry Oatmeal Muffins from Mango & Tomato
Red, White and Blue Almond Puff Pastries from Barbara Bakes
Blueberry Yogurt Waffles from Two Peas and Their Pod
Patriotic Parfait from Itsy Bitsy Foodies