"Warm You Up" Chili and Spicy Jalapeno Corn Bread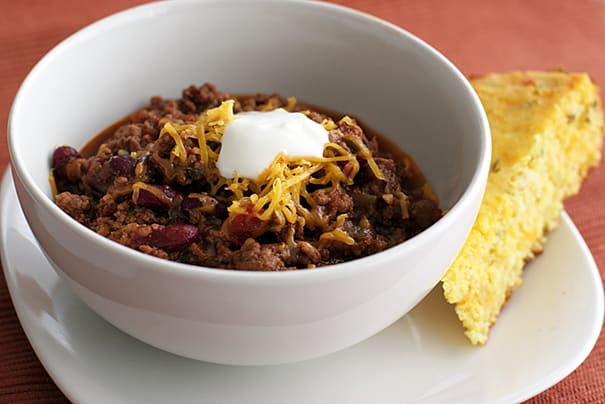 **Also seen on the Café Zupas blog**

Did you know that October is National Chili Month? And what better way is there to welcome in the cooler weather than with ah steaming bowl of chili and a side of cornbread? This chili should have you ready to face the cooler temperatures!
We had snow last weekend in Utah. Yes – snow already. At 1pm on Sunday, I had to scrape about an inch and a half of it off of my car. I guess there's a reason why they say that Utah has "The Greatest Snow on Earth." Too bad I'm not a skier! But with the snow and the cooler weather, it just gives me more of an excuse to make up comforting bowls of chili and cornbread!!
I'm also excited to announce that I am now part of a wonderful team of bloggers writing for the Café Zupas blog. Café Zupas is a wonderful restaurant here in Utah that features soups, salads, sandwiches and desserts. In fact, I've even blogged about one of my favorite salads there!! The folks at Café Zupas are food lovers, so they've decided to start a blog to unite food lovers everywhere! There are some good changes in the works, and some great bloggers that will be contributing – so check it out and you'll want to keep coming back for more!!
"Warm You Up" Chili
Inspired by Cooking Light
4 slices bacon, chopped
1 large onion, diced
2 garlic cloves, minced
1 jalepeño, seeds and membranes removed, finely diced
1 1/2 pounds ground beef
12-oz. beef broth
1/2 teaspoon salt
1/2 teaspoon ground pepper
1 1/2 tablespoons chili powder
1 tablespoon hot sauce (such as Frank's Red Hot)
2 teaspoons Worcestershire sauce
1/4 teaspoon ground cumin
1 (14 1/2 ounce) can diced tomatoes, undrained
1 (8 ounce) can tomato sauce
1 (15 ounce) can kidney beans, drained and rinsed
Shredded cheddar cheese and sour cream to serve
Cook the bacon in a large pot over medium heat until browned. Remove half of the bacon grease and discard. Add the onion and cook until translucent. Add in garlic and jalepeño and cook for 1 minute.
Add in ground beef and cook until browned, stirring to crumble. Add in beef broth; cook until liquid is reduced by about two-thirds. Stir in salt, pepper, chili powder, hot sauce, Worcestershire sauce, cumin, tomatoes and tomato sauce. Cover; reduce heat to medium-low and simmer for about 30 minutes – until mixture thickens. Stir in the kidney beans and cook until the beans are warmed through – about 10 minutes.
Serve with shredded cheddar cheese and sour cream, if desired.
Spicy Jalapeño Corn Bread
from Cooking Light September 2008
Cooking spray
1 1/4 cups stone-ground cornmeal
1 cup fresh corn kernels
3/4 teaspoon salt
1/2 teaspoon baking soda
1 cup buttermil
1/2 cup (2 ounces) shredded cheddar cheese
2 tablespoons minced pickled jalapeño peppers
1 1/2 tablespoons butter, melted
1 1/2 tablespoons honey
1 tablespoon vegetable oil
2 large eggs, beaten
Preheat oven to 375°.
Place a 9-inch cast-iron skillet coated with cooking spray in oven 5 minutes or until heated.
Combine cornmeal, corn, salt, and baking soda in a large bowl, stirring with a whisk; make a well in center of mixture. Combine buttermilk, cheese, jalapeños, butter, honey, oil, and eggs in a small bowl; add to cornmeal mixture. Stir just until combined. Spoon mixture into preheated pan. Bake at 375° for 30 minutes or until a wooden pick inserted in center comes out clean. Cool in pan 10 minutes on a wire rack. Cut into 12 wedges.