Light as a cloud, these Pumpkin Angel Food Cupcakes are filled with warm pumpkin flavor and topped with a pumpkin spiced whipped cream.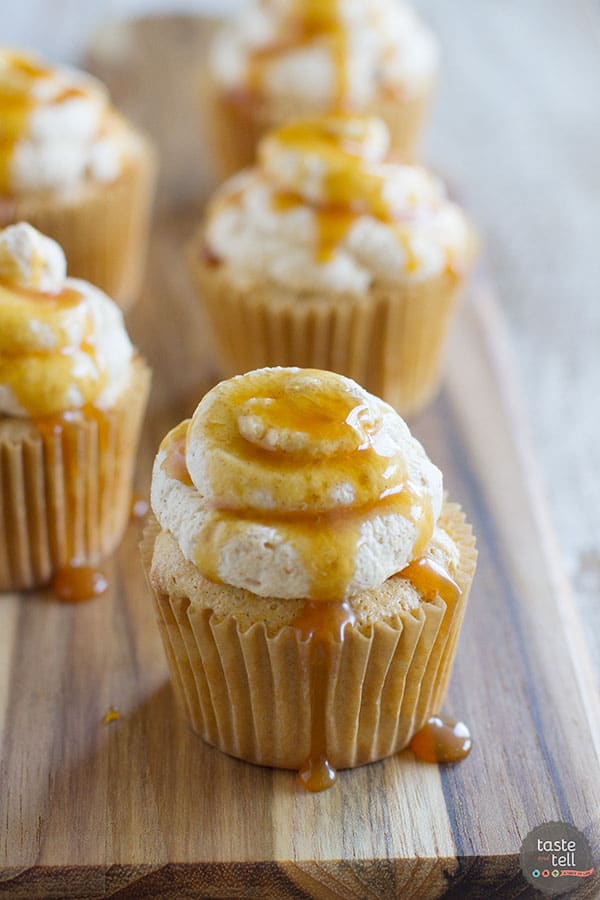 As you may know, I have been an ambassador for The American Egg Board for over a year now. One of the reasons that I love being an ambassador for an organization like this is not only the product (because hello – eggs!) but to learn more about that food – the health benefits and where it comes from.
I recently had the opportunity to spend some time talking to Mark Oldenkamp, the Vice President of NW Operations for Valley Fresh Foods, Inc. from Woodburn, Oregon. It was really interesting to spend some time talking to him – learning about where our eggs come from and the processes it takes to get the eggs from the chicken to the consumer.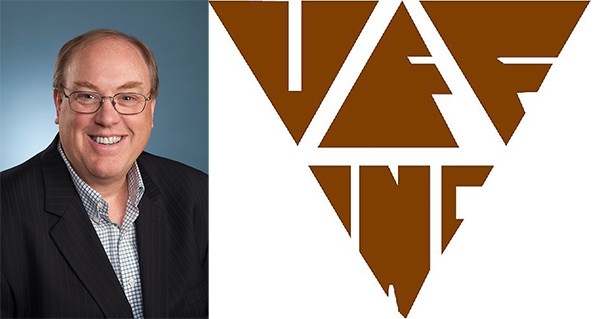 In high school, Mark thought he wanted to be a vet. But a home project for FFA, raising chickens for meat and eggs, led him to a college degree in Animal Science, and then a masters in Poultry Nutrition, both from OSU. Out of college, Mark started an internship with Valley Fresh Foods, and has been with the company ever since. Today, as the VP of NW Operations, Marks oversees the egg production for the company, whose egg farms extend throughout Oregon, Washington and California. He helps to control every aspect of egg production – from bringing in the baby chicks and raising them until they are old enough to lay eggs to making all of their own feed for the chickens.
I was interested to find out how long it takes from the time the eggs are laid to the time that they arrive in the grocery store, ready for the consumer. For the eggs that conventional, they are typically laid and immediately processed through an egg grader. They will be ready to be packaged that same day that they are laid. From that point, they will be refrigerated for anywhere from 3 days to a week, 2-5 days being the norm until they are on store shelves. Because specialty eggs (organic/cage-free) are managed a little differently, they will typically take from 7-10 days until they are on the store shelves.
Mark says that what he sees happening in the future for egg farms, and for the chickens, is newer equipment, larger cages with less partitions. Cage free production likely will continue to increase. He said that because of new legislation, particularly on the West Coast, all farmers are increasing the space that each chicken has, including adding scratchpads, perches for the birds to use at night, and adding in nesting areas for the birds. He also said that there is more focus than ever on bird health. This includes more biosecurity, making sure doors are closed to prohibit outside sources from bringing in sicknesses, having employees in uniforms, focusing on sanitation, and controlling the traffic. Many of these farms have between 100,000 and 300,000 birds, so keeping those birds safe and healthy is very important.
Just for fun, I asked Mark what his favorite part of his job is, and he replied that he loves that he gets to do something different every day, and that his job never gets boring. He also said that he loves to witness the miracle of what those chickens can do. Each chicken will lay approximately 400 eggs during their lifetime, and he loves being a part of that.
When Mark is not busy with chickens, he is an avid dahlia grower. He is actually the Second Vice President of the American Dahlia Association, and grows flowers for competition. He has 2 daughters, ages 23 and 20, who grew up around their dad's love of dahlias and are now dahlia enthusiasts as well.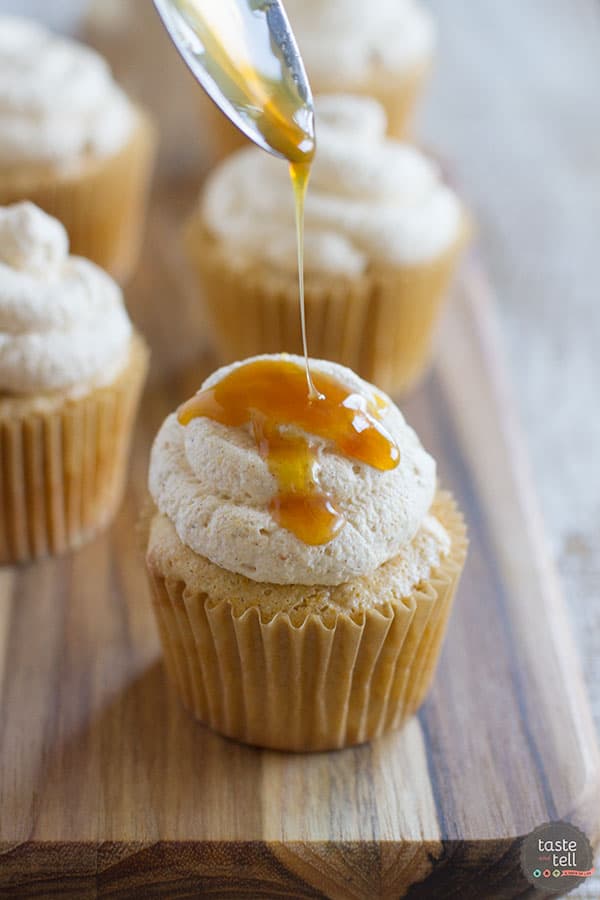 I ended the interview by asking Mark what his favorite food was with eggs. Because as someone who knows everything about eggs, I knew that he had to be obsessed with eating them, too, right?
He first responded that his favorite way to eat eggs is fried (you can't go wrong!) But his favorite recipe that uses eggs is Angel Food Cake. Especially topped with strawberries. I can't think of a better egg-based recipe to choose!!
With his mention of angel food cake, all I wanted to do was make one. But since strawberry season is gone for us, and since we are turning to all things pumpkin, I thought I'd break out my first pumpkin recipe of the season, inspired by Mark's love of angel food cake:
Pumpkin Angel Food Cupcakes with Pumpkin Spiced Whipped Cream. Oh, yeah.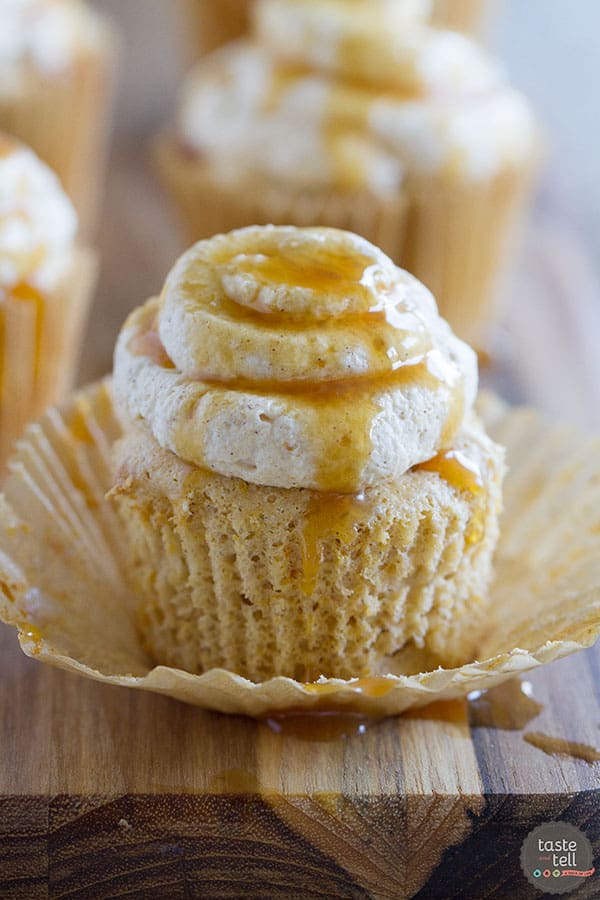 I used to be totally intimidated by making angel food cake from scratch and not from a mix. But it's so easy to make. The biggest thing you'll want to focus on is making sure you don't deflate the egg whites. It gets a little tricky when you are folding in flour, sugar and spices, and then the pumpkin. But just use a light hand and you'll be ok. The other way that these Pumpkin Angel Food Cupcakes differ from a regular cupcake is that you have to fill the whole cup with batter. Don't be tempted to fill them 2/3 full like you would do for a normal cupcake, or you'll end up with little, short cupcakes. These cupcakes will rise up a bit while they are baking, but they will shrink back down, so if you don't fill the cups full enough, you will end up with cupcakes that shrink down more than you'll want them to.
On top of the cupcakes, I made a simple pumpkin spiced whipped cream. I didn't want anything too heavy or two sweet, and the whipped cream was awesome. I also topped mine with some caramel sauce just for fun. It was messy and sticky, but I didn't mind it one bit! Feel free to leave it off, though, if you want the true pumpkin flavor to come through!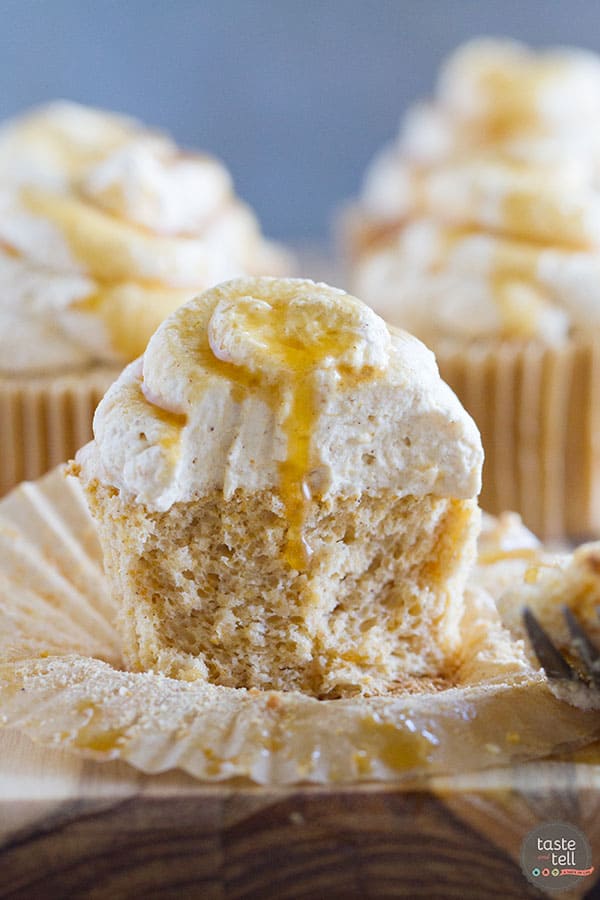 Like what you see here? Make sure you are following Taste and Tell for more recipes and ideas!
Facebook | Pinterest | Instagram | Twitter | Google+ | Weekly Newsletter | Feedly | Bloglovin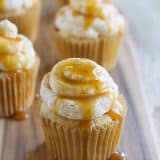 Pumpkin Angel Food Cupcakes
---
Prep Time: 15 mins
Cook Time: 18 mins
Total Time: 33 mins
Yield: 16-18 cupcakes 1x
Description
Light as a cloud, these Pumpkin Angel Food Cupcakes are filled with warm pumpkin flavor and topped with a pumpkin spiced whipped cream.
---
Scale
Ingredients
Cupcakes:
3/4 cup sugar, divided
1/2 cup cake flour
3/4 teaspoon pumpkin pie spice
6 egg whites, at room temperature
1/2 teaspoon cream of tartar
1/8 teaspoon salt
6 tablespoons pure pumpkin puree
Frosting:
1 1/2 cups heavy cream
1/4 cup powdered sugar
1 teaspoon pumpkin pie spice
1/4 cup pure pumpkin puree
caramel (optional)
---
Instructions
Preheat the oven to 325ºF. Line 16 muffin tins with cupcake liners.
In a bowl, sift together 6 tablespoons of the sugar, the cake flour and the pumpkin pie spice. Set aside.
In the bowl of a stand mixer fitted with the whisk attachment, combine the egg whites and cream of tartar. Beat until the eggs get foamy, then slowly add the salt and the remaining 6 tablespoons of sugar. Continue to beat until the eggs have stiff peaks.
Remove the bowl from the mixer, and 1/4 of the sifted flour mixture. Gently fold until almost incorporated, then add another 1/4 of the flour. Continue to fold, adding in the flour in 2 more batches. Gently fold in the pumpkin until no streaks remain.
Fill each muffin cup full of the batter. The batter should come all the way to the top. Bake until the cupcakes spring back when touched lightly, about 18 minutes. Let the cupcakes cool completely.
To make the frosting, beat the cream until it starts to thicken, then gradually add the powdered sugar and pumpkin pie spice. Add the pumpkin puree and beat until stiff.
Pipe the frosting onto the cooled cupcakes. Drizzle with caramel, if desired.
Don't miss a thing! Follow me on Pinterest to see what I'm pinning!
Visit Taste and Tell's profile on Pinterest.



I am in a working relationship with the American Egg Board, and this post has been sponsored. America's egg farmers launched the good egg project to educate Americans about where eggs come from and encourage people to eat good and do good every day. They are committed to doing what's right for their hens, the environment and their communities and are proud to provide Americans with affordable and nutritious food. Visit http://www.incredibleegg.org/good-egg-project/ to learn more. I'm so glad to be able to work with companies and organizations that I truly believe in. Thank you for supporting them, too.