A super simple weeknight dinner, these Pineapple-Lime Broiled Chicken Drumsticks are basted with an easy pineapple lime sauce that takes only minutes to throw together.



If you follow me on Instagram, you know that I am living the life in the Caribbean on a cruise this week. It has been a dream – a vacation that I needed more than ever.
But it didn't start off so great. We had a 7am flight out, that turned into a 2pm flight that almost didn't happen. Luckily, everything turned out just fine. But we got to spend some extra time at the airport that day.
One thing I love about the airport is all of the people watching. As I was sitting, I heard a conversation behind me. The man told his wife that they should go get in line to board the plane. She responded that they should probably wait for the kids to come back. And then I got a good chuckle when he said "well, they are in their 50s – they should be able to navigate the airport by now." I didn't see them because I didn't want to turn around and make it apparent that I was listening to their conversation, so I didn't realize they were older. But I almost laughed out loud. Because I could totally see me and my husband in that situation. I can see me being the one still wanting to baby our kids, even when they are grown with kids of their own. And my husband reminding me that they are capable of doing things on their own!!

It's a good thing my kids are still young so I can keep on babying them for the time being!!
While I don't always cook just what I know they will eat – we would be eating chicken nuggets and peanut butter sandwiches for dinner every night – I do like to find things that I know that they will love that mom and dad will love, too. My daughter really loves to be "grown up" when we have meat on the bone, and never wants hers cut off. So if we have wings, she wants the whole thing. She started calling anything with bones "eating chicken bones", and it's kind of stuck with all of the kids. It's turned into quite the novelty.
I knew they would all love eating chicken drumsticks for dinner, and sure enough, they all got excited about "chicken bones" for dinner that night!!
This recipe for chicken drumsticks is super simple – perfect for a night when you need a super easy and budget friendly meal. Chicken drumsticks are basted with a sweet and salty sauce and then broiled to perfection. I love that there are only a few ingredients and that it's a meal that is done in 30 minutes. And when the kids love it, too – it's definitely a bonus!!



Like what you see here? Make sure you are following Taste and Tell for more great recipes and ideas!!

Facebook ** Pinterest ** Twitter ** Instagram ** Google+
or you can subscribe to my newsletter or Feedly or Bloglovin


Pineapple Lime Broiled Chicken Drumsticks
---
Prep Time: 10 mins
Cook Time: 20 mins
Total Time: 30 mins
Yield: 4 servings 1x
Description
A super simple weeknight dinner, these Pineapple-Lime Broiled Chicken Drumsticks are basted with an easy pineapple lime sauce that takes only minutes to throw together.
---
Scale
Ingredients
1/4 cup pineapple preserves
1 tablespoon fresh lime juice
1 tablespoon teriyaki sauce
pinch of cayenne pepper
8 chicken drumsticks, skin removed
salt and pepper
minced chives, optional
---
Instructions
Place an oven rack 6 inches from the broiler and turn on the broiler. Line a large baking sheet with foil, and spray the foil with nonstick cooking spray.
In a small bowl, combine the pineapple preserves, lime juice, teriyaki sauce and cayenne pepper. Take about 2 tablespoons of the mixture and place it in another small bowl and set aside.
Sprinkle the drumsticks with salt and pepper. Place on the prepared baking sheet. Baste the chicken with the mixture from the first bowl. Place the pan in the oven and cook until the drumsticks are cooked through, 15 to 20 minutes, turning the chicken and brushing with the mixture every 5 minutes.
Clean the basting brush (or use a new, clean brush). Baste the chicken with the reserved 2 tablespoons of the pineapple mixture just before serving.
More Chicken Drumstick Recipes: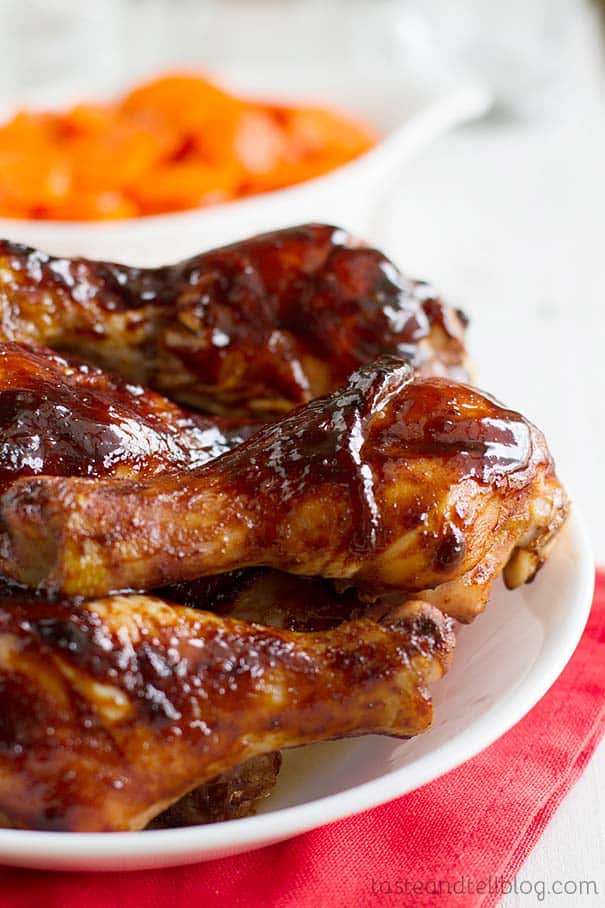 Spicy Orange Glazed Drumsticks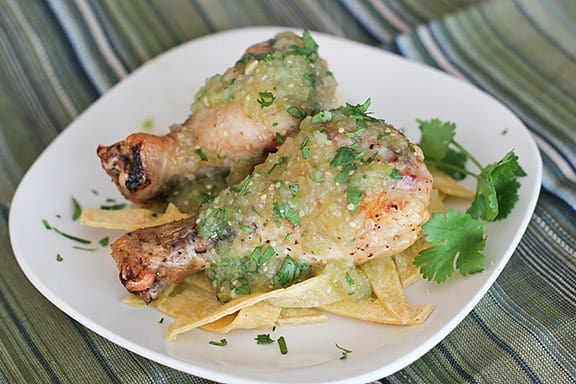 Around the Web:
Soy and Honey Glazed Drumsticks from Rachel Cooks
Oven Fried Panko Crusted Chicken Drumsticks from The Two Bite Club
Slow Cooker Sticky Chicken Drumsticks from Farmgirl Gourmet
Don't miss a thing! Follow me on Pinterest to see what I'm pinning!
Visit Taste and Tell's profile on Pinterest.