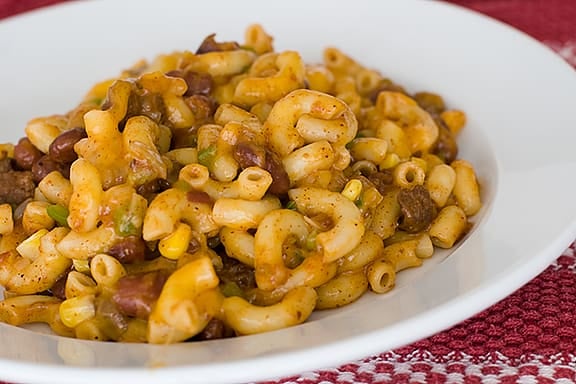 I am not a good couponer. I admire those of you who are good with coupons and can walk out of the grocery store with $100 of groceries for only $8.46. I've tried – believe me, I've tried. Twice now, I've subscribed to the newspaper and diligently collected the coupons. I read the websites, see all the deals, but do you know what happens? I end up with shelves full of ingredients I don't usually cook with. After the first time of couponing, I swore to myself that I would only buy things that I normally use. But I fell victim again. Sometimes, when you get such a good deal, you can't help but walk out of the grocery store with a cart full of instant mashed potatoes and Pasta Roni. Or cans of chili.
Now, there times that I use a good can of chili. Have you ever had a Frito Pie? They remind me of going to baseball games growing up. And even though you could really make a better chili for Frito Pie at home, sometimes you just need to make it easy. But with the amount of cans of chili I have right now, I could be eating Frito Pie once a week for several months to come. And I got tired of looking at them. So I decided to start looking for another way to use them. This recipe, in one form or another, came up over and over and over again. Seems like it's actually quite popular. I've always said that I'm not a food snob, and this dish right here proves that. Pasta, canned chili, covered with cheese. If I were a food snob, there's no way this would be making a showing on my blog! Guess what – I kind of liked it. And Abbi loved it. So much that I may just make it for her again one day!
Now I just need to figure out what to do with the rest of my cans of chili…
Pecos Pasta
slightly adapted from Worldwide Ward Cookbook
Serves 6
total time: 30 minutes
1 7-oz. package elbow macaroni (2 c. uncooked)
1 tablespoon butter
1 small green pepper, chopped
1 small onion, chopped
2 15-oz. cans chili with beans
20 – 24 oz. frozen corn
1 teaspoon seasoned salt
pepper
1 cup shredded cheese
Cook elbow macaroni according to package directions; drain and set aside.
Melt butter in a large skillet. Add green pepper and onion; cook until tender but do not brown. Add chili, corn, seasoned salt, and pepper. Simmer on low heat for 5 minutes. Stir in cooked macaroni and top with cheese. Cover and heat on low for 5 minutes or until the cheese is melted.