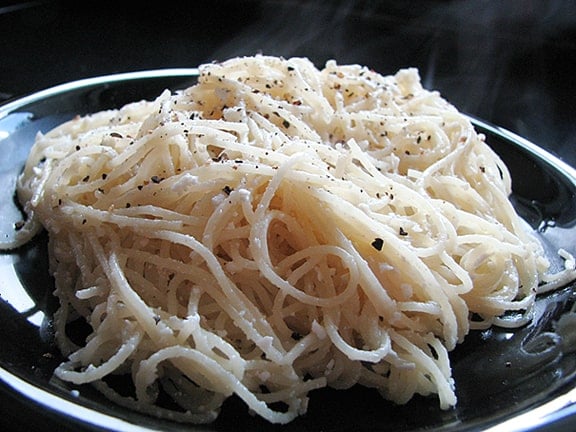 It looks like this is a week of recipes from other bloggers! First, Peabody's Key Lime Pie Cupcakes, then Elizabeth's Tuscan Pasta with Sausage, and now Sara's Myzithra and Pasta!!
I read a lot of very interesting blog entries every day. When I read Sara's post, I knew right away that I wanted to try her dish. I had never had myzithra before, but for some reason, the cheese sounded very familiar to me. Well, I went home that night, and looking through my cheese drawer, I found a chunk of myzithra!! I had totally forgotten that I had bought it! I have been trying to branch out and try different cheeses, and the grocery store I stop at often has a decent selection of cheese. I picked this up, not really knowing anything about it or what to use it in. Now I had my answer!
I made this on a night when I was home alone with no husband to feed. A very simple, fast meal that is quite tasty!! I won't post the recipe (you can go to Sara's post for that) but it is easy and has very few ingredients. A highly recommended recipe!!