Salty and sweet, these Pecan Praline Thumbprints are pecan infused cookies topped with a sweet and salty pecan praline topping. Also a review of Cookie Love by Mindy Segal.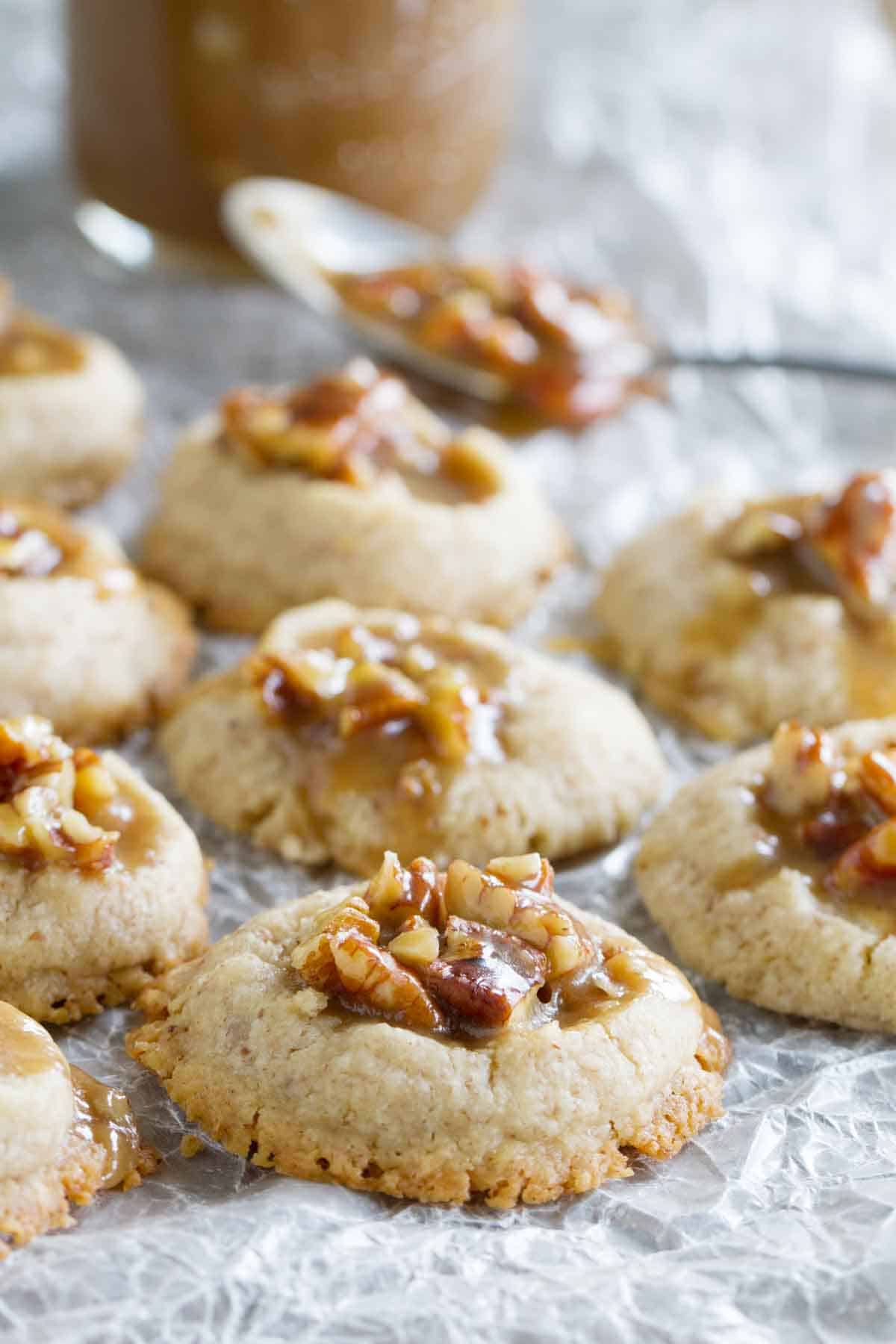 I try not to set too many concrete goals – the kind that have a definite end point. But when I do set them, I know that I must complete them. No ifs, ands or buts.
When I made the goal to review 52 cookbooks here on Taste and Tell in 2015, I thought it would be a breeze. A piece of cake. But here we are, just about half way through the year, and I am not halfway through those 52 books. I just went back to check how far I have come, and I'm at 20. And I should be at 26.
So excuse me if I start popping in with an extra post here and there as I attempt to get back on schedule. Because if I'm only going to make one goal, you'd better believe that I'm going to stick with it!!
Today's cookbook, Cookie Love by Mindy Segal, has been on my want list, so I'm so glad I am able to talk about it here today. Everyone loves cookies, so you can never have too many cookie cookbooks!
The thing I noticed when I first glanced through this book is that it's not your typical cookie cookbook. There are a few "basic" cookie recipes, but most of them take cookie making to a whole new level. The flavor combinations are little more elevated and unique. I don't think you could ever get away with calling the recipes in this book boring – they are anything but that!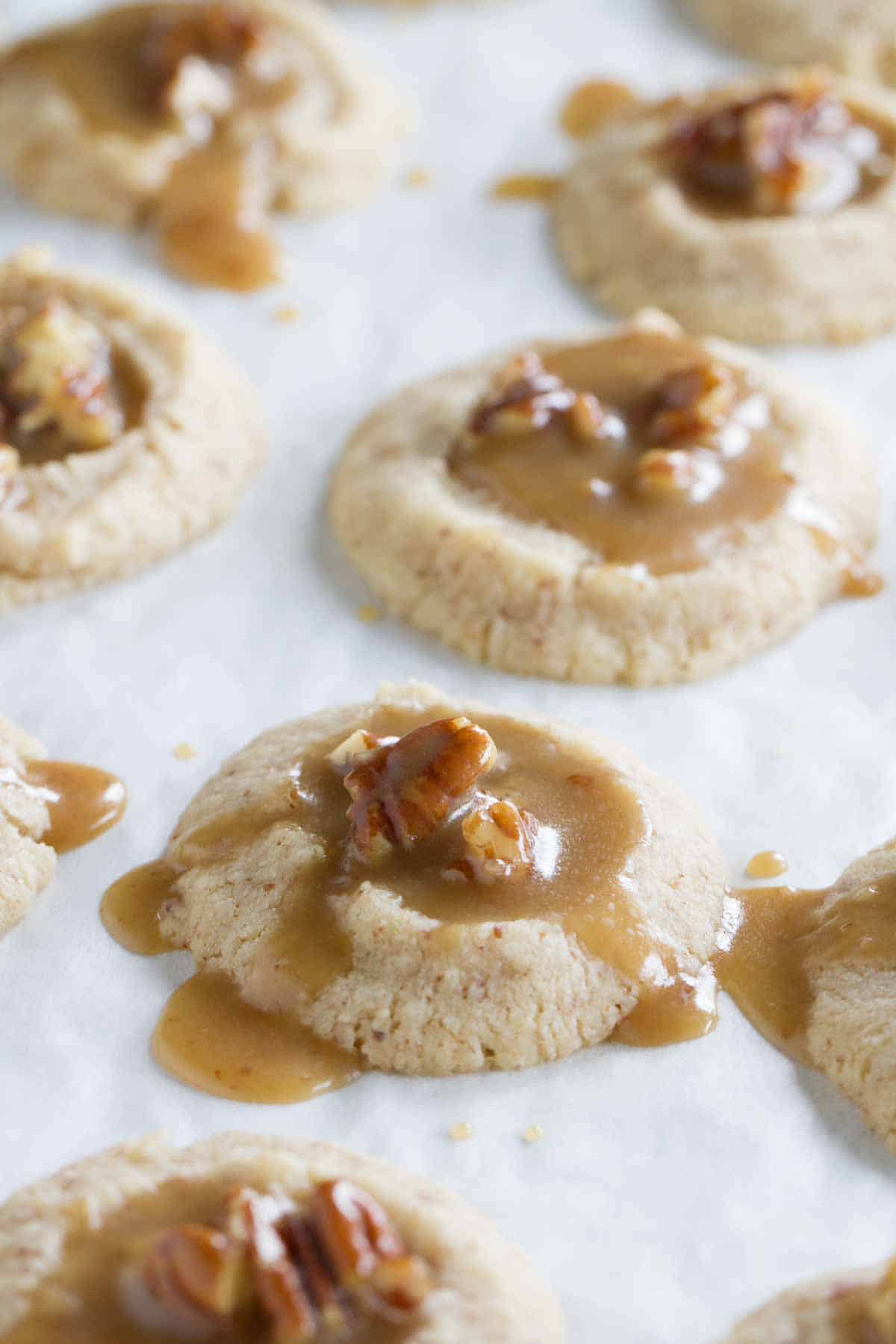 Here are the details:
Number of Photos: Many This book is definitely pretty enough to be a coffee table book. The photos are very well done and there is almost a photo of every recipe.
Difficulty Level of Recipes: Medium I would not call this a beginner's cookbook. While there is a chapter about drop cookies, beyond those, the techniques could get a little more advanced. And while I think that the instructions were written well overall, I do think there could be a little more clarity in the instructions. (I had to read through my recipe 2 or 3 times to make sure I knew what I was doing.)
Availability of Ingredients: Easy to Medium Most of these recipes call for the regulars – flour, sugar, butter, etc. But there are many ingredients that may be harder to find, like orange blossom water or sorghum. And then there are ingredients that may not be hard to find, but they aren't normal pantry staples.
Overall thoughts:
I like this cookbook. I really do. But it won't be my go-to when I'm just wanting to bake up a quick batch of cookies. But if I'm looking for something a little more impressive or unique, this will be my book. There really are a lot of recipes that I would love to try. Plus there is a "tools of the trade" section in the back of the book that every kitchen really needs!!
Other recipes I want to try:
Peaches and Cream Thumbprints
Banilla Nillas
Milanos
Jill's Spiced Double-Chocolate Cookies
Dream Bars
Honey Peach and Honeycomb Kolachkes
Chocolate Toffee Biscotti
Buy Cookie Love on Amazon.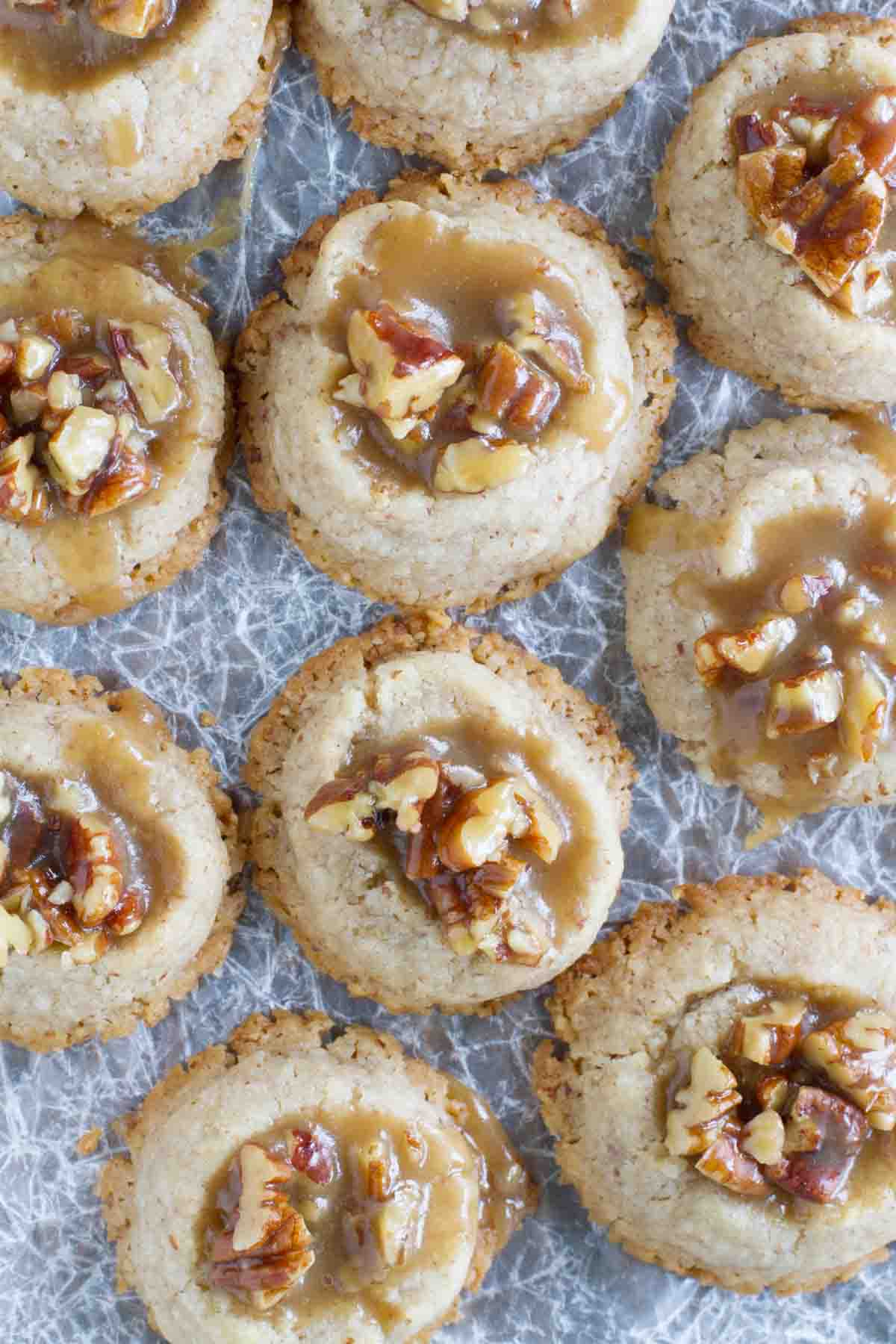 And now the cookies. Oh, these cookies. First of all, I have to say – these cookies are not cheap. 10 1/2 oz of pecans, maple syrup, 2 different kinds of salt, plus don't forget the butter! The whole time I was making them, I was praying that they would turn out and all of the ingredients wouldn't go to waste.
Lucky me – these cookies definitely delivered.
I was a little confused as I read through the instructions. You are asked to grind up some pecans in the first step. And during the recipe, it says to add the dry ingredients, but I didn't know if the ground pecans counted as part of the dry ingredients. But in the end it all worked out, and I ate about 28 of these cookies myself.
The cookie itself is not a super soft cookie – it's more of a sandy cookie. And the praline in the thumbprint? Man, that stuff is good!! I did end up with quite a bit of the praline sauce left over, but I know it will be good on ice cream. 🙂 These cookies were the perfect combination of salty and sweet and they definitely curbed that cookie craving!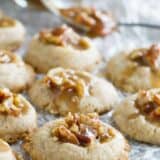 Pecan Praline Thumbprints
---
Author:
Prep Time: 30 minutes
Cook Time: 10 minutes
Total Time: 40 minutes
Yield: 48 cookies 1x
Category: Dessert
Method: Baked
Cuisine: American
Description
Salty and sweet, these Pecan Praline Thumbprints are pecan infused cookies topped with a sweet and salty pecan praline topping.
---
Scale
Ingredients
Cookies
1 1/2 cups (6 ounces) toasted, salted pecan pieces
3/4 cup granulated sugar
1 cup (8 oz) unsalted butter, at room temperature
1 teaspoon vanilla extract
2 cups all-purpose flour
3/4 teaspoon kosher salt
3/4 teaspoon sea salt flakes
Praline
3/4 cup (6 ounces) unsalted butter, at room temperature
1/2 cup maple syrup
1/2 cup firmly packed light brown sugar
1/4 cup firmly packed dark brown sugar
1 teaspoon vanilla extract
1/2 teaspoon kosher salt
1/2 teaspoon sea salt flakes
1/2 cup heavy cream
1 1/4 cups (4.5 ounces) toasted, salted pecan pieces
---
Instructions
Make the Cookies: Combine the pecans and 1/4 cup of the sugar in a food processor and process until fine crumbs, but before the nuts start to release their oils. Set aside.
In the bowl of a stand mixer, beat together the butter and the remaining 1/2 cup sugar until light and fluffy and pale in color, about 4 minutes. Beat in the vanilla, then use a spatula to scrape the sides of the bowl.
Whisk together the flour and both salts, then add to the mixer, along with the reserved pecan/sugar mixture. Beat on low until the dough just comes together, about 30 seconds. Scrape the sides and bottom of the bowl and mix for another 10 seconds.
Lay a large piece of plastic wrap on the counter and dump the dough on top. Work the dough together, then pat into an 8×8-inch square, using a bench scraper to square off the sides. Wrap tightly in the plastic wrap and refrigerate for at least 30 minutes, up to 3 days.
Heat the oven to 350ºF. Line 3 13×18-inch baking sheets with parchment paper.
Cut the dough into 6 even strips. Working with one strip at a time, roll the dough back and forth into a log. Cut the log into 8 equal pieces, keeping the log together, then re-rolling to regain the cylinder shape. Place the pieces, cut side down, on the baking sheet, spacing evenly and putting 20 pieces on a sheet. Use your finger or the end of a mixing spoon to make an indentation in the center of each cookie.
Baking one pan at a time, place the pan in the oven and bake for 8 minutes. Remove from the oven and use the end of a wooden spoon to tap down the indentation on each cookie. Rotate the sheet and place back in the oven for another 4 to 6 minutes. The cookies will have set around the edges when they are ready and they will have slight cracks on top. Leave the cookies on the pan to cool. Repeat with the remaining cookies.
While the cookies are baking, start the praline. In a large pot, melt the butter over medium heat. Add the maple syrup, both sugars, vanilla and both salts and stir to combine. Cook until it comes to a boil, then let it boil for 3 minutes to thicken. Pour in the cream and stir to combine. Let the mixture continue to cook until it coats the back of a spoon. Stir in the pecans.
While the cookies are still warm, use a spoon to spoon some of the praline into the center of each cookie. Refrigerate until set, about 30 minutes.
Cookies can be stored in an airtight container at room temperature for up to 3 days or in the refrigerator for a week.