Now this is Sunday dinner! This Stuffed Manicotti with Beef has a slow cooked beef mixture that is combined with ham and cheese and stuffed in manicotti pasta. And if you make the sauce ahead of time, you can make this an easy weeknight dinner!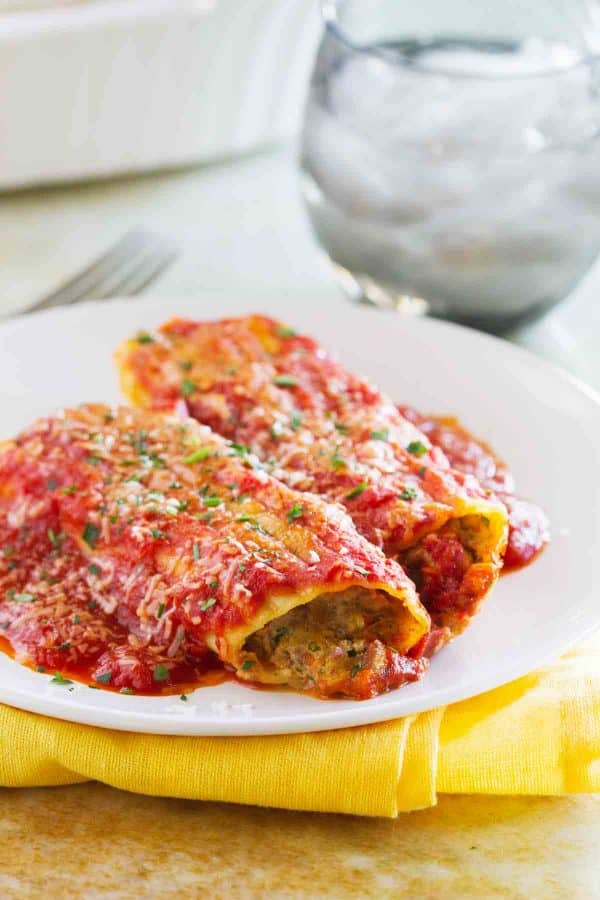 Originally posted December 12, 2009 – Things are a little crazy around these parts as I am moving this week, so I thought I'd bring this favorite up from the archives. I'm craving comfort food like crazy lately (maybe it's the stress of moving?) and this Stuffed Manicotti with Beef would definitely fulfill that craving! I love a good manicotti recipe (this Chicken and Mushroom Manicotti is a favorite) and this recipe is right up there as one of my favorites. Make it this weekend for Sunday dinner, or prep the sauce ahead of time for a weeknight dinner. Either way, there is no way to not feel comforted with this on your plate!
The original post from 2009 follows: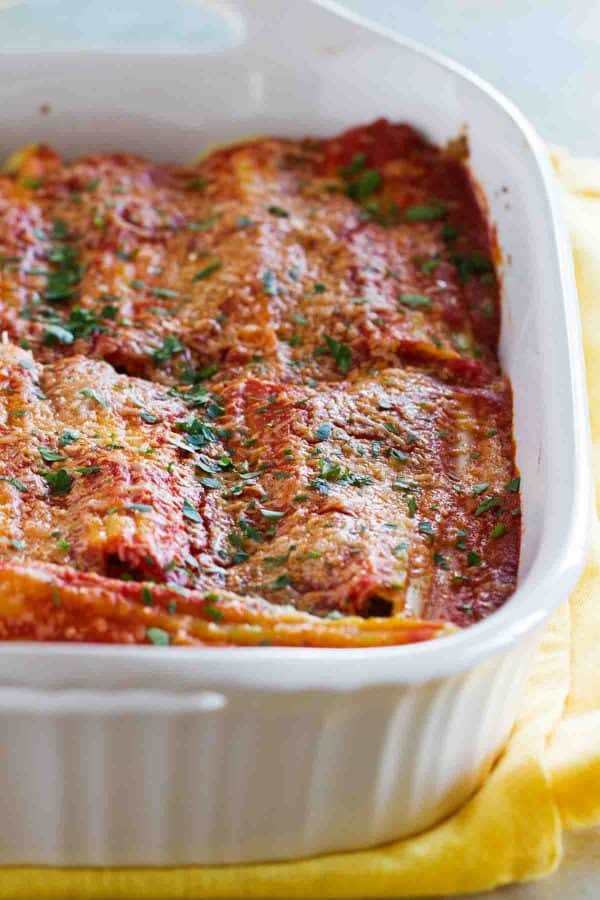 I have a notebook that I keep in my bedroom. That way, if I am watching tv and see something that I might like to make sometime, I can scribble it down in my notebook to look up online later. That list is becoming quite long! I try to turn to it at least once a week to be able to mark at least one off the list, but I keep adding faster than I'm taking off!
This recipe came off of that list. Mario Batalli was on Rachael Ray's talk show one day and made this recipe. I can't remember ever making a Mario Batalli recipe, so I really wanted to try this. And it also helped that I had some ham left over in my fridge, and I knew this would be a great way to use it up. I did like this recipe, but I think it would be even better if you put some ricotta in the filling. As much as I love meat, this was almost too meaty. I think the creamy cheese would really add a whole new level to this recipe!
UPDATE: I reworked the recipe a bit from the original and added ricotta like I originally thought would work, and it did!! You can check out the original recipe here, or use my adapted recipe below.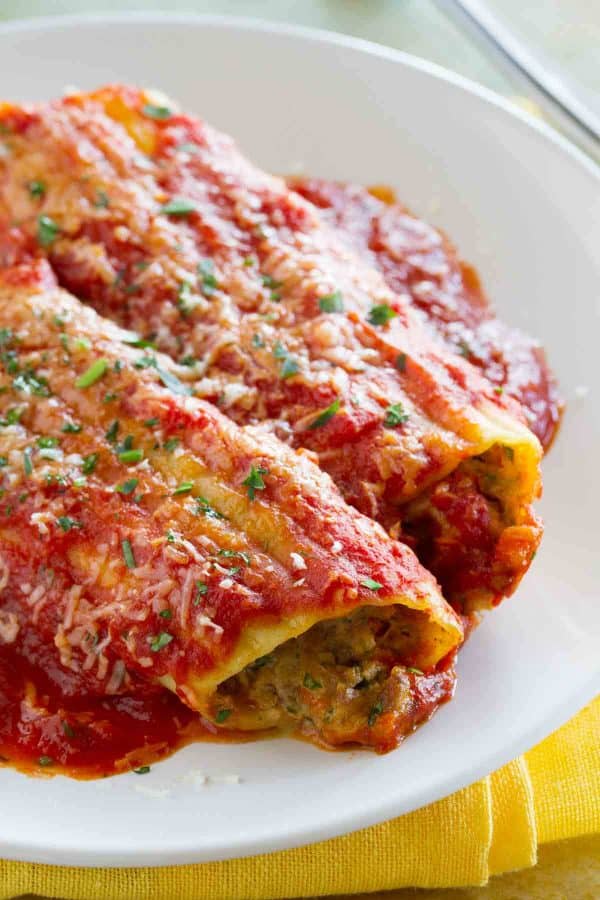 Want more comforting pasta recipes? Try this Spaghetti Lasagna (a fun change to the normal spaghetti dinner!), this Baked Penne (comfort food galore!) or this Pepperoni Mac and Cheese (the kids go crazy for this one!)
Or check out these other pasta recipes from around the web: Pasta Pie from Noble Pig, Mushroom Florentine Pasta Recipe from She Wears Many Hats, or this Pasta Sausage Bake from Favorite Family Recipes.
Like what you see here? Make sure you are following Taste and Tell for more recipes and ideas!
Facebook | Pinterest | Instagram | Twitter | Google+ | Weekly Newsletter | Feedly | Bloglovin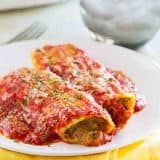 Stuffed Manicotti with Beef
---
Author:
Prep Time: 20 mins
Cook Time: 2 hours 20 mins
Total Time: 2 hours 40 minutes
Yield: 6 servings 1x
Category: Main Dish
Description
Now this is Sunday dinner! This Stuffed Manicotti with Beef has a slow cooked beef mixture that is combined with ham and cheese and stuffed in manicotti pasta. And if you make the sauce ahead of time, you can make this an easy weeknight dinner!
---
Scale
Ingredients
3 tablespoons extra virgin olive oil
3 tablespoons butter
1 carrot, finely diced
1 medium onion, finely diced
1 rib celery, finely diced
1 clove garlic, minced
1 pound ground beef
3 tablespoons tomato paste
1 cup milk
1 cup beef stock
salt and pepper
1 (8 oz) package manicotti
1/2 cup grated Parmesan or Pecorino Romano, plus more for topping
3 eggs, lightly beaten
1 cup ricotta cheese
1/2 cup ham, cut into 1/4" cubes
1/2 cup flat-leaf parsley, chopped
2 cups marinara sauce
---
Instructions
In a large, heavy saucepan or a dutch oven, heat the olive oil and the butter over medium heat.  Add the carrot, onion and celery and cook until translucent, 5-7 minutes.  Add the garlic and cook until fragrant, another 30-45 seconds.  Add the ground beef and brown, breaking it up as it cooks, until cooked through, about 10 minutes.
Stir in the tomato paste and let it cook for a minute or two.  Add in the milk and beef stock.  Bring the mixture to a bubble, then turn the heat down to medium-low and let it simmer for 1 to 1 1/2 hours, until thick.  Add salt and pepper to taste, then remove from the heat and allow it to slightly cool.
Preheat the oven to 400ºF.  Bring a large pot of water to a boil then salt generously.  Add the manicotti and cook according to the package directions.  Drain and reserve.
In a large bowl, combine the cooled ragu, 1/2 cup grated Parmesan, eggs, ricotta, ham and parsley and mix well.  Season with salt and pepper.  Transfer the mixture to a large ziplock bag.
Spray a 9×13" baking dish with nonstick cooking spray.  Spread 1/2 cup of the marinara in the bottom of the dish. 
Cut the corner off of the ziplock bag and fill each of the manicotti shells with the filling, setting them in the dish as they are filled.  Pour the remaining marinara over the shells and top with additional Parmesan cheese.  Place the dish in the preheated oven and bake for 15-20 minutes, or until the cheese is melted and the sauce is hot and bubbling. 
Recipe Notes:
adapted from The Rachael Ray Show
Nutrition information provided as an estimate only. Various brands and products can change the counts.
Nutrition
Calories: 600
Sugar: 6 g
Sodium: 401 mg
Fat: 33 g
Saturated Fat: 12 g
Unsaturated Fat: 9 g
Trans Fat: 0 g
Carbohydrates: 42 g
Fiber: 5 g
Protein: 35 g
Cholesterol: 180 mg
Don't miss a thing! Follow me on Pinterest to see what I'm pinning!