Looking for a fun edible decoration for your Thanksgiving table? These Pilgrim's Hat Rice Krispies are a fun way to bring a tasty treat to your table.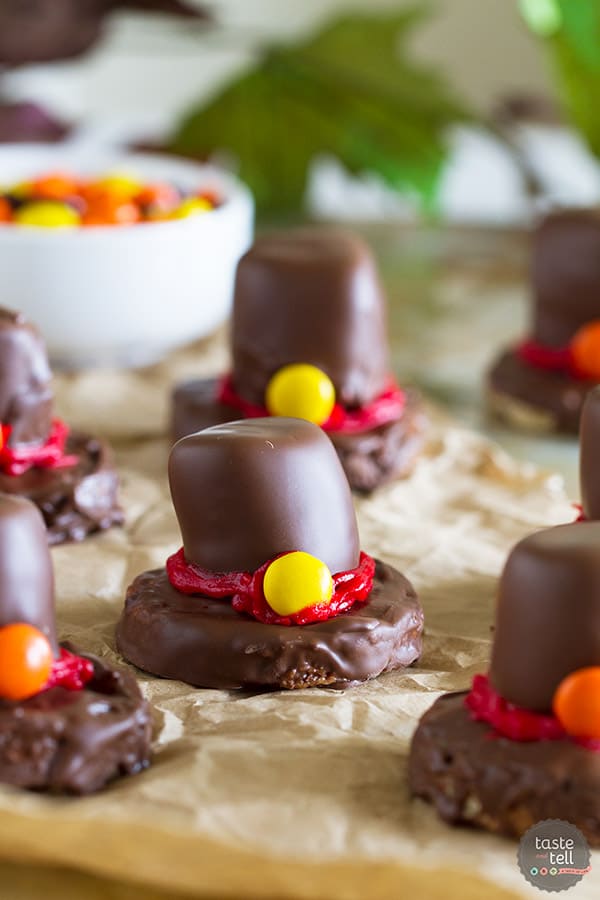 Thank you to Kelloggs for sponsoring this post.
I love, love, love Thanksgiving. I can honestly say it is my favorite meal of the year. (Followed by our family garden dinner and then Christmas.) Of course I love the food (who doesn't love turkey and mashed potatoes and fresh rolls and lots and lots of pie!), but really, it's all about family. And that time that we get to spend together.
We have made a tradition of having Thanksgiving dinner at my sister's house every year. There is plenty of room for everyone, and it has just started to feel right because it's tradition. And while throughout the year, we don't normally separate the adults and the children, for Thanksgiving dinner, all the adults get to sit at one table with real glasses and plates and grown up conversation.
I actually love that this puts all the kids together. Not only do all of the kids love spending that time together, but they also get a fun table. Sometimes it's something as simple as coloring pages and crayons. But their table is always a little bit fun.
So when I had the idea for these Pilgrim's Hat Rice Krispies, I immediately thought that they would be so much fun on the kids table – each person getting one of the hats. I mean – what could be better than edible decorations, right?? I just think they would be perfect for a kid's Thanksgiving table spread. And really, I think the adults might love them, too!!
Not only would they be perfect for a Thanksgiving table, but you could get the kids involved in making them (they love getting their fingers covered in chocolate!) and then hand the out to neighbors or friends. Or even teachers! What a fun gift!!
And they couldn't be easier. You start with a Rice Krispies Treat bar, a marshmallow, some chocolate candy coating and a little bit of decoration. I am not a crafty person my any means, so you know that if I can make them, you can, too!!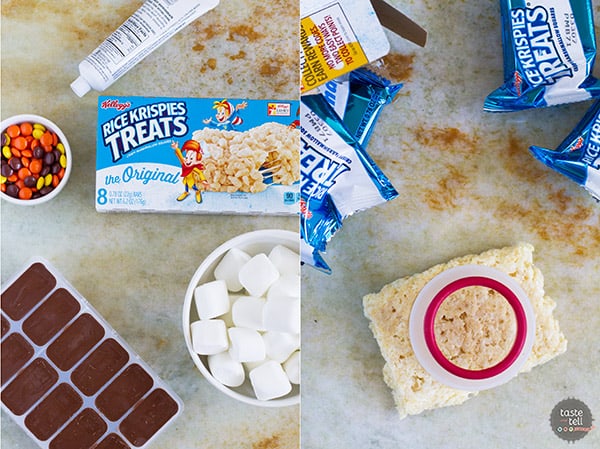 Here is the short ingredient list. Easy peasy. Use your hands or a rolling pin to flatten each treat out a bit so that you can cut them.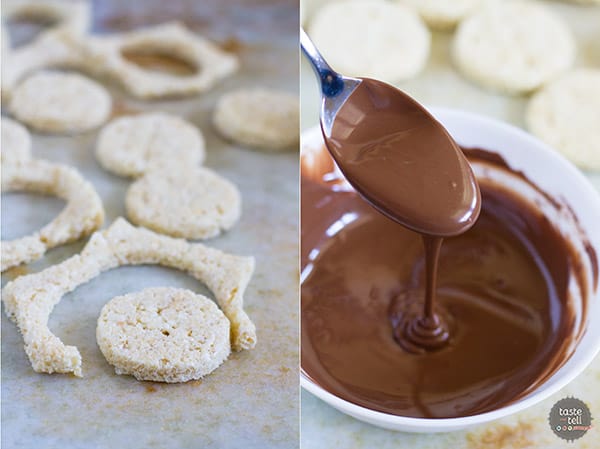 Use a round cookie cutter to cut the treats, then melt some chocolate candy coating. I like to use the candy coating because it is really easy to work with and melts perfectly.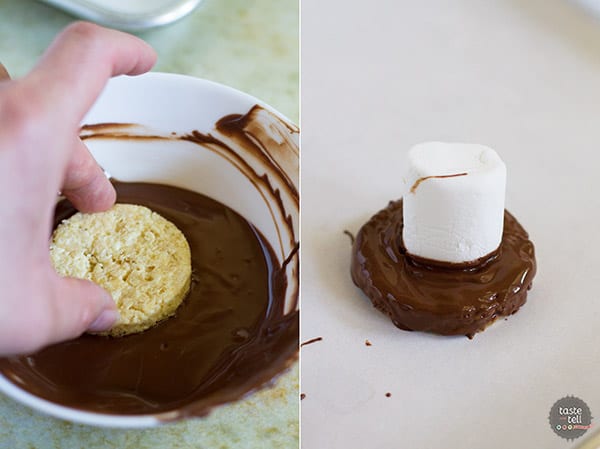 Take those rounds and dip them in the melted candy coating. I just dipped one side and tried to get the sides, but I didn't worry about the bottom. Immediately press a large marshmallow on the top, then allow the candy coating to set up completely.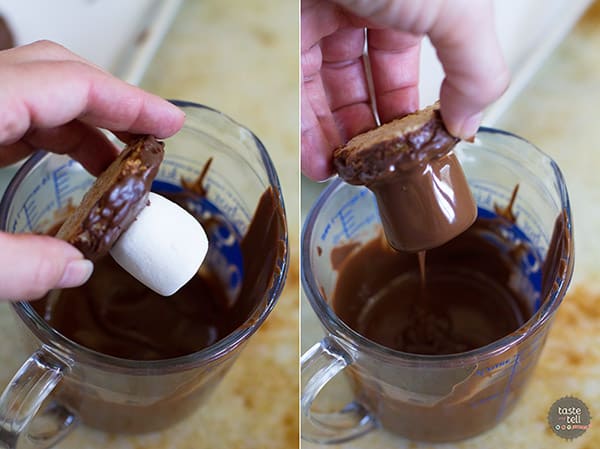 Then you'll melt more of that candy coating and dip the marshmallow. I used an offset spatula to fill in any spots that I missed. Then you'll let them set up completely again.
Now it's time to decorate! I'll admit that I don't have the steadiest hand, but all you need to do is pipe a line of icing around the bottom, then put a candy on to create the buckle on the hat.
And that's it!! Once you get the hang of it, it all goes pretty quickly. These Pilgrim's Hat Rice Krispies are such a fun and festive Thanksgiving treat!!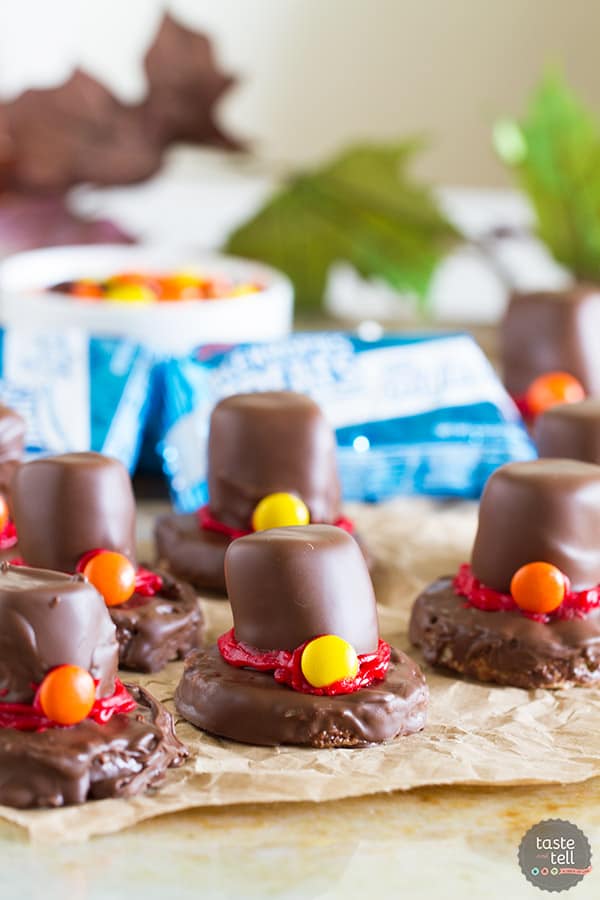 Like what you see here? Make sure you are following Taste and Tell for more recipes and ideas!
Facebook | Pinterest | Instagram | Twitter | Google+ | Weekly Newsletter | Feedly | Bloglovin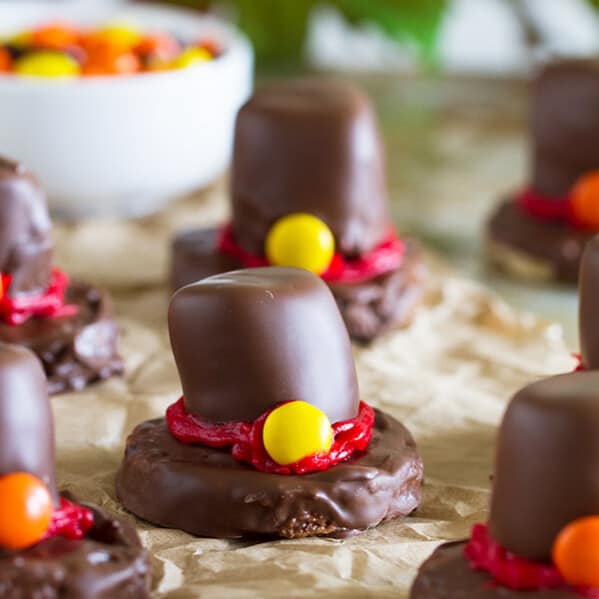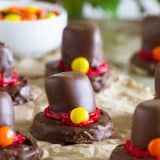 Pilgrim's Hat Rice Krispies
---
Author:
Prep Time: 45 minutes
Total Time: 45 minutes
Yield: 8 servings 1x
Description
Looking for a fun edible decoration for your Thanksgiving table? These Pilgrim's Hat Rice Krispies are a fun way to bring a tasty treat to your table.
---
Scale
Ingredients
8 oz Rice Krispies Treats bars (unwrapped, 0.78 each)
8 large marshmallows
10 oz chocolate candy coating
red icing*
8 candy coated chocolate or peanut butter candies
---
Instructions
Flatten each of the Rice Krispies Treats bars to make a 2 3/4 inch square. Use a 2 1/2 inch circle cookie cutter to cut a circle from each bar. Reserve the circles and discard the rest.
Heat 4 oz of the chocolate candy coating in a small, shallow bowl until melted. Dip the tops and sides of each of the Rice Krispies circles in the coating, and place on a parchment lined baking sheet. Immediately place a large marshmallow in the center of each circle. Allow the coating to set up (you can refrigerate them for 5-10 minutes to speed up the drying).
In a deeper cup (I use a glass measuring cup), melt the remaining 6 oz of candy coating. Holding the Rice Krispies circle, dip the marshmallow in the chocolate candy coating to coat, and let the excess drip off. Return to the baking sheet, and use an offset spatula to fill in any spots that weren't covered by the coating. Allow to completely dry again.
To decorate, pipe the red icing around the hat, then place a candy in the icing to form the buckle of the hat.
Recipe Notes:
*I just used a tube of icing that I bought at the grocery store since I only needed a small amount and I didn't want to make a whole batch of buttercream.
Don't miss a thing! Follow me on Pinterest to see what I'm pinning!
Visit Taste and Tell's profile on Pinterest.



This post is sponsored by Kelloggs. I'm so glad to be able to work with companies and organizations that I truly believe in. Thank you for supporting them, too.