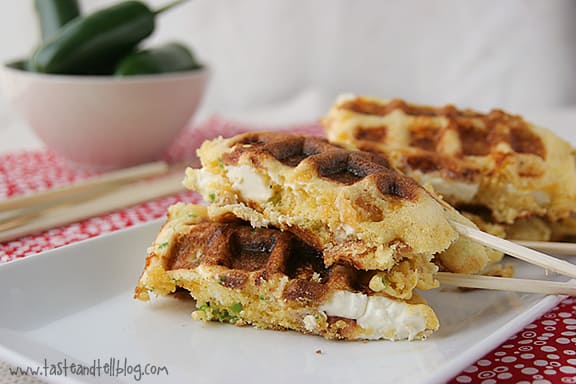 This is the last of the Rachael Ray Show Waffle Week recipes. My waffle maker has seen more action in the last week than it has in probably the last year.  All of these waffles have been so much fun.  But I'm not going to lie – it's a lot of work to have to make something every day that you blog the next day!!  But I'm so glad I got this idea on a whim and I went  with it.  Now I won't have regrets next year when they do Waffle Week on The Rachael Ray Show, thinking that I wish I would have tried some of the recipes.  Because this year, I made all of them!!
Actually, if you saw Friday's show, you would have seen that she had 3 fans there that were in a waffle showdown.  And all three of those recipes are on the RR website, too – but I thought it would be a little overkill to continue on with the waffle makers and make those 3 recipes!!  Hopefully you saw something you liked in the last week, though, that inspires you to get out your waffle maker.
These waffles get the best grade for creativity, but the worst grade for the pretty factor.  No matter what I did, I couldn't get these to look as good as they taste.  If you like corn dogs, and you like jalapeno poppers, I can guarantee that you will like these.  They were a little difficult and messy to make, but they were worth it.  I wish I would have cut the cream cheese into smaller pieces to make the batter easier to work with, but I did like the big pockets of cream cheese that you would get while eating these.
I don't know if I'd serve these up for company, because they were quite messy, but I would defnitely make up a batch for an easy lunch or dinner.  (Minus the jalapenos for Abbi and Josh, extra jalapenos for me!!)  But really, this was a delicious way to round up waffle week!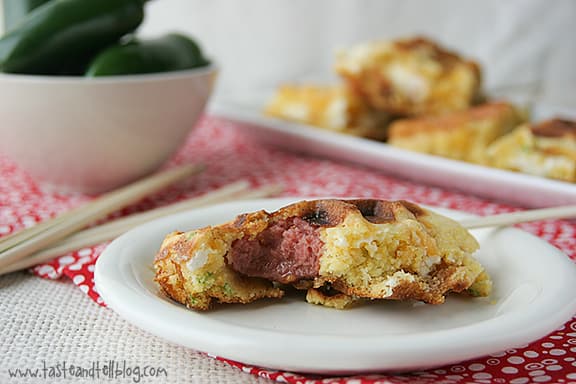 Recipe for Jalepeno Popper Corn Dog Waffles via The Rachael Ray Show
One Year Ago:  Sweet Potato Salad with Bacon
Two Years Ago:  Scallion Pancakes
Three Years Ago:  Pumpkin Apple Bread
Four Years Ago:  Devils Food Cupcakes with Marshmallow Frosting