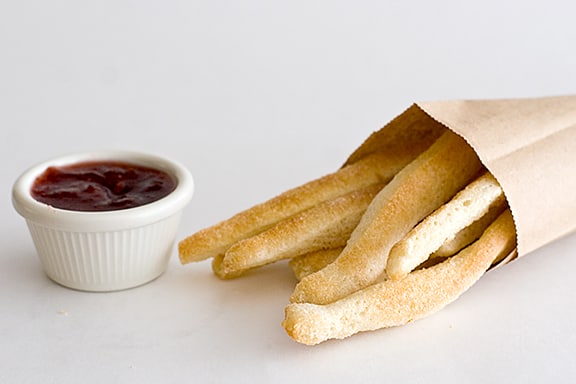 Happy April Fools Day! I hope that you've played a prank or two so far, or that you have something in the works!
Since we love all things food, I knew I wanted to make a food fake out. I've seen all kinds of ideas popping up everywhere, but this one looked fun and easy. Make fake French fries from breadstick dough and serve with strawberry "ketchup." My husband wasn't fooled, but they sure were tasty, and a lot better for breakfast than real French fries!
Fake French Fries
adapted from Every Day with Rachael Ray April 2010
1 can of refrigerated bread sticks
sugar
strawberry jam
Cut the bread sticks into French fry sizes. Roll in sugar. Place on a greased cookie sheet and bake until cooked through. Serve with the strawberry jam for dipping.