An easy lasagne recipe using Barilla Oven Ready Lasagne noodles and filled with lots of fresh vegetables.
My heart and thoughts are with all of those affected by the tragedy in Conneticuit last week.  The news broke my heart and brought tears to my eyes.  As a mother to young children, I cannot even imagine the heartache and pain that these families are experiencing.  To all of those who have been affected, my prayers are with you.
—————-
During this busy holiday time of year, I often get caught up in 1) actual holiday meals, and 2) holiday baking.  But one thing most of us don't really think about is that we still have to eat and feed our families every night.  And a lot of times, we have company that we are feeding as well.  So good food – good, crowd-friendly food – is a must have.  And I don't know about you, but if you've been making (and consuming) as many cookies as I have been the last few weeks, you'll gladly welcome in some extra veggies during dinner time.
Enter a veggie filled lasagne.  Seriously – who doesn't love lasagne?  What is better to serve your loved ones than a big pan of lasagne – especially during the holidays?
I don't typically think of lasagne as a weeknight meal.  Let's face it – it can be intimidating, and it can be time consuming.  But this lasagne uses Barilla oven ready lasagne noodles, which are a true time saver.  This was actually my first time ever using oven ready noodles, and I was seriously so impressed with how easy it was and how good they actually are.  And all of the vegetables were so needed after all of the sweets we have been eating!!  I loved how simplistic this lasagne was and how it was filling without feeling overly heavy.  My kind of dinner!
Whether you prefer the oven ready lasagne noodles or the traditional wavy noodles, Barilla has you covered.  They also have 8 great jarred sauces that will help you to make lasagne easy enough for anyone to make.  If you are looking for a great lasagne recipe (including this one), Barilla also has you covered with 6 authentic lasagne recipes.
JOIN BARILLA FOR TONIGHT'S #GNO TWITTER PARTY!
On Wednesday, December 19th, Barilla will be sponsoring the #gno Twitter party with Mom it Forward.  Join us from 9:00-10:00pm EST where Barilla's Executive Chef and Certified Lasagne Expert, Lorenzo Boni will be sharing how to prepare the perfect lasagne.  Be sure to follow @BarillaUS and @MomItForward and use hashtag #BarillaLasagne to talk all about lasagne and holiday cooking!  For more information, visit Mom It Forward.  Also, make sure you check out Barilla on Twitter, Facebook and Pinterest.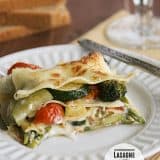 Lasagne with Fresh Vegetables
---
Prep Time: 20 minutes
Cook Time: 30 minutes
Total Time: 1 hour
Yield: 8 servings 1x
Description
An easy lasagne recipe using Barilla Oven Ready Lasagne noodles and filled with lots of fresh vegetables.
---
Scale
Ingredients
2 tablespoons Extra Virgin Olive Oil
1 clove Garlic
2 cups Zucchini, cut into half moon slices
3 cups Asparagus, cut into small pieces on a bias
3 cups Broccoli Florets, cut into small pieces
1 pint Cherry Tomato, halved
4 1/2 cups Milk
4 tablespoons Butter
4 tablespoons Flour
1 cup Parmigiano Reggiano Cheese Grated
1 box Barilla Lasagne Oven Ready
---
Instructions
Preheat the oven to 375.
Heat the olive oil in a large pan over medium heat. Add the whole garlic clove. Add in the zucchini, asparagus and broccoli and saute until cooked but still crunchy. Add in the tomatoes, season with salt and pepper and cook for 2 additional minutes.
Meanwhile, in medium pot, bring the milk to a boil
In another pot, melt the butter. Whisk in the flour and cook for a minute. Whisk the boiling milk into the mixture and cook, stirring continuously, for 5 minutes. Season with salt and pepper. Add the cheese, reserving some for the top.
Spray a 9×13-inch baking dish with cooking spray. Pour some of the bechemel sauce into the bottom of the pan. Add a layer of lasagne noodles. Add in one third of the vegetables and more of the bechemel. Add another layer of noodles, another one third of the vegetables and more bechemel followed by noodles, the rest of the vegetables and more bechemel. Top off the lasagne with a last layer of noodles and the remaining bechemel. Sprinkle on the reserved cheese.
Bake in the preheated oven for about 30 minutes. Let the lasagne sit for 15 minutes before serving.
——————————-
slightly adapted from Barilla
**This is a sponsored post from Barilla through Mom It Forward, but all opininons are my own.**