This Whole Wheat Cinnamon Swirl Bread is an easy 100% whole wheat bread, filled with a swirl of cinnamon and sugar. My favorite is to eat a warm slice with a smear of butter!
If you love cinnamon you'll also want to check out these Cinnamon Roll Muffins or these Peanut Butter Cinnamon Meltaway Cookies.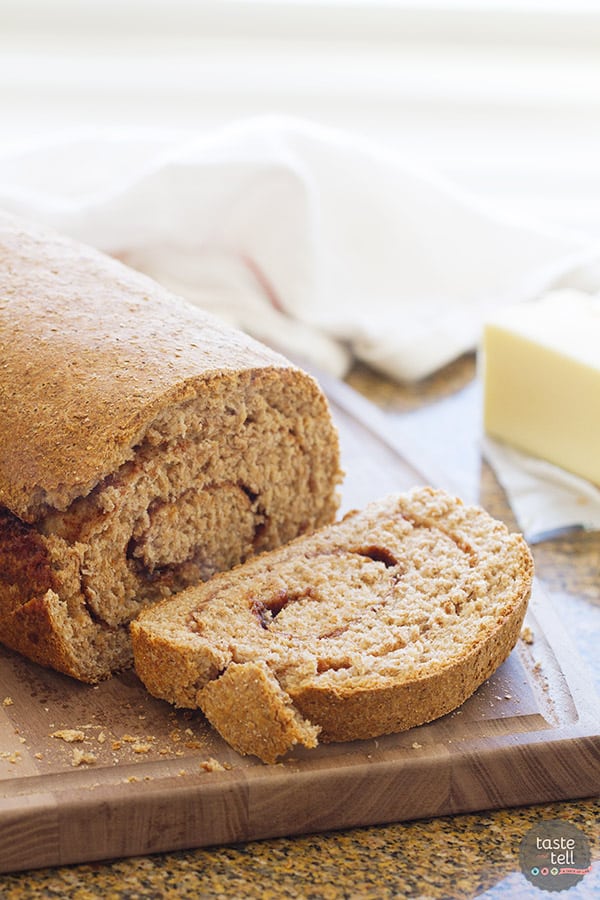 I have this dream life in my head where my house is always clean, my kids never fight and there are always fresh baked cookies in the cookie jar. And then I look around and realize that cleaning up after 3 small children is a full-time job in and of itself, even just an hour without fighting children is a miracle, and that I don't even own a cookie jar. (I really, really need to change that last one.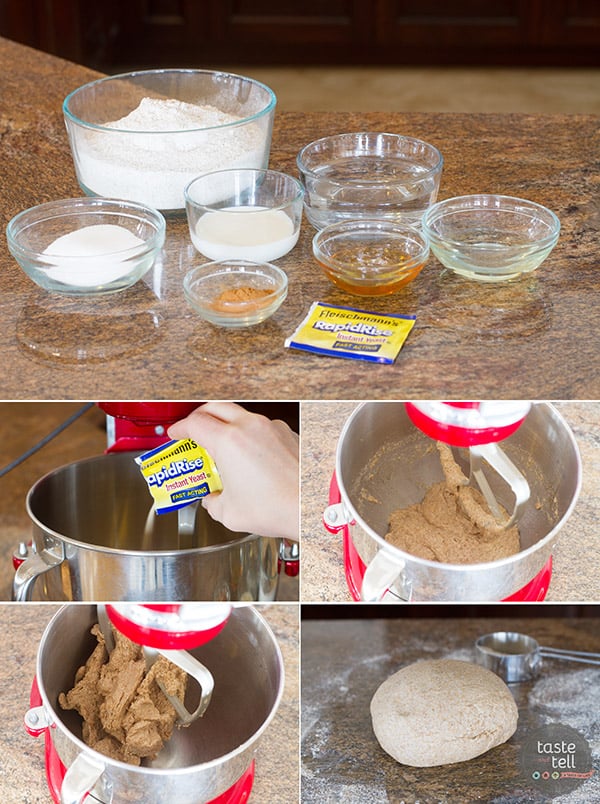 Even though my life is far from perfect, and there are things I want to improve upon every day, I know that I can take little steps to making a more homemade life. Sure, there are plenty of times when I want to need to take a short cut, but this year, I am committing to taking things back to the basics, which means more homemade.
I have always wanted to be one of those people who make all of their own bread. I had a roommate in college whose mom always made their bread, and she would come back from visits home with a loaf or two of that bread. Ever since then, I've said that I want to be that kind of mom. And even though I haven't been that kind of mom, a new year and new resolutions can help me to take a step towards being a little more homemade.

So bread is where I will start.
Thank goodness for Fleishmann's® Yeast. A reliable, good quality yeast can make all the difference when it comes to baking. I know a lot of people are intimidated by baking with yeast, but I'm here today to show you that it really can be quite simple, especially when you start with an easy, basic recipe.
I switched to 100% whole wheat bread back before I even started having kids, so my kids have grown up eating "brown" bread. It's a pretty rare occasion when I buy a loaf of white bread. So I knew I needed a good 100% whole wheat bread recipe. And while there are lots and lots of recipes out there, if you are new to baking, or if you are wanting to learn how to make better bread, a basic recipe is where you want to start! I found this whole wheat bread recipe on the Fleishmann's® Yeast website – breadworld.com – and knew it would be a great beginners recipe for a loaf of whole wheat bread.
But of course, I couldn't just leave it alone. While I will be making the original recipe for sandwiches, I thought it would be fun to turn it into a Cinnamon Swirl Bread for a special treat. That way you get the nutrients from the whole wheat, with a little added sweetness and flavor from the cinnamon and sugar.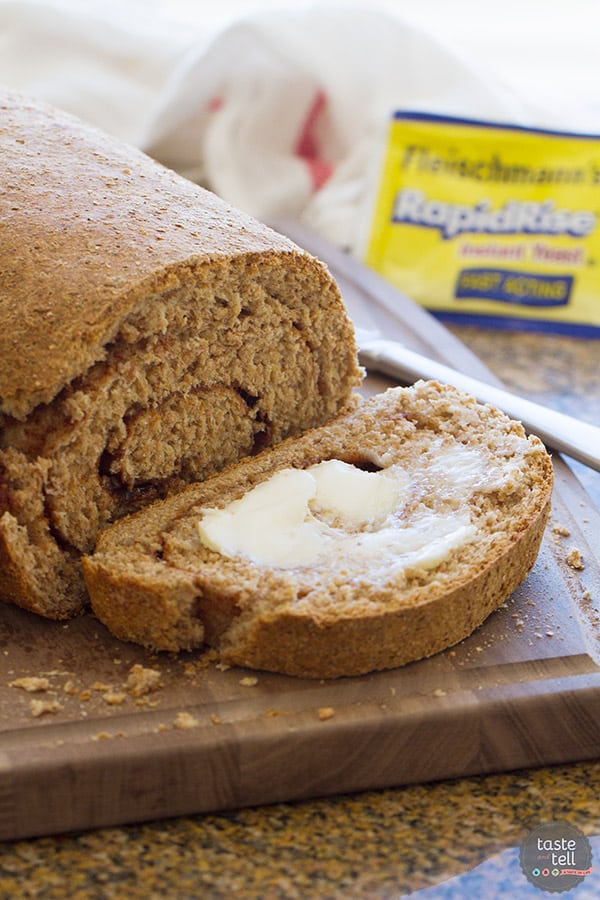 Now is the perfect time to get back to basics and either learn how to make things like this whole wheat bread from scratch, or if you are a veteran in the kitchen, it's a great time to spruce up your baking skills. And not only is this Whole Wheat Cinnamon Swirl Bread a great place to start, but it's also the perfect loaf to bake up for a friend – a great way to bake a little extra to share and spread the baking love.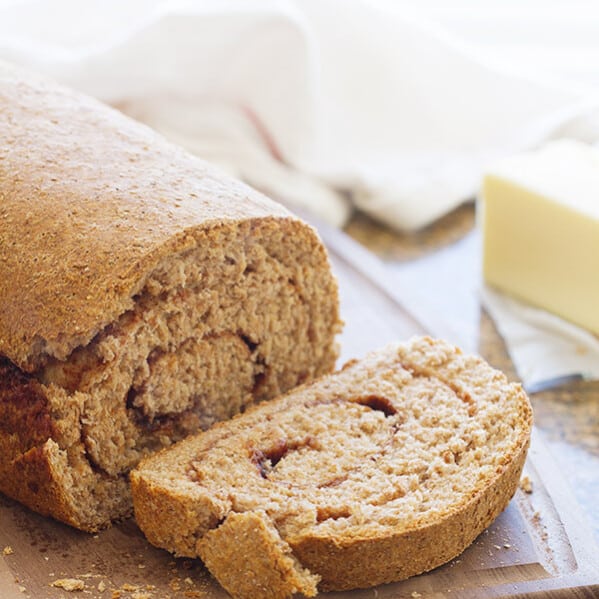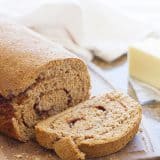 Whole Wheat Cinnamon Swirl Bread
---
Author:
Prep Time: 30 mins
Cook Time: 45 mins
Total Time: 1 hour 15 mins
Yield: 1 loaf 1x
Description
An easy 100% whole wheat bread, filled with a swirl of cinnamon and sugar. My favorite is to eat a warm slice with a smear of butter!
---
Scale
Ingredients
3 3/4 – 4 1/4 cups whole wheat flour
1 packet Fleischmann's® RapidRise™ Yeast
1 1/4 teaspoon salt
1 1/3 cups water
1/3 cup milk
2 tablespoons Mazola® Corn Oil
2 tablespoons honey
1/4 cup sugar
2 teaspoons cinnamon
---
Instructions
In the bowl of a stand mixer, combine 2 cups of the flour, the yeast and the salt. Stir to combine. In a microwave safe bowl, or in a small saucepan over low heat, combine the water, milk, oil and honey. Heat (in 15 second increments if using the microwave) until dry warm but not hot to the touch (120ºF to 130ºF). Add the liquids to the flour mixture.
Beat the mixture for 2 minutes on medium speed, scraping bowl occasionally. Add 1 cup of flour, beat on low for a few seconds to incorporate, then beat on high for 2 minutes, scraping the bowl occasionally. Add in just enough of the remaining flour so that the dough forms into a ball.
Turn the dough out onto a lightly floured surface and knead until smooth and elastic and when it springs back when lightly pressed with 2 fingers, about 6 to 8 minutes. Alternately, change to the dough hook and knead in your mixer. Cover the dough with a towel and allow it to rest for 10 minutes.
In a small bowl, combine the sugar and the cinnamon. Set aside.
With a rolling pin, roll the dough into a 12×7-inch rectangle. Sprinkle the cinnamon sugar mixture evenly over the dough, pressing it into the dough lightly with your hands. Starting on the short end of the rectangle, roll the dough up tightly, then pinch the ends to seal. Place the dough, seam side down, in a greased 8 1/2×4 1/2 inch loaf pan. Cover the pan with a clean towel and set in a warm place to rise until doubled, 45 to 60 minutes.
Preheat the oven to 375ºF. Bake the bread for 35 to 45 minutes, or until golden brown. Run a knife around the edges, then invert onto a wire rack to cool.
Recipe Notes:
TOTAL TIME DOES NOT INCLUDE RESTING OR RISING TIME.
adapted from breadworld.com
I am a Bake a Little Extra Blog Ambassador and this Whole Wheat Cinnamon Swirl Bread post is sponsored by Fleishmann's® Yeast. I'm so glad to be able to work with companies and organizations that I truly believe in. Thank you for supporting them, too.