Pork tenderloin is sliced and served with an easy hoisin sauce.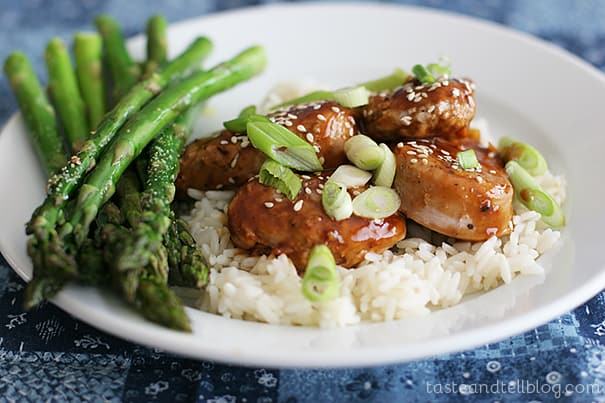 I think there are 2 types of cooks. Those who follow a recipe, and those who can just "throw" dinner together. Oh, how I wish I fell into that second group every once in awhile. I'm not good at all at looking at my pantry and refrigerator and coming up with a great meal just from what I have on hand. If I have a recipe that just happens to have ingredients I have on hand – I can do that. But there has only been a handful of times where I was able to just come up with something on the spot – no recipe required.
But what I have found myself doing a lot lately is being inspired by an ingredient. Take this pork dish, for example. I had a pork tenderloin in the freezer that needed to be used. And I just happened to have the Food Network on in the background one Saturday when an episode of Ask Aida came on where she made this dish. Hey, I thought to myself. I have pork, I have hoisin – I could totally make this meal!
I made the meal, and I loved it!! I love it when a meal comes together from items I have on hand!
Like what you see here? Make sure you are following Taste and Tell for more great recipes and ideas!!

Facebook ** Pinterest ** Twitter ** Instagram ** Google+
or you can subscribe to my newsletter or Feedly or Bloglovin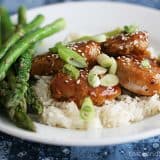 Easy Pork With Hoisin Sauce
---
Prep Time: 10 minutes
Cook Time: 15 minutes
Total Time: 25 minutes
Yield: 4 servings 1x
Description
Pork tenderloin is sliced and served with an easy hoisin sauce.
---
Scale
Ingredients
1 pound pork tenderloin
1 tablespoon toasted sesame oil
salt and pepper
3 medium garlic cloves, minced
1/4 cup dry sherry
1/4 cup hoisin sauce
toasted sesame seeds, for garnish (optional)
thinly sliced green onions, for garnish
steamed rice, cooked, for serving
---
Instructions
Trim excess fat and silverskin from tenderloin. Cut into 1-inch pieces, pat with paper towels, rub with some sesame oil, and season with salt and freshly ground black pepper.
Place a medium skillet over medium high heat, add 1 tablespoon sesame oil. When oil shimmers, add pork and cook until browned, about 2 to 3 minutes per side.
Remove pork to a plate, return skillet to stove, and add garlic. When garlic is fragrant, add sherry and hoisin, stir to combine, and cook until sauce is reduced slightly and sherry smell is cooked off, about 4 minutes. Return pork to pot, turn to coat in sauce, season with salt and freshly ground black pepper. Sprinkle with sesame seeds and green onions, if using, and serve over rice.