Slow Cooker Beef Stroganoff – Beef is slow cooked with mushrooms. Using a slow cooker makes this easy enough for any night.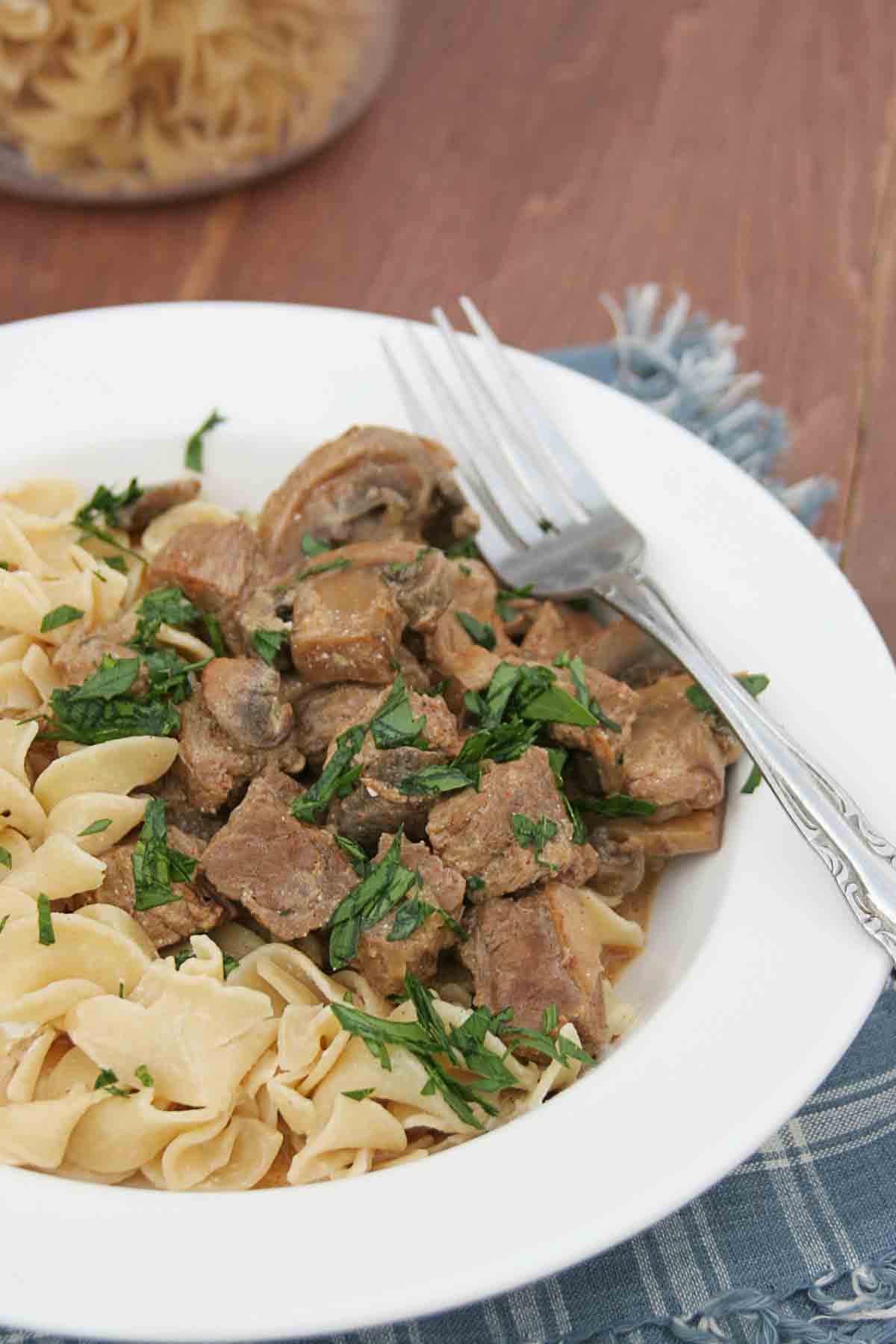 I sometimes have to laugh at myself. I said that I wasn't going to take on anything else – including cookbook reviews – until after the baby comes, but here I am with another cookbook review!! This is one that I just couldn't turn down, though, because it looked like such a great one!!
I'm sure most of you have been on the website MyRecipes.com.  MyRecipes.com is the home of thousands of recipes from some of your favorite magazines – including Cooking Light, Real Simple, Southern Living and more.  It is a great resource for recipes.  So when you compile together the top 200 rated recipes, you know you are going to have a good cookbook on your hands!!
I first have to mention a pretty cool feature that this cookbook has.  You can download an app on your phone – called the Digimarc Discover App – and then scan pictures from the cookbook and get additional content – including videos, recipes, meal planners, and more.  I had fun playing around with it!!
This cookbook is a great collection of recipes. I know that some people complain when all of the recipes are available online, but I'm a cookbook girl and always like things in print!! But that being said, this is a collection of the most popular recipes from the website. So I'm pretty sure all of the recipes can be found online.
Number of Photos: Lots
I'm pretty sure every recipe has a photo with it. And a lot of them use the Digimarc Discover App, so you can definitely have fun looking through this cookbook!

Difficulty Level of Recipes: Easy
I didn't run across anything that seemed very difficult at all. All of the recipes seemed pretty straight forward.
Availability of Ingredients: easy
Again, straightforward recipes equals easy ingredients!
And here's what I made:
After almost 7 years of marriage, I found out that one of my husband's favorite meals is beef stroganoff. And in almost 7 years of marriage, I have never made it. So I thought I'd surprise my husband with this. Honestly, I didn't even realize this was a slow cooker recipe when I first chose it. It wasn't until I went to make dinner and I read through the recipe that I realized that my meal plan for that night was changing!! But not a big deal, I just made this the next night. (Oh, and when we went to eat dinner, I also learned that my husband has only ever had beef stroganoff with ground beef. I've never had it that way, but it looks like I have something else I need to add to my menu plan!!)
I'm sharing this recipe with you today because I actually made a few changes to it. I have this thing with boiling down the sauces from slow cooked meals after the food is cooked.  I included those instructions in the recipe, but it's optional. I just like for my sauces to be a little thicker, but you do have to realize that it concentrates the flavor as well.  But we really liked the final product. Except I totally overcooked my egg noodles, but that is just me, not the recipe!! 🙂 
Overall, I really did like this cookbook and actually have a few more things bookmarked to make. It's one that I know I'll get use out of!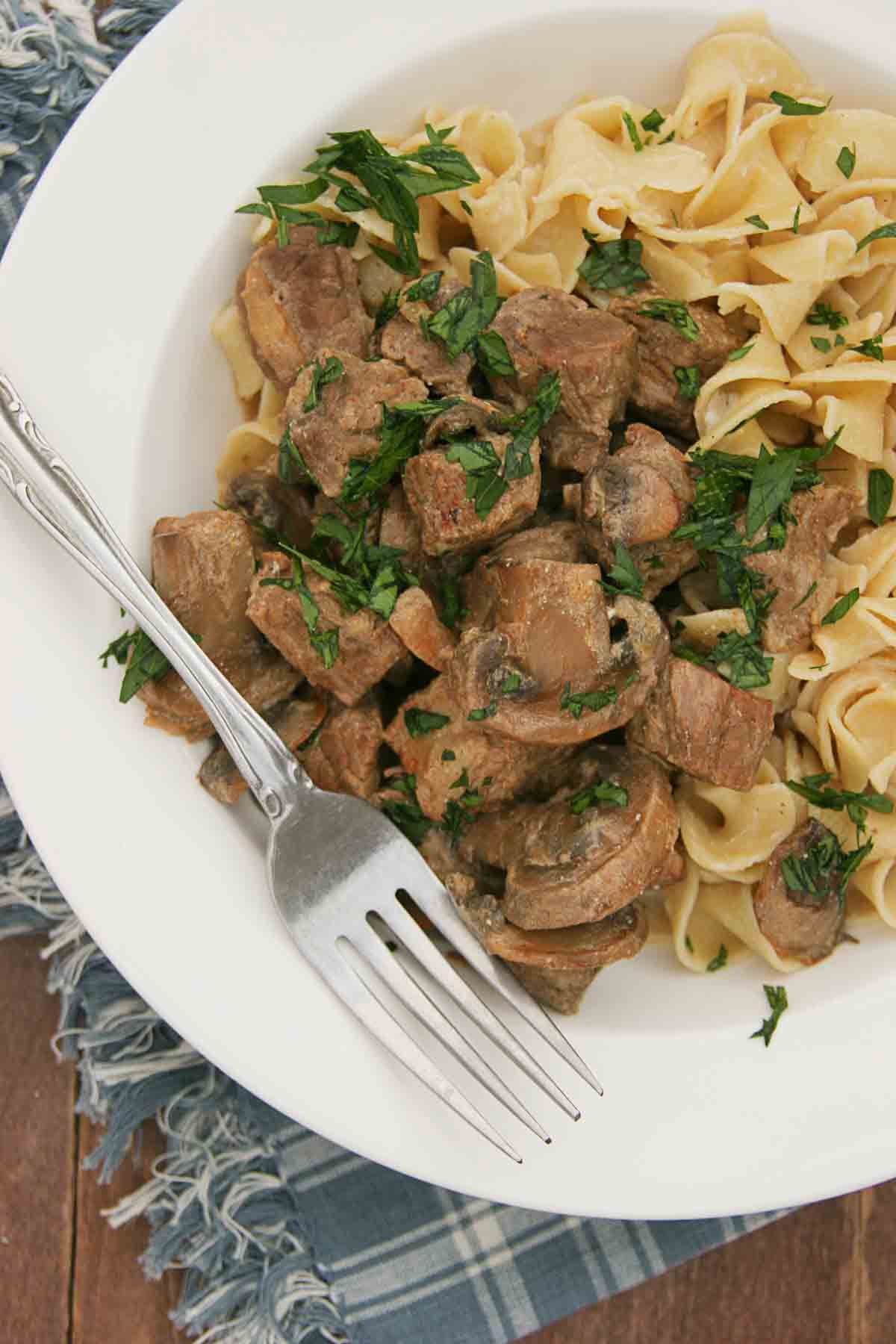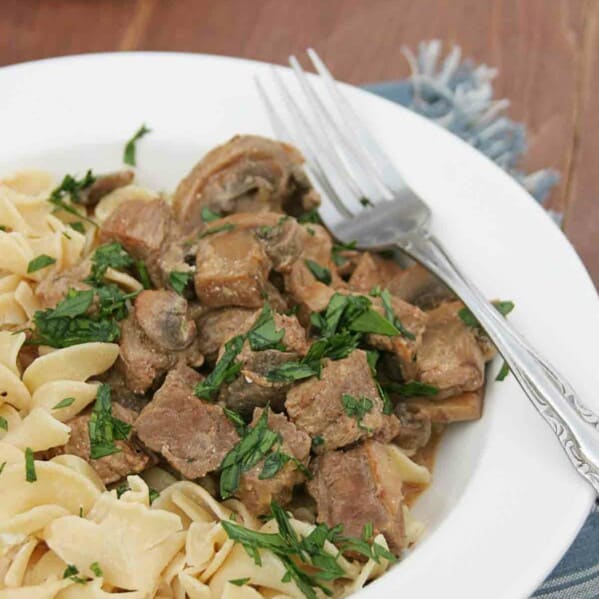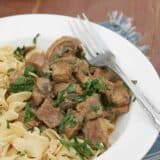 Slow Cooker Beef Stroganoff
---
Author:
Prep Time: 15 minutes
Cook Time: 6 hours
Total Time: 6 hours 45 minutes
Yield: 4 servings 1x
Category: Main Dish
Method: Slow Cooker
Cuisine: Russian
Description
Beef is slow cooked with mushrooms. Using a slow cooker makes this easy enough for any night.
---
Scale
Ingredients
1 1/2 lbs beef stew meat, cut into cubes
salt and pepper
2 teaspoons paprika, divided
1 tablespoon vegetable oil
2 cups sliced mushrooms
2–3 shallots, thinly sliced
1 1/2 cups beef broth
1/2 cup sour cream
chopped fresh parsley
---
Instructions
Sprinkle the beef with 1 teaspoon of the paprika and season with salt and pepper. Heat the oil in a large skillet over medium-high heat. Add the beef and cook until browned on all sides. Transfer to a slow cooker.
Add the mushrooms and shallots to the skillet. Sprinkle with the remaining teaspoon of paprika. Cook for 3 minutes; season with salt and pepper. Add in the beef broth and sour cream and cook for 2 more minutes, scraping up any of the browned bits on the bottom of the skillet. Pour the mixture over the beef in the slow cooker and cook until beef is tender, about 6 hours on low.
Sprinkle with chopped parsley and serve with egg noodles.
**OPTIONAL** Remove the beef with a slotted spoon. Pour the liqiud into a saucepan and cook over high heat until reduced by 1/3 to 1/2. Return beef and liquid to the slow cooker to serve.
Keywords: slow cooker beef stroganoff