Chicken, mushrooms and artichokes are cooked in a creamy sauce, making this Creamy Artichoke Chicken a dreamy chicken dinner!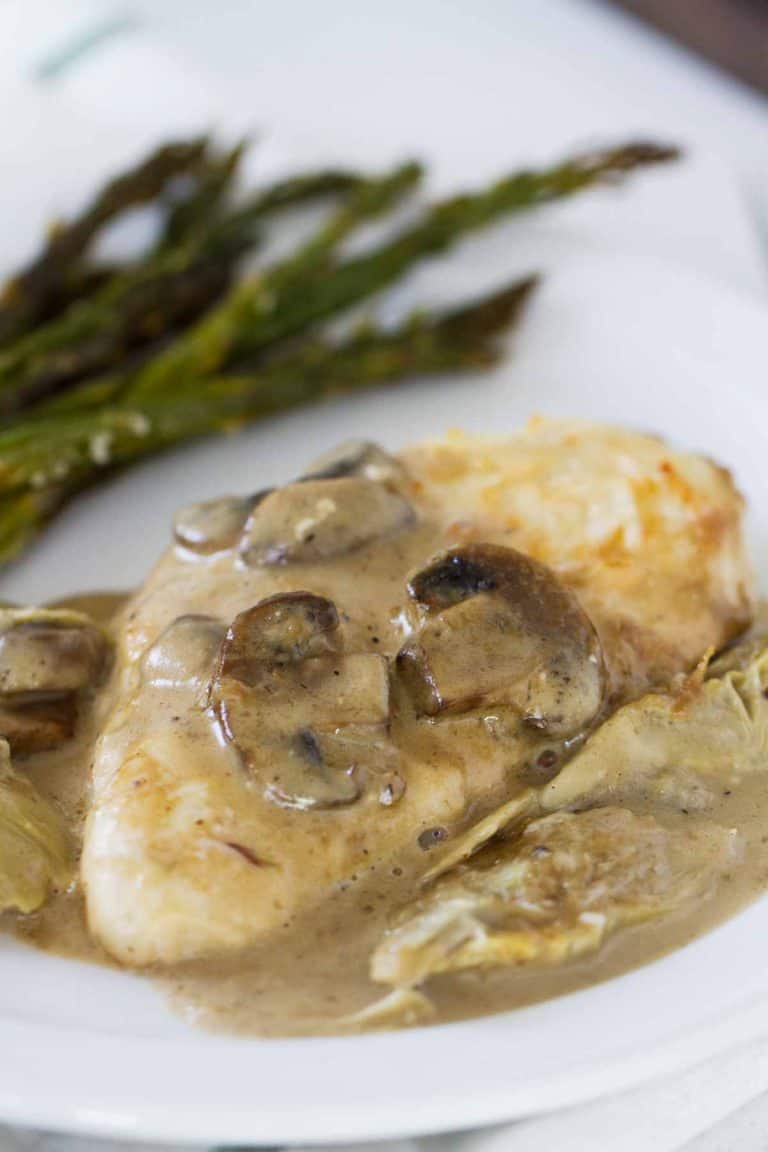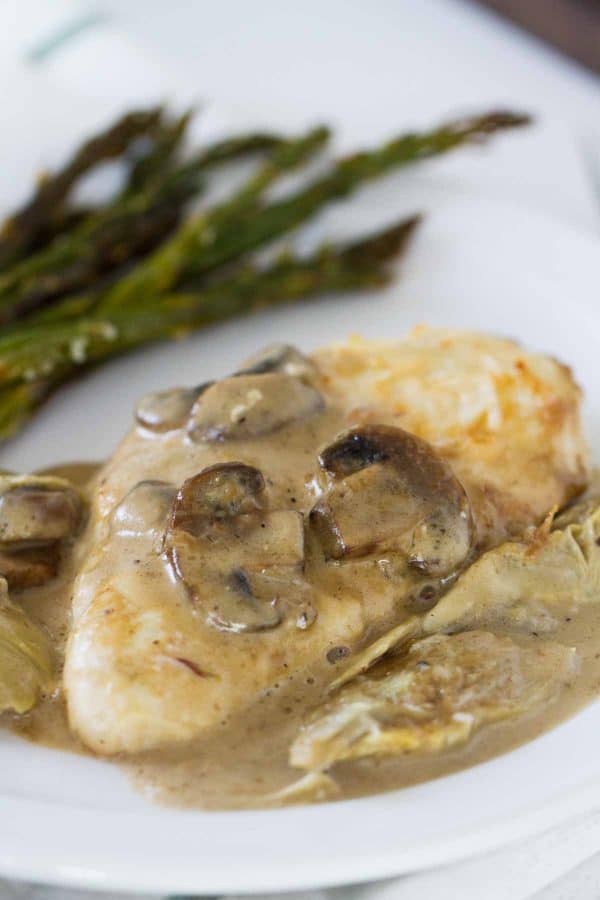 I have always said that I think that I was meant to be a southerner. Something about the southern culture just draws me in.
And of course the food. They sure know how to do food.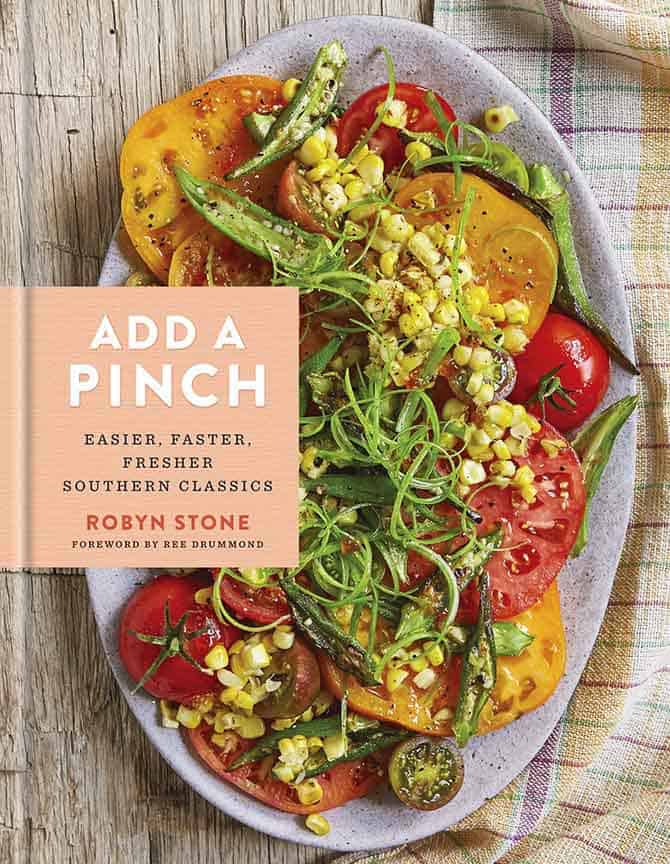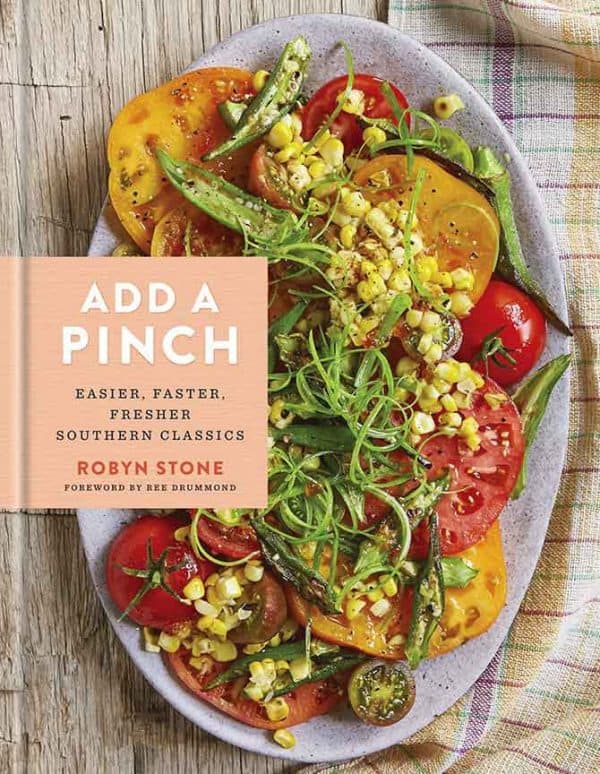 Which is why I am super excited about today's cookbook review. Add a Pinch, from blogger Robyn Stone of the blog Add a Pinch, is the newest southern cookbook that you need in your collection. Filled with fast, easy and fresh southern recipes, there is something for everyone in this book. Even if you aren't already hooked on southern food, this book will turn you and make you fall helplessly head over heels.
Here are the details:
Number of Photos: many. There isn't a photo of every single recipe, but pretty close! And the photos are gorgeous. This book is pretty enough to be put out as a coffee table book.
Difficultly level of recipes: easy to medium. The majority of the recipes should be quite simple to make. There is a dessert chapter, so those may be a little more difficult than a beginning level, but really, most anyone can make the majority of these recipes.
Availability of Ingredients: easy. Most of the ingredients look like they are easy enough to find at any well-stocked grocery store.
Other recipes I want to try:
Cranberry Chicken Bites
Spinach and Artichoke-Stuffed Mushrooms
Pepper Jelly Pork Medallions
Braised Beef Short Ribs
Easy Pepper Steak
One-Pan Parmesan-Crusted Chicken with Broccoli
Buttermilk Mashed Potatoes
Poppy seed Fruit Salad
Pimento Cheese Biscuits
Parmesan Garlic Biscuit Rolls
Buy Add a Pinch on Amazon.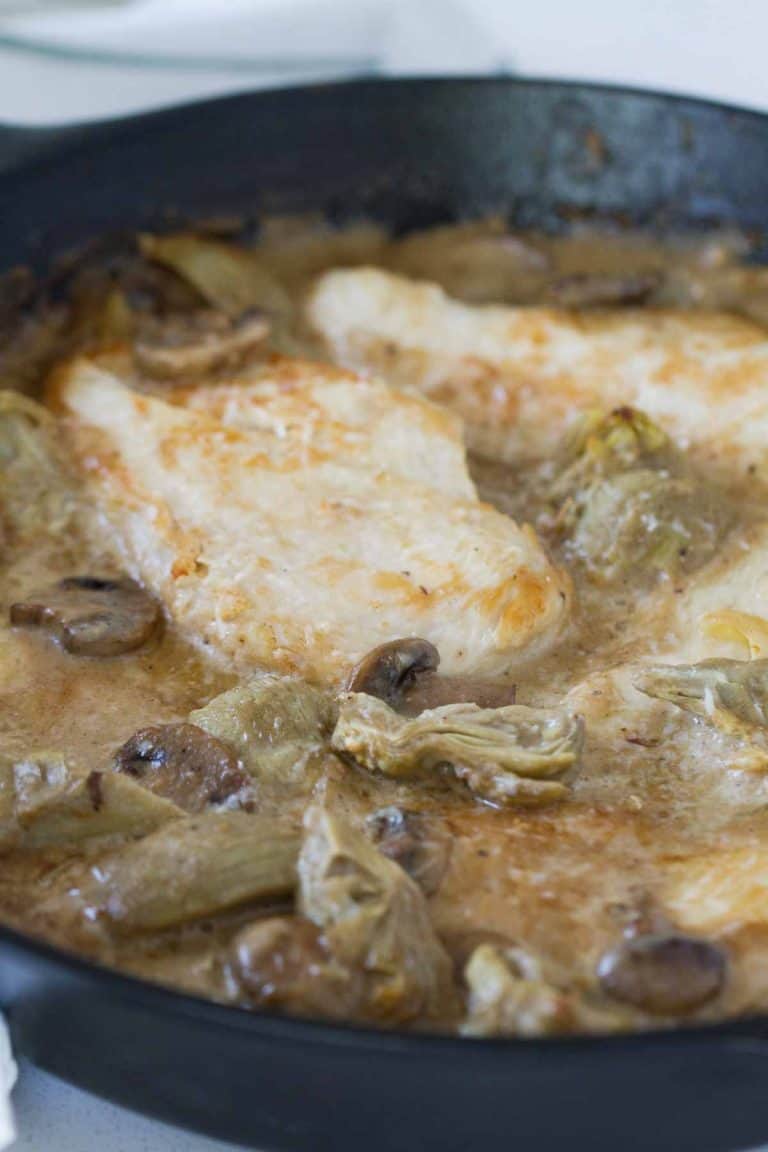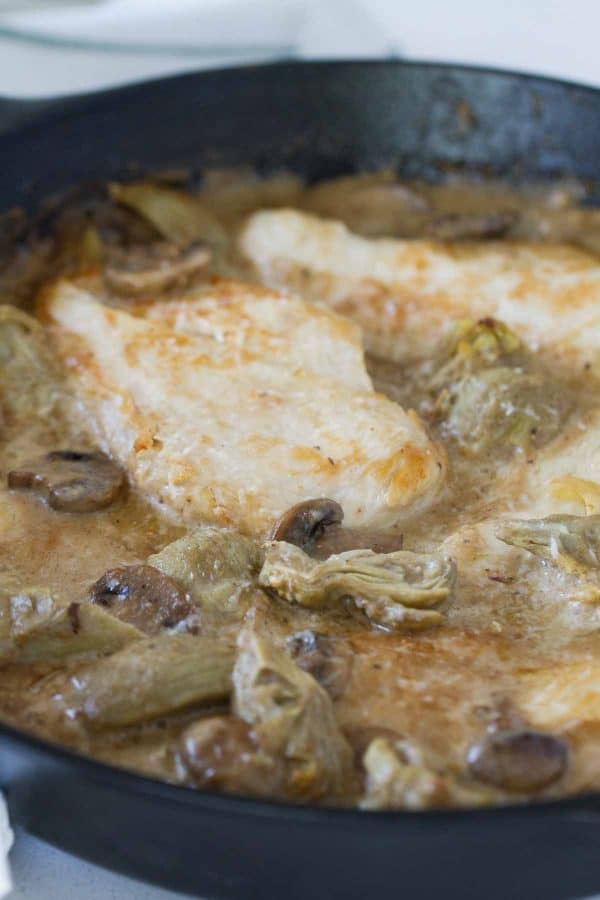 Once again, I couldn't decide what recipe I wanted to make. So I went through the book, and tagged way too many recipes. And then I handed it over to my husband, and he had to choose which recipe I was going to make and blog.
Well, he didn't make it past this Creamy Artichoke Chicken without calling it. Hew knew it was something that he'd love, and I was happy he chose it because I knew I'd love it, too! I'm always looking for a way to jazz up chicken, and this is definitely one way to do that.
This recipe is pretty straight forward. It takes a little more time than a weeknight meal would take for me, (so no 30 minute meal here!) but it's totally worth every minute.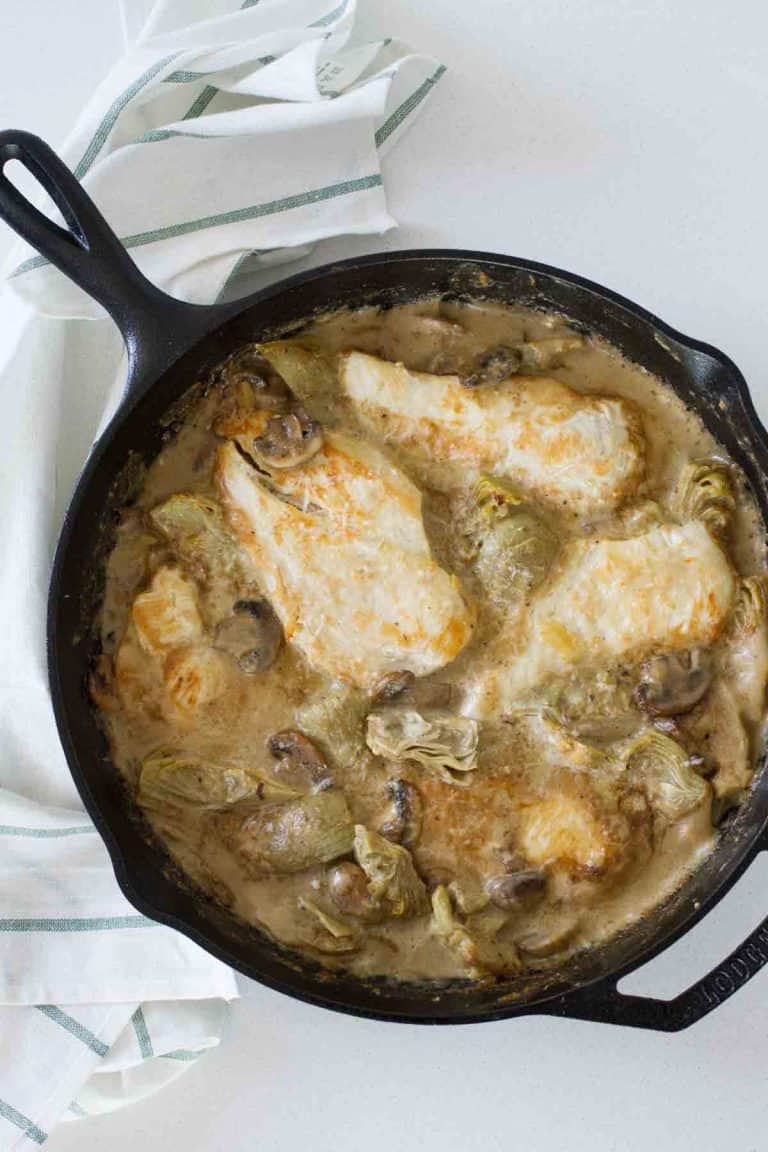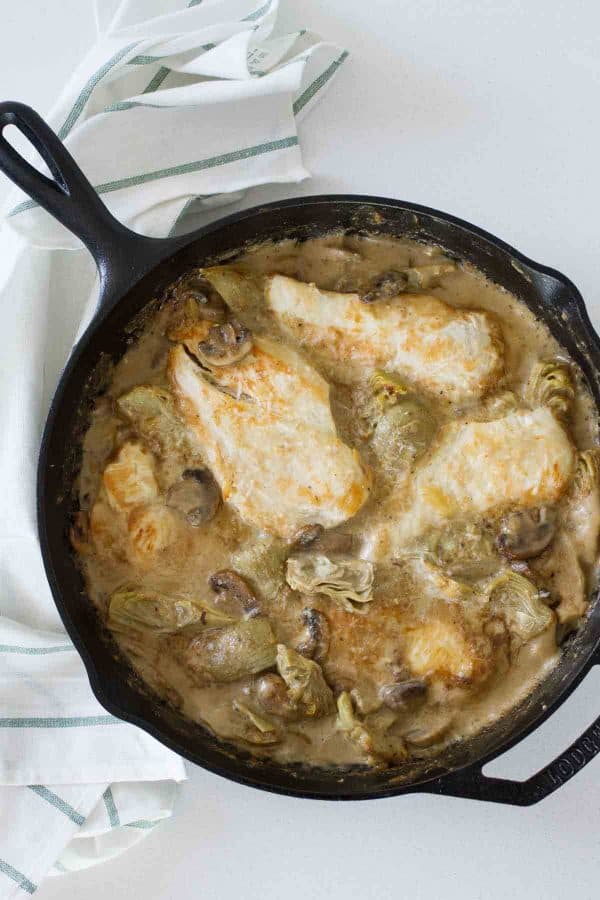 This Creamy Artichoke Chicken is so delicious – if the rest of the recipe in this books are that good, then I can't wait to dig into even more from the book!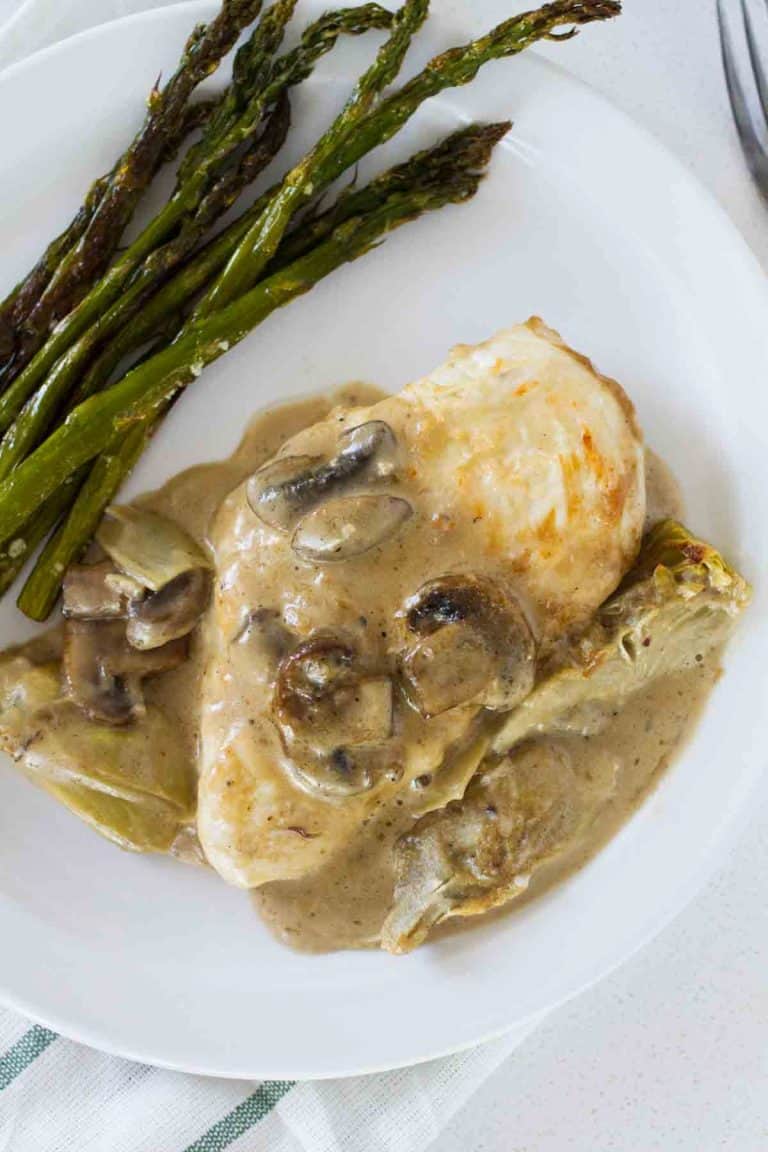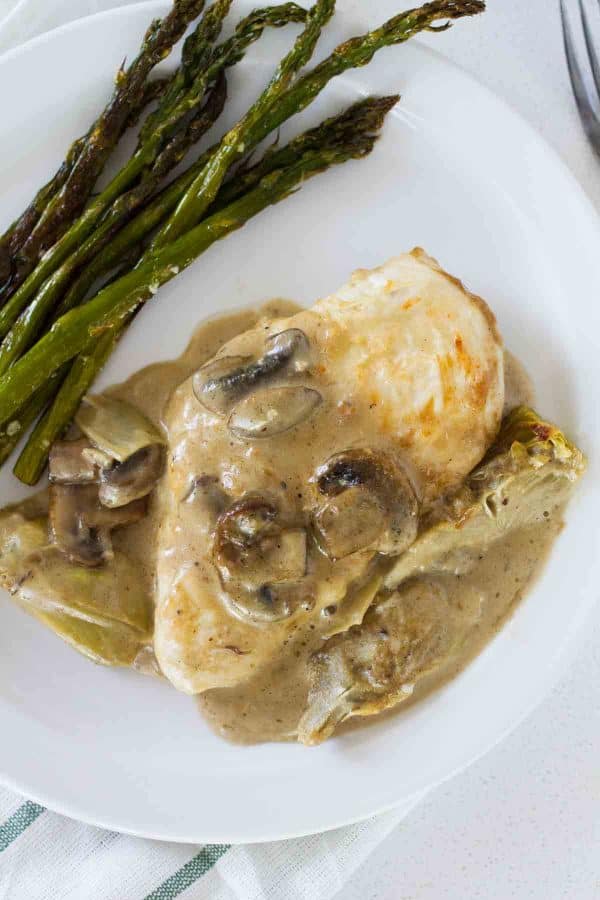 Like what you see here? Make sure you are following Taste and Tell for more recipes and ideas!
Facebook | Pinterest | Instagram | Twitter | Google+ | Weekly Newsletter | Feedly | Bloglovin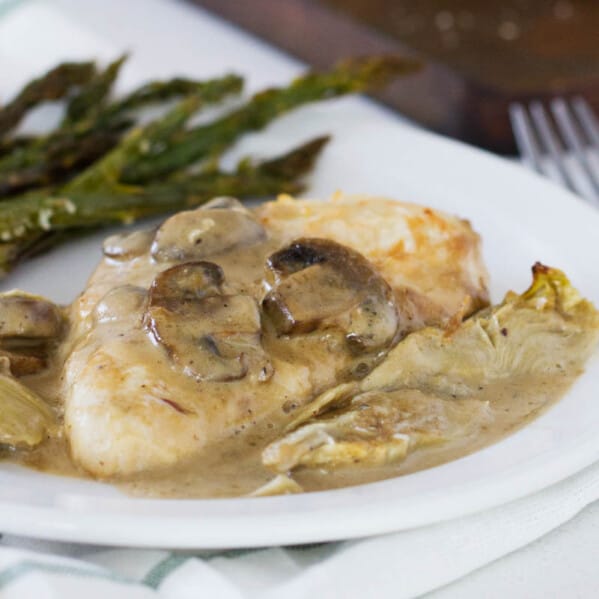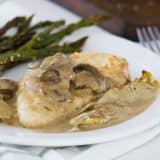 Creamy Artichoke Chicken
---
Author:
Prep Time: 10 mins
Cook Time: 60 mins
Total Time: 1 hour 10 minutes
Yield: 6 servings 1x
Category: Dinner
Description
Chicken, mushrooms and artichokes are cooked in a creamy sauce, making this Creamy Artichoke Chicken a dreamy chicken dinner!
---
Scale
Ingredients
2 tablespoons olive oil
6 boneless, skinless chicken breasts
1/2 pound fresh mushrooms, sliced
2 tablespoons salted butter
2 tablespoons all-purpose flour
1 cup chicken stock
1 cup heavy cream
1 teaspoon Stone House Seasoning*
1 (9-ounce) package frozen artichoke hearts, thawed, drained, and quartered**
1/2 cup freshly grated Parmesan cheese
---
Instructions
Preheat the oven to 350º.
In a 12-inch ovenproof skillet set over medium-high heat, heat 1 1/2 tablespoons of the olive oil. Add the chicken breasts and cook until well browned on both sides, about 8 minutes per side. Transfer to a platter.
In the same skillet set over medium heat, add the remaining 1/2 tablespoon olive oil. Add the mushrooms and cook, stirring, until browned, about 5 minutes. Using a slotted spoon, transfer to a small bowl.
In the same skillet set over medium-high heat, melt the butter. Whisk in the flour until smooth. Cook, whisking constantly, until the mixture begins to bubble, about 5 minutes. Whisk in the chicken stock and cream. Reduce the heat to medium-low and cook whisking constantly, until the sauce begins to boil and thicken, about 10 minutes. Remove the pan from the heat and stir in the seasoning mix. Add the cooked mushrooms, artichoke hearts, and Parmesan cheese and stir well. Nestle the chicken into the sauce and vegetables, and spoon the sauce over the chicken.
Bake until the chicken is cooked through and the juices run clear when the chicken is pricked with a sharp knife about 30 minutes. Serve immediately.
Recipe Notes:
*the Stone House Seasoning recipe is also in the book. The recipe is 1/4 cup kosher salt, 2 tablespoons freshly ground pepper and 2 teaspoons granulated garlic or 1 teaspoon garlic powder.
**my artichoke package was 12 oz, so I decided to just use the whole thing.
Reprinted with permission from The Add A Pinch Cookbook
Nutrition
Calories: 453
Sugar: 1 g
Sodium: 890 g
Fat: 28 g
Saturated Fat: 18 g
Unsaturated Fat: 12 g
Trans Fat: 0 g
Carbohydrates: 8 g
Fiber: 2 g
Protein: 32 g
Cholesterol: 124 mg
SHOP THIS POST:
Don't miss a thing! Follow me on Pinterest to see what I'm pinning!