Now that the Thanksgiving weekend is over, I am ready to run full-force into Christmas preparations!  Yes, this time of year is crazy, but I look forward to it every year!  I have about a bazillion things I want to write about, as well as a bazillion other things that I have ready to post about, so I'm sorry if you get sick of me over the next month – I'm afraid I'm going to be posting quite often!
Up first – the perfect way to start out the holiday season – a cookie exchange!  I was asked a few months ago if I'd like an advance copy of Robin L. Olson's cookbook – The Cookie Party Exchange.  If you've read one of my cookbook reviews before, you'll know that I usually try to make at least 3 or 4 recipes from a book so that I can give it a fair review.  I thought I'd do something a little different this time, and actually have a cookie exchange!!
I enlisted the help of my wonderful sisters, sister in law, and mother to help out.  (And as a bonus, my sister's mother in law and my grandma were there too!)  I passed the book around, and we each chose a recipe to make.  Then we all got together one afternoon to taste all the treats, do a little exchange, and vote on our favorite cookie.  Aren't I lucky to have so many wonderful women in my family that like to cook? 🙂
First up was my youngest sister and her mother-in-law.  My sister's husband is from Australia, and his parents still live there.  They come over for awhile around this time every year, and it was only fitting that they made 2 Australian recipes!  First up were the Monte Carlos.  I actually really liked these, although both my sister and her mother in law said this recipe was different than the cookies they've had before.  They also made Anzac Biscuits.  The recipe says that these should be underbaked slightly so that you have a chewy cookie, but even though my sister took them out of the oven well before the time listed in the recipe, they turned out pretty hard.  But the flavor was delicious!
My sister in law made the U.S. Navy Crisp Toffee Bars.  These were quite tasty, although they were another one that turned out a little harder than expected.  My mom made the Raspberry-Walnut Shortbread Bars.  She actually experimented with them, as well, and did half as the recipe was written and added coconut to the other half.  She said that she didn't really care for them and would probably never make them again, but I liked them!  Especially the ones where she added the coconut.
I had a hard time deciding which recipe to make, but I ended up going with the Caramel Apple Cookies.  These definitely get points for cuteness, but I do have to say that none of us could taste the apple in the cookies.  They were a bit time consuming, and not very easy to dip in the caramel.  If I could figure out a way to get the apple flavor to be more pronounced, I think I would really like these.
Another sister made the Lemon Melting Moments.  These came in a close second for me – I am a huge lemon fan!  These aren't like your typical lemon cookies – the actual cookie almost reminded me of a shortbread, and they were topped with a yummy lemon glaze.  They were very fragile, but I thought they were really good!  And that's my grandma on the right – I had to include her since she was part of the party!
And the favorite cookie of the day?  These German Chocolate Thumbprint cookies!  When my sister chose these, I was expecting them to look like your typical thumbprint cookies, but they do not.  But if you are a fan of German chocolate cake, you will love these cookies.  They were soft and a bit chewy, and very delicious!  The clear winner for all of us!
And now a few notes about the cookbook itself:
First up – the cons.  I have to disclose that the cookbook said that it was an advance copy with uncorrected proofs, so I'm hoping that most of the cons are because of this.  There were a few missing instructions in some of the recipes, and the biggest problem almost all of us had is that the number of cookies that the recipe said that it made was way off.  Also, there is no index in the back of the cookbook, which drove me crazy on more than one occasion!
And the pros – This is so much more than just a cookie cookbook!  It truly is a great resource if you are planning on throwing a cookie exchange party this holiday season.  There are instructions and how-tos for throwing a cookie exchange party, as well as lots of different games, themes, and even full menus to go along with your party.  There are tons of cookie recipes with a great variety of different kinds of cookies and bars.  I'll admit that this probably wouldn't be my go-to cookbook if I was just looking to bake up a batch of cookies, but there are definitely a ton of cookies in there that I want to try!
And if you want to try our favorite recipe, here it is!  I wasn't really thinking and didn't get much of a picture of them, but here's what I did have!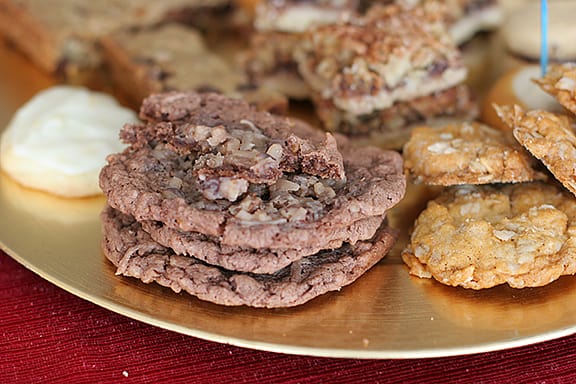 German Chocolate Thumbprint Cookies
from The Cookie Party Cookbook
makes about 5 dozen cookies
Filling
1 cup sugar
1 cup evaporated milk
1/2 cup (1 stick) butter, softened
1 teaspoon vanilla extract
3 large egg yolks, beaten
1 1/2 cups sweetened flaked coconut
1 1/2 cups chopped pecans
Cookies
1 package German chocolate cake mix
1/2 cup butter, melted
In a heavy-bottomed saucepan, combine the sugar, milk, butter, vanilla extract, and egg yolks and blend well.  Cook over medium heat until thickened and bubbly, stirring frequently.  Stir in the coconut and pecans.  Remove from heat and cool to room temperature.
Reserve 1 1/4 cups of the filling mixture and set aside.  In a large bowl, combine the cake mix, melted butter, and the remaining filling mixture.  Stir by hand until thoroughly moistened.
Preheat the oven to 350F.  Line baking sheets with parchment paper.
Shape the dough into 1-inch balls.  Place the balls 2 inches apart on the lined baking sheets.  Make and indentation in the center of each ball with your thumb.  Fill each indentation with a rounded 1/2 teaspoonful of the reserved filling.
Bake the cookies for 10 to 13 minutes, or until set.  Cool 5 minutes, then remove from baking sheets.  Cool completely on wire racks.
**Disclosure – I received a free copy of this cookbook to review, but I was not paid for the review.  All opinions expressed are my own.
&nbsp