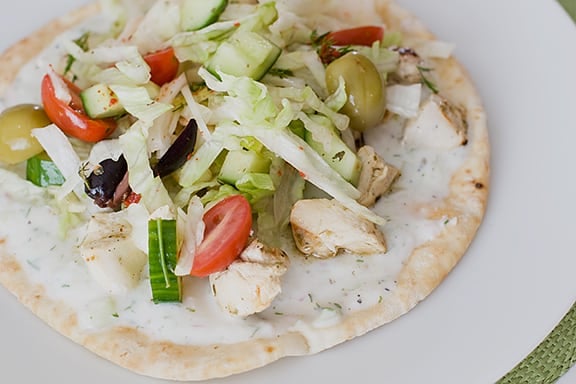 Last week, the recipe I featured made me think of Greek comfort food – this week's recipe makes me think Greek street food! I saw the picture of this in the cookbook, and I knew I wanted to try it.
I decided to make these for lunch this week. It was definitely delicious – but let me warn you – it was a lot of work for a lunch. Not just one recipe here – but 4! Each element is not necessarily difficult, but when you put them all together, it does take a bit of time. And the meat needs to brine for at least 24 hours, then marinade for 4 to 24 hours. But really, I don't want to discourage anyone from making this, because it really is delicious!!
Recipe notes:
For the salad, I left out a few ingredients. There are so many ingredients that I didn't think I'd miss one or two!
I had salad and Ladolemono left over, so I just used the Ladolemono as a dressing and had a lovely side salad for dinner!
I usually love garlic, but my tsatziki was pretty garlicky. I probably put too much on the pita as well, but it was a bit overpowering. I would either cut back on the amount of garlic next time or just use less tsatziki. (It may have been my garlic, too – it seemed extra strong!)
Recipe Rating: 4.25 out of 5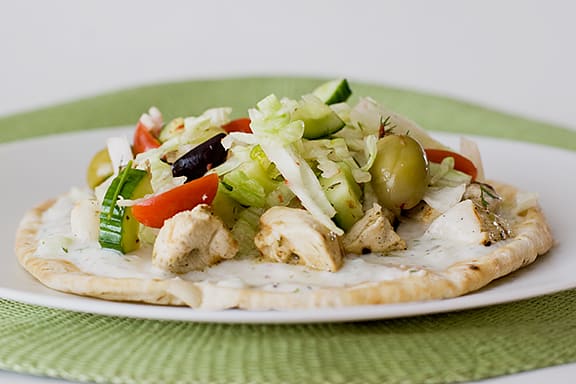 Souvlaki: Chicken Shish Kebab
from How to Roast a Lamb
Serves 4
1 pound boneless, skinless chicken breasts
FOR THE BRINE
1 quart cold water
1/4 cup kosher salt
1/4 cup granulated sugar
1 cup distilled white vinegar
FOR THE MARINADE
1 cup extra-virgin olive oil
3 cloves garlic, smashed and chopped
3 to 4 sprigs thyme
1 fresh bay leaf or 2 dried leaves
2 sprigs rosemary
2 shallots, sliced
kosher salt and cracked black pepper
1/4 recipe Greek Salad (recipe follows)
sea salt and cracked black pepper
1/3 cup Ladolemono (recipe follows)
4 rounds pita bread
extra-virgin olive oil
2/3 cup Tsatziki (recipe follows), for serving
In a plastic or ceramic bowl or crock, stir the brine ingredients together until the salt and sugar have dissolved (this will take a few minutes). Cut the chicken into large chunks. Immerse in the brine and refrigerate overnight.
Remove the meat from the brine and rinse under cool running water. Pat dry with a towel. In a deep baking dish or roasting pan, combine the olive oil, garlic, thyme, bay leaves, rosemary, shallots, and a little salt and pepper. Thread the pieces of meat onto 4 wooden skewers and immerse the skewers in the marinade. Cover with plastic wrap, pressing the plastic right down onto the meat to exclude any air. Refrigerate for at least 4 hours; overnight is even better, though not essential.
Remove the skewers from the refrigerator and let stand at room temperature for 20 to 30 minutes while you preheat a charcoal or gas grill, or ridged cast-iron grill pan, until hot.
In a bowl, combine all the ingredients for Greek Salad and reserve.
Season the Souvlaki lightly with salt and pepper and grill until firm and char-marked on all sides, about 6 minutes. Transfer to a resting platter and dress with Ladolemono.
Paint the pita with extra-virgin olive oil, season with salt and pepper, and grill until firm and char-marked on all sides. Smear some Tsatziki in the center of each pita round. Push the meat off the skewer on top of the tsatziki. Top with some of the Greek Salad. Pull the sides of the pita up to meet in the center, like a taco. Serve like a hand roll, or wrap and secure with a wide strip of parchment. Messy and great!
Greek Salad
(this is the full recipe. You will only need 1/4 of the recipe for the souvlaki)
1 large Spanish or sweet onion, thickly sliced
extra-virgin olive oil
kosher salt and cracked black pepper
1 large head of iceberg lettuce, sliced paper-thin
1 1/2 pounds whole trimmed bulbs of fennel, sliced crosswise paper-thin
4 small fire-roasted red bell peppers, home roasted or store-bought, cut into thin strips
24 cherry or grape tomatoes, halved
3/4 pound English cucumber, peeled, halved, seeds scooped out, and thickly sliced
8 whole scallions, thinly sliced
1 red onion, sliced paper thin
1/2 cup small, picked sprigs dill, roughly chopped
1/2 cup small, picked sprigs parsley, roughly chopped
1 tablespoon dry Greek oregano
about 50 mixed green and black olives, brined and/or oil-cured, pitted and halved
16 whole caperberries
Brush the onion slices with a little olive oil and season with kosher salt and pepper. On a griddle pan or cast-iron skillet, grill the onions until tender. Separate into rings.
IN a large bowl, combine the remaining ingredients.
Ladolemono
(makes about 3/4 cup. You will only need about 1/2 cup of it)
1/4 cup fresh lemon juice
1 tablespoon Dijon mustard
1 tablespoon dry Greek oregano
kosher salt and cracked black pepper
1/2 cup extra-virgin olive oil
In a bowl, combine the lemon juice, mustard, oregano, 1/2 teaspoon kosher salt, and a generous grinding of pepper. Whisk to blend the mixture completely and, whisking all the time, drizzle in the olive oil. This sauce will separate; whisk or shake in a jar before using.
Tsatziki
(makes 1 quart – you will only need 2/3 cup)
1 English cucumber, peeled
10 cloves garlic, smashed and finely chopped
1 cup distilled white vinegar
4 shallots, thickly sliced
1 cup small, picked sprigs dill
2 1/2 cups strained or Greek yogurt or labne spread
2 tablespoons extra-virgin olive oil
2 tablespoons fresh lemon juice
kosher salt and cracked black pepper
Quarter the cucumber lengthwise and trim off the triangular wedge of seeds. Cut the cucumber into very small, even dice. Transfer to a mixing bowl.
IN a food processor, combine the garlic, vinegar, shallots, and dill. Pulse until finely chopped but not pureed. Add the mixture to the cucumbers; add the yogurt. Fold together with a rubber spatula, adding the olive oil and lemon juice. Season liberally with kosher salt and pepper, starting off with 1 tablespoon salt. Taste for seasoning. You can store Tsatziki in a covered, clean jar in the refrigerator for up to 1 week.