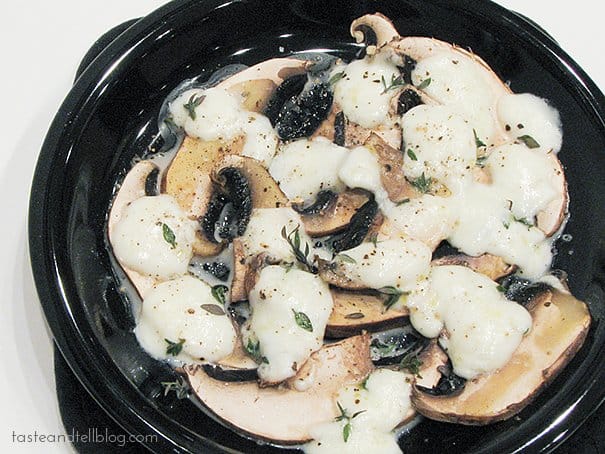 The days leading up to a holiday seem to be so busy. All these preparations for the "big meal" – the meals leading up to the big day are often neglected. I know that this week's Cookbook of the Month recipe seems like a cop-out, but really, I made it out of necessity. The day was busy, and instead of picking up some fast food, or eating a bowl of cereal, I enjoyed this simple appetizer for dinner.
I am learning that a lot of Jamie Oliver's recipes are very simple. This one is definitely that – and although it is considered an appetizer, I just ate a plateful for dinner!! He doesn't specify what kind of mushrooms to use, but I am guessing it is because pretty much any type would do. I just chose what looked good at the store that day – portebellos. I am lucky, because I have transported all of my herbs indoors, and they are surviving very well. It sure is nice to be able to still enjoy fresh herbs while it is so cold outside!! So all I had to do was pick up some mushrooms and mozzarella at the store, and in no time my appetizer dinner was ready!! I think that this may very well become a favorite snack around my house!
Sliced Mushrooms with Melted Mozzarella and Thyme
From Jamie's Italy
A couple big handfuls of very thinly sliced Mushrooms
2 5-oz balls of mozzarella, torn into small pieces
A sprig of fresh thyme, leaves picked
Sea salt and freshly ground pepper
Extra Virgin Olive Oil
On an ovenproof platter, spread the mushrooms in a one layer. Scatter the cheese over the top, followed by the thyme leaves. Season with salt and pepper, drizzle with olive oil, and place under the broiler.
Broil for a few minutes, checking frequently. It is ready when the cheese is melted and bubbly.