I am now realizing that I should have made this cookbook my Cookbook of the Month for November!! I really want to make some dipped fondants, but reading through the recipes, I have learned that most of them are best once they've set for a week or longer. So needless to say, they aren't going to be done by Christmas!! I have run out of time to make gifts for everyone anyway, so maybe I will be making New Year's chocolates. Who says that plates of chocolates are just for Christmas, anyway?
I tried 3 recipes from the cookbook again. This time, I chose Cashew Crunch, Caramels (again, but different recipe) and Chewy Coconut Centers.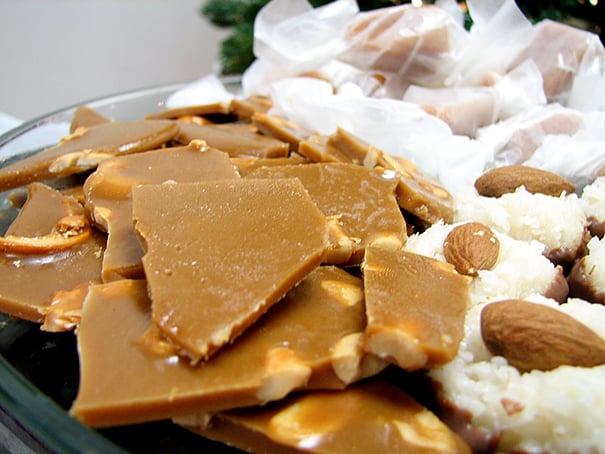 The Cashew Crunch is described as a mix between a toffee and a brittle. I think that description is right on. I thought I had enough cashews at home – the recipe called for one cup – but I was short by about 1/4 cup. It still turned out well and tastes wonderful!! I learned my lesson from the last batch of candy about my thermometer, so I knew to under-cook it. But a funny thing happened – I think I am destined to have to get a new thermometer. After I made this Cashew Crunch, I was cleaning the thermometer to use for the caramels, and when I went to dry the thermometer off, all of the numbers wiped off with my dishtowel. I'm not quite sure why that happened, but now I will have to buy a thermometer that is hopefully more accurate!!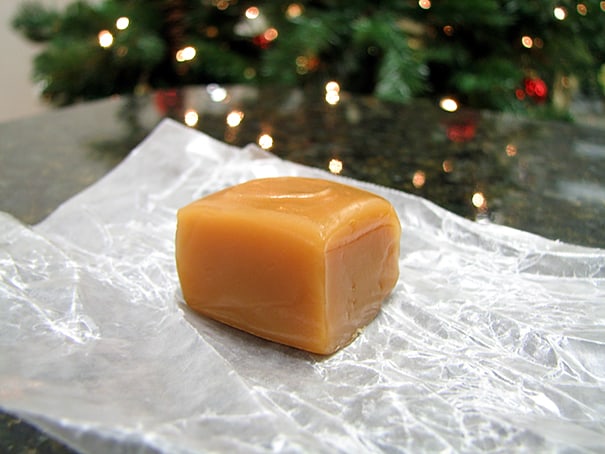 Next up was a new batch of caramels. If you remember from the last batch, I used the "speedy" 30-minute recipe. This time around, I went with a basic caramel recipe. Since I couldn't really read my thermometer, I had to go off of instinct – paying attention to the color and the smell of the caramel. And I have to admit – these are the best caramels that I have ever made. I'm sure the recipe is very similar to many recipes out there, but I think I ate about 10 of these for breakfast the morning after I made them while I was cutting and wrapping them. They are just that good!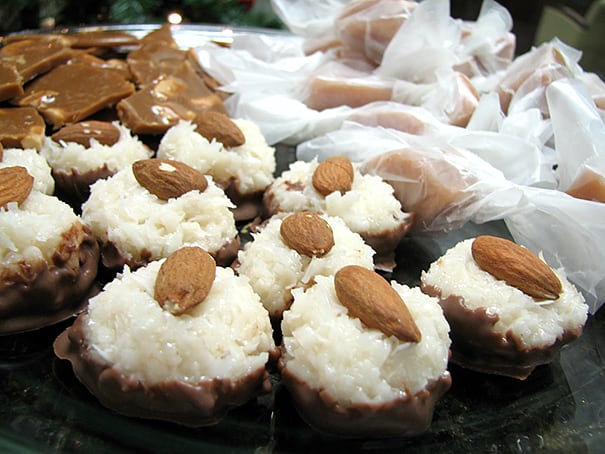 The last of this round were what I originally thought I was making when I made the Shaggy Dogs. I didn't end up making these the first time, but knew that I still wanted to make them – and I'm SO glad that I did! These taste so much like an Almond Joy – but better!! I didn't expect them to taste the way they do because they are made with marshmallows, but you don't taste the marshmallow. I ate the last one this morning – 3 days after they were originally made – and I could vaguely taste the marshmallow, but maybe it's just because I knew it was there. I had to improvise a bit on this – the recipe calls for 12 large marshmallows, but I only had mini marshmallows. I did a quick search online and found a website that said there are 13 mini marshmallows to every big marshmallow. I went with this, but I think it was off. The mixture was still quite runny, even after refrigerating it for about an hour. I ended up adding quite a bit of extra coconut so that I would be able to form them, and even then, they were very sticky and hard to form. I somehow made them work, placed a roasted almond on top and dipped the bottoms in milk chocolate. I would highly recommend the dipping part. They were still quite sticky, and would have been hard to handle and plate if they wouldn't have been dipped. There is another recipe in this book that says they "remind you of the store- bought candy bar" but these really did remind me of Almond Joys. If you prefer, you can leave the almond off, dip them in dark chocolate, and call them homemade Mounds. Either way, I would recommend them!!
Chewy Coconut Centers
from Candymaking
1/2 cup light corn syrup
12 large marshmallows
1 3/4 cups coconut
1 teaspoon vanilla
1/4 teaspoon almond extract
Tempered dipping chocolate
Line a 15″x10″ jelly roll pan with waxed paper, set aside. In a heavy 2-quart saucepan, combine corn syrup and marshmallows. Place over medium heat and stir until the marshmallows are melted. Remove from heat and stir in coconut, vanilla and almond extract. Refrigerate 10 minutes or until mixture is cool enough to handle.
Butter hands. Shape mixture into small walnut-sized balls. Place on baking sheet, flattening each ball slightly. When cool, dip partially or completely in chocolate.
Makes about 50 centers (I only got about half this – although this is what the recipe says!!)