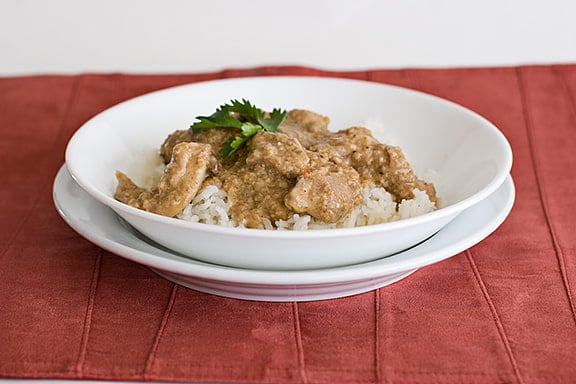 I felt truly sorry for my husband last night. You might remember, but I mentioned that my husband doesn't care for Indian food. So when I chose and Indian cookbook for this month, I was being a bit selfish. I assumed that I would be eating alone these nights, but secretly, I'm hoping my husband will try one of these dishes and change his mind. And I really wish he would have tried this dish last night, because he really did miss out.
I have to admit that I didn't really feel like making this last night. But the pressure was on for me to post today, and I didn't want to put it off. (While there is a lot of pressure associated with the Cookbook of the Month posts, I'm also grateful for them so that I am forced to cook from these books!) I had actually been having a bad day, and I didn't feel like eating at all. But I got into the kitchen, and was then reminded how calming and therapeutic cooking is. And when I took my first bite, all of my cares just faded away. Now, I don't eat Indian food often since my husband doesn't like it, but this was just as good as any dish I've had at any restaurant. And I think that that is sometimes hard to achieve at home. But this recipe nailed it. I did have to change a few things, though, just to make it work with what I had:
I couldn't find coriander seeds or cumin seeds, so I went ahead and just used ground spices for both. I'm sure it would have been fantastic with the whole seeds, but this definitely worked in a pinch!
The grocery store I went to also didn't have unsweetened coconut. But I really wanted the coconut, so I used sweetened. I'm all for a little sweetness thrown in!
I wasn't sure what kind of chiles to use, so I just used some dried chiles de arbol that I already had at home.
Be careful when opening up the food processor after grinding all the spice mix. Those chiles will burn your eyes. (Unfortunately I learned from experience…)
I put the cilantro on top expressly for the pictures, but those bites with the cilantro ended up being my favorite. I would highly suggest putting more cilantro on top!
Recipe Rating: 4.75 out of 5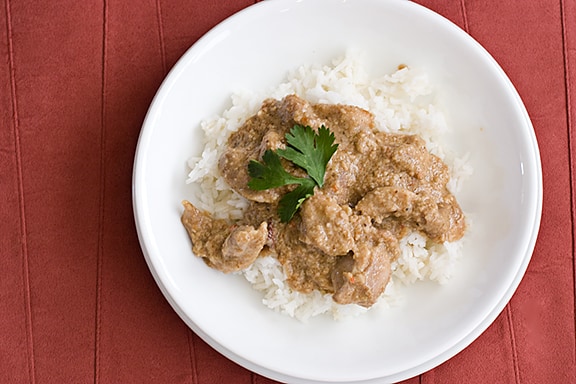 Coconut Chicken with Cashews
from Indian Home Cooking


serves 4
total time: about an hour
1 cup raw or roasted cashews, plus 1/4 cup roasted cashews, for serving
4 whole dried red chiles
a 1-inch piece cinnamon stick
6 whole cloves
3 tablespoons coriander seeds
2 teaspoons cumin seeds
1 medium onion, coarsely chopped
8 garlic cloves
a 2-inch piece fresh ginger, peeled and sliced
1/2 cup unsweetened shredded coconut, or 1/4 cup ground raw or roasted cashews
1/3 cup canola oil
1 teaspoon ground black pepper
2 pounds boneless, skinless chicken thighs, cut crosswise in thirds
2 cups water
1 teaspoon salt, or to taste
Process 1 cup of the raw cashews to a powder in a food processor.
Combine chilies, cinnamon stick, cloves, coriander, cumin, onion, garlic, ginger, coconut, and 3/4 cup of the ground cashews in a large saucepan or casserole over low heat. Cook, stirring, until the cashews and coconut have turned light golden, about 10 minutes. Cool and process to a paste in a food processor.
Wipe out the casserole and put over medium heat. Add the oil, the spice paste, and the black pepper. Cook, stirring, until mixture is cooked. As the spices begin to stick, add water, about 1 teaspoon at a time, and scrape the bottom of the pan with the spoon to pull up the browned bits and keep the spices from burning.
Add the remaining ground cashews and cook, stirring, 5 more minutes. Add chicken and cook, stirring, until it turns opaque, about 5 minutes.
Add water and the salt, bring to a boil, turn the heat down, and simmer, partially covered, until the chicken is tender, 15 to 20 minutes. Taste for salt and sprinkle with the remaining ¼ cup roasted cashews. Serve hot.
Serve over rice, if desired.