Chicken Saute with Caramelized Ginger Sauce – a sweet and spicy chicken recipe that is cooked with a sticky ginger sauce.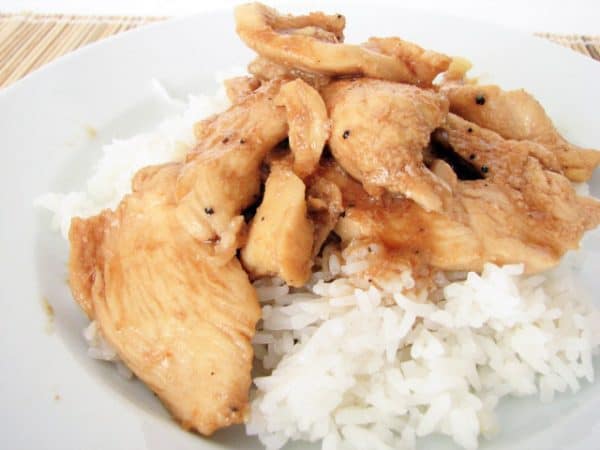 Yesterday was one of those days. Although we don't leave to New York until Friday morning, I have taken tomorrow off of work to prepare, so I have been busy at work trying to get everything finished and everything in order before I leave. So by the time the day was over yesterday, I was dead on my feet. All I wanted to do was go home, change into some comfy clothes, and veg on the couch and watch American Idol.
But I was hungry. And I haven't been to the grocery store for awhile now, knowing that we would be out of town for a week. We didn't even have anything around I could just snack on for dinner. In comes an easy, fast meal that can be made from what I had in the cupboard and freezer. And dinner was on the table in the time it took to make the rice!
This recipe comes from the current issue of Cooking Light. (So you can feel good about eating it as well!) It was super easy, and I loved the combination of sweet and a little spicy. But this recipe does need something more. Although I am normally a recipe follower, taking very small liberties with recipes, this is one that I feel confident that I could play around with and come up with something even better. Here's what I would change:
It definitely needs a veggie or two. Although I like my protein, some sugar snap peas or broccoli would have really perked this up.
I only did half the amount of chicken from the original recipe, but the full sauce recipe. I would up the sauce even more next time, because in the end, it didn't even really have very much sauce.
Speaking of the sauce – I would add a lot more ginger. I think the ginger is supposed to be a prominent flavor, but I could barely detect the ginger in the finished dish.
And the sauce never really caramelized. I think there was too much liquid, so I would play with those amounts as well.
The recipe listed below is how I made it, but feel free to play with this one, because it really does have a lot of potential!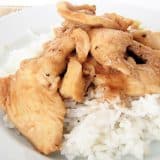 Chicken Sauté with Caramelized Ginger Sauce
---
Author:
Prep Time: 10 mins
Cook Time: 20 mins
Total Time: 30 minutes
Yield: 2 servings 1x
Category: Main Dish
Method: Stove Top
Cuisine: Asian
Description
Chicken Saute with Caramelized Ginger Sauce – a sweet and spicy chicken recipe that is cooked with a sticky ginger sauce.
---
Scale
Ingredients
1 tablespoon canola oil
2 tablespoons sugar
1 1/2 tablespoons low-sodium soy sauce
1 teaspoon chile paste with garlic (such as sambal oelek) **I just used Sriracha
1 teaspoon grated fresh ginger
3/4 cup fat-free, less-sodium chicken broth
1 teaspoon sesame oil
2 (6-ounce) skinless, boneless chicken breast halves, thinly sliced
1/4 teaspoon freshly ground black pepper
1/8 teaspoon salt
---
Instructions
Heat canola oil in a large nonstick skillet over medium heat. Add sugar to pan; cook 1 minute or until sugar dissolves and is lightly browned.
Combine soy sauce, chile paste, and ginger in a small bowl; add to pan. Add chicken broth, sesame oil, and chicken to pan; cook 5 minutes or until chicken is done, stirring occasionally.
Remove chicken from pan with a slotted spoon. Simmer sauce 10 minutes or until slightly thickened.
Return chicken to pan; toss to coat. Sprinkle evenly with pepper and salt.
Serve over rice.