This Chicken, Mushroom and Cashew Risotto is a creamy risotto filled with lots of mushrooms, cashews and chicken.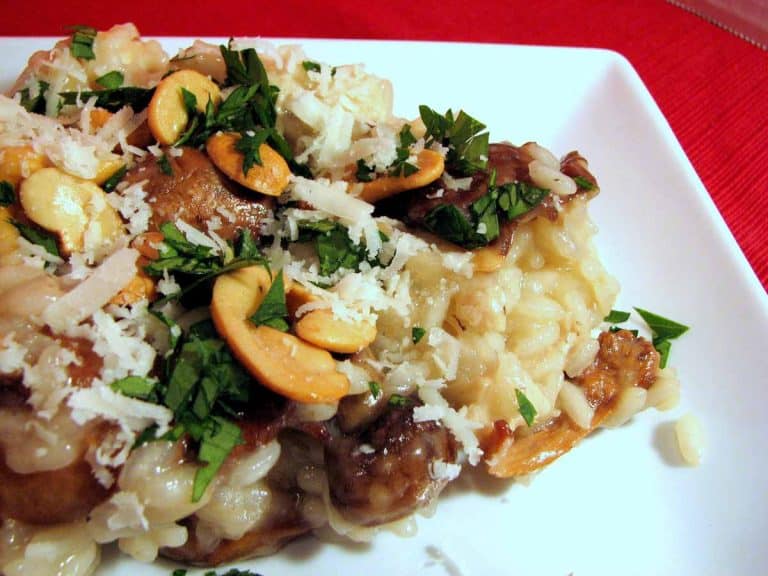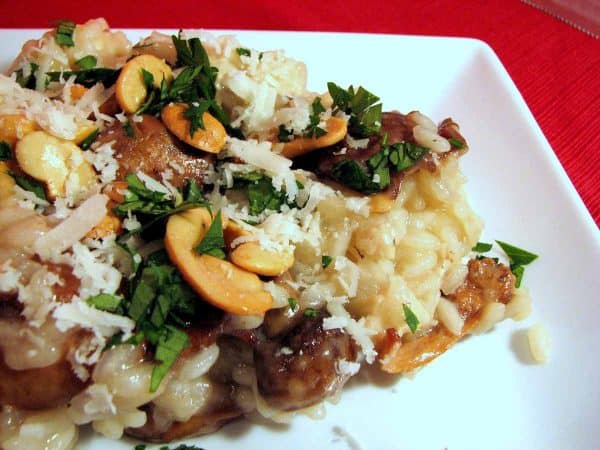 Risotto has always scared me. I don't know why, but it's one of those foods that seems quite intimidating, but once you make it, you realize that your fears and concerns were unwarranted. Maybe it's the idea of all of that stirring that is daunting. I'm not sure, but I finally bit the bullet and made my first risotto!!
When Sathya and Liz, of The Baker and the Curry Maker, announced a new blogging event with a risotto theme, I knew this would be the kick in the butt that I needed to try to make risotto.
I was at the bookstore a couple of days after they announced this event, and I bought myself a few books as a birthday present to myself. One of them is simply called Risotto and although it is a thin book, it has lots of tempting recipes. I took it home and looked it over for the next few days. I have the hardest time making decisions, so I narrowed it down to 3 recipes, and told my husband that he had to decide which I was going to make.
One was a wild mushroom risotto, which I was sure he would not pick because it had no meat in it. Then there was a sausage and rosemary risotto, and the last was a chicken, mushroom and cashew risotto.
Well, to my surprise, he really liked the sound of the wild mushroom risotto, and could not decide between that one and the chicken risotto. After looking through the recipes, I decided that they could easily be combined – the base recipes were practically the same. So instead of the just cremini mushrooms that the chicken recipe called for, I did an assortment of mushrooms. There were a lot of mushrooms in this dish. I love mushrooms, don't get me wrong, but I really could have cut back on these a bit and still had plenty. I guess that's why the chicken recipe didn't call for as many – maybe without the chicken, it wouldn't seem like quite so many mushrooms.
The recipe called for dried porcini or morels, plus a mixture of wild mushrooms – such as porcini, horse mushrooms or chanterelles. Well, I just went with what was at the grocery store that day – they had dried chanterelles, so I picked up a package of those, along with some crimini and shiitake. I had never used dried mushrooms before, so I did what the recipe said and made up some boiling water, dropped the dried mushrooms in, and soaked them for 30 minutes. The recipe was really actually simple, and all of the stirring wasn't so bad. I was talking on the phone the whole time, so that might have made it go by quickly.
The verdict?? I think I did a good job for my first risotto. The biggest complaint I had was the dried chanterelles. They were quite rubbery, even after soaking for the full 30 minutes. I ended up pulling most of them out of my serving. But besides that, it was delicious. My husband had never had risotto before, and when I asked him what he thought, he didn't think that it was any different than regular rice with other stuff thrown in, but he liked it.
Also, I really do need to make it a point to remember to scale things down. This makes a lot of risotto, and since there are only two of us, unfortunately a lot of it went to waste. I don't know why I have such a hard time remembering to scale down recipes sometimes…..
I'm listing the recipe as I made it – but I would recommend cutting back on the mushrooms.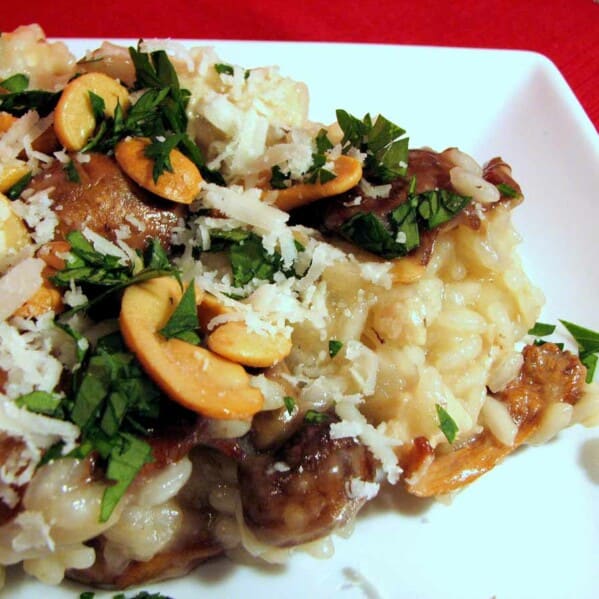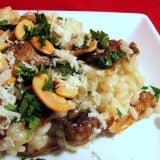 Chicken, Mushroom and Cashew Risotto
---
Author:
Prep Time: 30 mins
Cook Time: 40 mins
Total Time: 1 hour 10 minutes
Yield: 4 main dish servings 1x
Category: Main Dish
Method: Stove Top
Cuisine: Italian
Description
This Chicken, Mushroom and Cashew Risotto is a creamy risotto filled with lots of mushrooms, cashews and chicken.
---
Scale
Ingredients
4 oz dried cremini mushrooms
5 1/2 cups chicken stock
1 lb mixed fresh wild mushrooms
3 tablespoons olive oil
3–4 finely chopped cloves of garlic
2 oz butter
1 onion, chopped
9 oz skinless, boneless chicken breasts, diced
1 5/8 cups risotto rice
2/3 cup dry white wine (or use more chicken stock)
1/3 cup cashews
salt and pepper
freshly grated Parmesan, for garnish
chopped fresh parsley, for garnish
---
Instructions
Place the dried mushrooms in a heatproof bowl and add boiling water to cover. Set aside to soak fro 30 minutes, then carefully lift out and pat dry.
Bring the stock to a boil in a pan, then reduce the heat and keep simmering over low heat while you are cooking the risotto.
Trim the fresh mushrooms and gently brush clean. Heat the olive oil in a large skillet. Add the fresh mushrooms and stir-fry for 1-2 minutes. Add the garlic and soaked mushrooms and cook for 2 minutes, stirring frequently. Remove to a plate.
Heat the butter in the pan over medium heat. Add the onion and cook, stirring occasionally, for 5 minutes or until softened. Add the chicken and cook, stirring frequently, for another 5 minutes.
Reduce heat, add the rice, and mix to coat it in the butter. Cook, stirring constantly, for 2-3 minutes or until the grains are translucent.
Add the wine, stirring constantly, for about 1 minute.
Gradually add the hot stock, a ladleful at a time. Stir constantly and add more liquid as the rice absorbs each addition. Increase the heat to medium so the liquid bubbles. Cook for 20 minutes, or until all of the liquid is absorbed and the rice is creamy.
About 3 minutes before the end of cooking time, stir in the mushrooms and cashews. Season to taste.
Top each serving with cheese and chopped parsley.
Recipe Notes:
adapted from Risotto by Clive Tring