The perfect addition to that fall cup of cocoa or for a fall charcuterie board, these Pumpkin Spice Marshmallows are so delicious and so festive!
If you love pumpkin, make sure you check out all of my pumpkin recipes!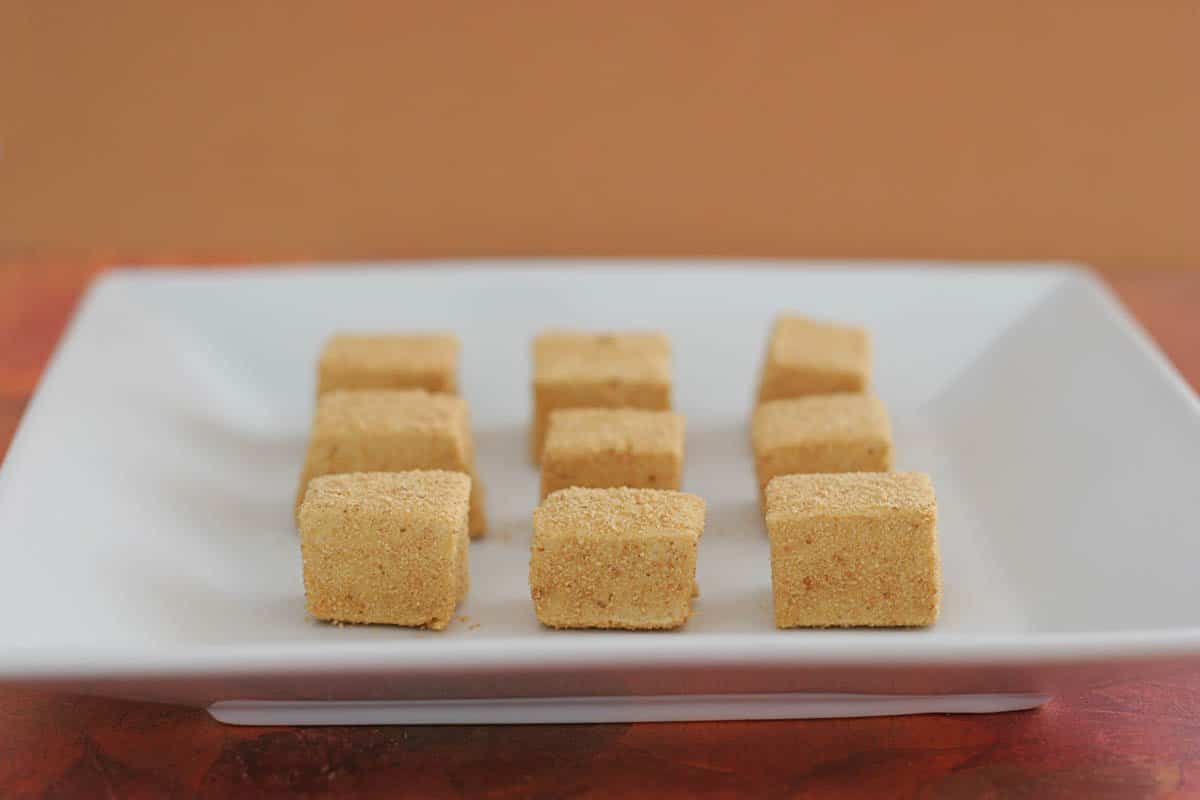 Homemade Pumpkin Spice Marshmallows
Let me tell you – if you have never had a homemade marshmallow, you are really missing out. And if you think they are too hard for you to make, you are completely mistaken. A stand mixer comes in mighty handy, but you could probably get by with a hand mixer. (But forget it if you want to do these completely by hand – unless you are super buff and want to whisk forever!) But besides that bit of kitchen equipment, these are really one of the easiest things you can make!
These marshmallows are perfect on their own, but I tried a few out in a cup of hot cocoa yesterday – oh my goodness. PURE HEAVEN! It was just cheap cocoa, but this was seriously the best mug of cocoa I have ever had. The spices and the pumpkin flavor from the marshmallows melted into the chocolate and made a blissful cup of deliciousness. This is definitely going to be a regular thing around my house now!!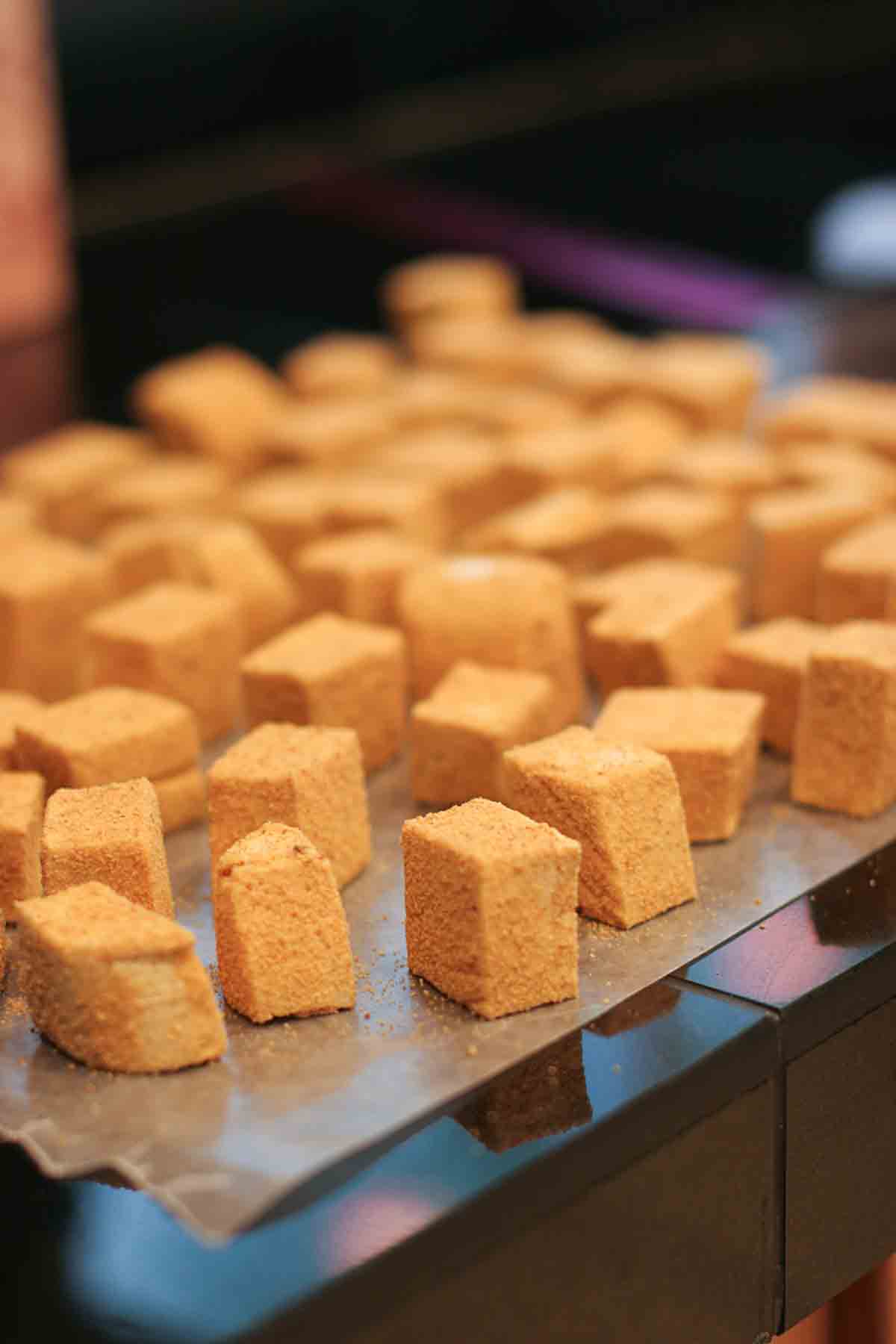 Tips and Tricks
The marshmallows will take some time to set up, so make sure you are planning for that extra time. I like to let them sit overnight before cutting into pieces.
Store the marshmallows in an airtight container up to a week, or you can freeze the for up to a month. They are best when they are fresh, though.
They can be eaten as they are, but they are divine in a cup of hot chocolate! Or make some fall themed s'mores!
More Pumpkin Favorites
Pumpkin Cake with Cinnamon Cream Cheese Frosting
Oatmeal Pumpkin Chocolate Chip Cookies
Pumpkin Roll
Pumpkin Pie Bars
Pumpkin Cheesecake with Caramel Sauce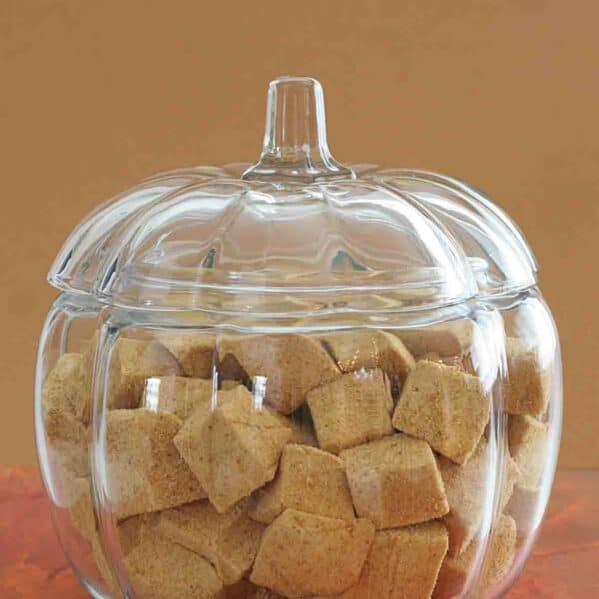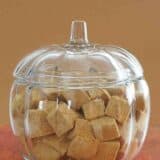 Pumpkin Spice Marshmallows
---
Author:
Prep Time: 45 minutes
Cook Time: 15 minutes
Total Time: 9 hours
Yield: 50 marshmallows 1x
Category: Dessert
Method: Stove Top
Cuisine: American
Description
The perfect addition to that fall cup of cocoa or for a fall charcuterie board, these Pumpkin Spice Marshmallows are so delicious and so festive!
---
Scale
Ingredients
3 (1/4 oz each) envelopes unflavored gelatin
1/2 cup cold water
2 cups sugar
2/3 cup corn syrup
1/4 cup water
1/2 cup pumpkin puree
1 teaspoon ground cinnamon
1 teaspoon ground ginger
1/4 teaspoon ground nutmeg
1/4 teaspoon ground allspice
1/4 teaspoon salt
About 1/2 sleeve graham crackers
---
Instructions
Line a 9×13-inch baking dish with plastic wrap and spray it uniformly with nonstick cooking spray. Set aside.
Put the 1/2 cup cold water and the 3 envelopes of gelatin in the bowl of a stand mixer. Allow to sit and bloom for 10 minutes.
Meanwhile, combine the sugar, corn syrup, and 1/4 cup water in a saucepan over medium-high heat. Bring the mixture to a boil. Once it has started boiling, do not stir. Bring the mixture to 250ºF. (If you don't have a thermometer, you will know it is at the right temperature when a small amount of the syrup dropped into a glass of cold water forms into a rigid ball.)
In a separate bowl, combine the pumpkin, cinnamon, ginger, nutmeg, and allspice. Mix well.
Place the mixing bowl on a stand mixer fitted with the wire whip attachment. Turn to low speed. Carefully pour the boiling sugar mixture down the side of the inside of the mixing bowl. Increase the speed to medium and add the salt. 
Let the mixture mix until it is shiny and white, about 10-12 minutes, scraping down the sides of the bowl with a rubber spatula occasionally.
Remove the bowl and fold in the pumpkin mixture until combined. Return the bowl to the stand mixer and mix for 3 more minutes. You will know when the mixture is done when you dip a spatula into the mixture and it forms a continuous ribbon as it drips off the spatula into the bowl.
Pour the mixture into the prepared pan. Let it sit at room temperature for at least 8 hours.
Place the graham crackers in a food processor and process until you have fine crumbs. 
Lay a piece of wax paper or parchment paper on a cutting board and spread half of the crumbs onto the paper. Put the other half of the crumbs in a small bowl. 
Turn the pan of marshmallows over onto the crumbs, then remove the plastic wrap. Cut the marshmallows into squares.  Dip each of the marshmallows in the graham cracker crumbs until all sides are covered.
Recipe Notes:
These marshmallows are best fresh, but can be kept in an airtight container for about a week, or frozen for up to a month.
Nutrition information provided as an estimate only. Various brands and products can change the counts. Any nutritional information should be used as a general guide.
Nutrition
Serving Size: 1 marshmallow
Calories: 53
Sugar: 12 g
Sodium: 23 mg
Fat: 0 g
Saturated Fat: 0 g
Unsaturated Fat: 0 g
Trans Fat: 0 g
Carbohydrates: 13 g
Fiber: 0 g
Protein: 1 g
Cholesterol: 0 mg
Keywords: pumpkin spice marshmallows, homemade marshmallows