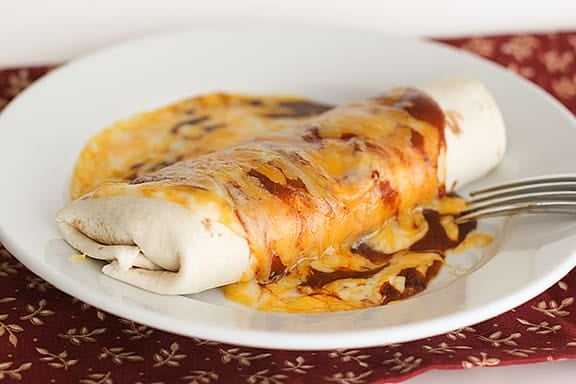 Yesterday was the start of week 2 of "my life is so crazy right now I don't remember my first name."  Surprisingly, though, I still feel halfway sane.  Even more surprisingly, I have made dinner almost every night!  I get home later every night, and I'm so exhausted that I'm pretty sure I'm asleep before my head even hits the pillow at night.  But the thing that has saved me is menu planning.  I've never been a big menu planner, just because I worry that I won't feel like what I have planned, or that things will go to waste because I don't follow through.  I usually plan 2 to 3 meals at a time.  Well, this month, I don't have time to go to the grocery store multiple times a week, so I've actually been planning for the whole week and only shopping once.  It's all new to me, but it's been working out so well!
One other thing that has really helped has been really easy and quick recipes.  I've also been looking for recipes that freeze well, since that way, I can make a meal once, freeze the leftovers, and have a second meal for later!  Or have something for lunches throughout the week.  And when I think of things that freeze well, burritos came to the front of my mind.  And then I found this print out that I printed out back in 2002 for these Chili Potato Burritos.  Kind of like spiced mashed potatoes in a burrito.
Did  I just say mashed potatoes in a burrito???
Why not!  Being the carb lover that I am, of course I was willing to try this out.  And I really liked them!  I adapted the recipe a bit so that I could freeze the leftovers.  And they work perfectly frozen.  Forget those store-bought frozen burritos!  I definitely would make these again – especially to freeze.  And I'm thinking next time I should do half regular potatoes and half sweet potatoes.  Yum!
(And stay tuned for tomorrow – I'll be showing you how I freeze burritos in my Cafe Zupas post!)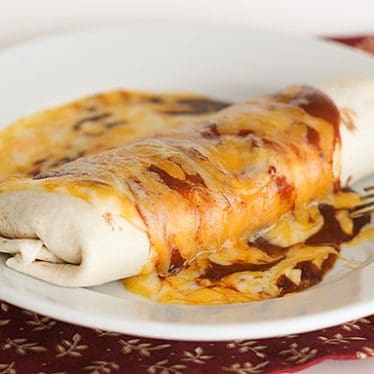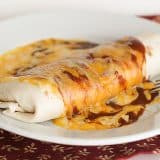 Chili Potato Burritos
---
Prep Time: 15 minutes
Cook Time: 30 minutes
Total Time: 45 minutes
Yield: 4 servings 1x
Description
A great meatless option, these burritos are filled with mashed potatoes and spices and covered in enchilada sauce.
---
Scale
Ingredients
4 baking potatoes, peeled and chopped
milk and butter
1 cup shredded colby-jack cheese
1 teaspoon chili powder
1 teaspoon ground cumin
1 clove garlic, minced
salt and pepper to taste
8 (6-inch) flour tortillas
1 cup red enchilada sauce
---
Instructions
Put the potatoes in a large pot of water and bring it to a boil. Cook until tender but still firm. Drain and mash, adding a bit of milk and butter.
In a medium mixing bowl, combine the mashed potatoes, 3/4 cup of the cheese, chili powder, cumin, and garlic. Add salt and pepper to taste. Mix in about 1/2 cup of the enchilada sauce.
Spoon evenly into tortillas and roll up. If you are going to freeze them, this is the point where you would wrap them for freezing. If you are eating them right away, place them in a baking dish and spread the remaining enchilada sauce on top. Top with the remaining cheese.
Bake in a 350F oven until cheese is melted and bubbly, about 15 minutes.
—————
adapted from allrecipes.com