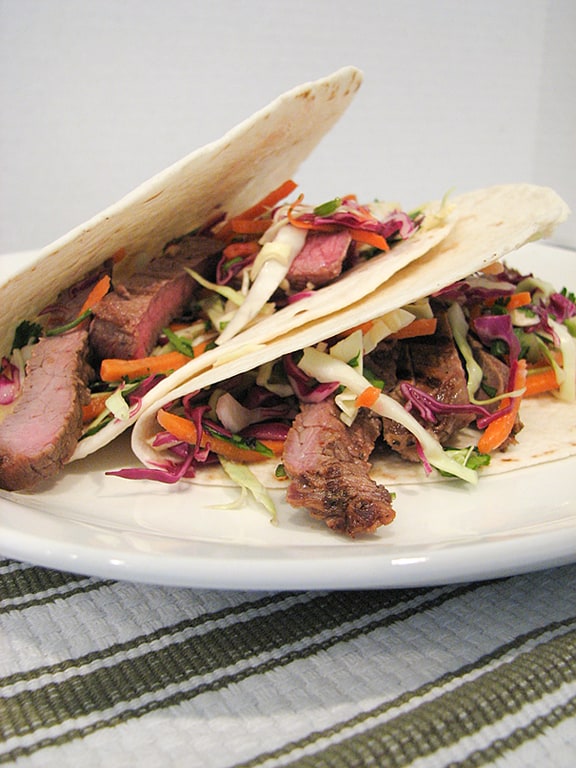 2 Cooking Light recipes in 2 days – both still kept "light" – I don't know how I did it, but I did!! (And both were VERY good!) I really wanted to try these tacos, but I wasn't sure how well they would go over with my husband. He claims to like everything but meatloaf, but when it comes down to it, he is pickier than he thinks!! This recipe took me all of 20 minutes to throw together. I love it when meals are this easy on days when I just don't have the energy to make dinner. I put together the marinade for the beef at lunch and stuck it in the fridge to marinate for a few hours until dinner time. All I had to do was throw the slaw ingredients together while the meat was on the grill, and dinner was finished! The only thing I changed was slicing some green and purple cabbage because I had some of both in my refrigerator instead of using packaged angel hair slaw. The serving size is 2 tacos at 431 calories, but I was finished after only 1 taco. My husband liked the tacos, too (although he did add sour cream to his.)
Thai Beef Tacos with Lime-Cilantro Slaw
from Cooking Light
Steak:
1 T sugar
1 1/2 t minced peeled fresh ginger
1 1/2 t fish sauce
1/2 t chili garlic sauce
1/4 t freshly ground pepper
2 garlic cloves, minced
1 pound flank steak, trimmed
Slaw:
1/4 c fresh lime juice
1 T sugar
2 T rice wine vinegar
1 1/2 t minced peeled fresh ginger
1 1/2 t fish sauce
1/2 t chili garlic sauce
2 garlic cloves, minced
3 c packaged angel hair slaw
2 c packaged matchstick-cut carrots
1/4 c sliced green onions
1/2 c chopped fresh cilantro
Remaining Ingredients:
8 (6-inch) fat-free flour tortillas
1 – To prepare steak, combine first 6 ingredients in a large zip-top plastic bag. Add stead to bad; seal and marinate in refigerato 20 minutes, turning occasionally.
2 – Prepare grill or broiler.
3 – Remove steak from bag; discard marinade. Place steak on grill rack or broiler pan coated with cooking spray; cook 5 minutes on each side or until desired degree of doneness. Let stand 5 minutes. Cut steak diagonally across grain in to thin slices.
4 – To prepare slaw, combine juice and next 6 ingredients (through 2 garlic cloves) in a large bowl. Add slaw and next 3 ingredients (through cilantro); toss well to combine.
5 – Divide steak evenly among tortillas; spoon about 1/2 c slaw onto each tortilla. Fold in half; serve immediately.
Yield: 4 servings (serving size: 2 tacos)
0 Flares
Tweet
Email to a friend
0 Flares
×