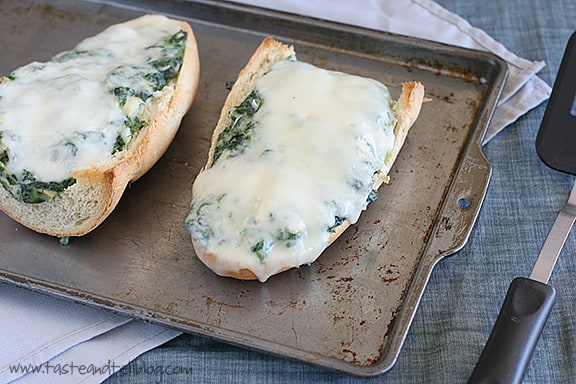 Have you entered to win the pork prize pack?  And I'll have a new cookbook giveaway today – check back this afternoon for your chance to win!
There are 2 flavor combinations that I am always drawn to. (Ok, probably more than 2, but these 2 are the ones that are sticking out to me right now!) The first is buffalo chicken. Who doesn't love buffalo chicken? Even my spicy-hating husband loves to get buffalo wings. The second? Spinach & artichoke. It's a dip that you will often find at parties, and just about everyone loves it.
And so does Rachael Ray. I'm always drawn towards her buffalo inspired dishes, and I am always drawn to her spinach-artichoke dishes. (Remember this Spinach and Artichoke Mac & Cheese I made quite some time ago? Or how about the Artichoke, Tomato and Spinach Pizza?)  And here is another winning adaptation of that wonderful dip – Spinach-Artichoke French Bread Pizza.
I don't know why I hadn't thought of something like this before.  It's pretty brilliant, if you ask me.  You get to eat the dip for dinner!  I did have a couple of things that I would change for next time, but this was a great dinner!
Recipe Notes:
The recipe calls for a baguette.  I don't know about where you live, but the baguettes at my grocery store are pretty small and pretty thin.  I was wanting something a little softer, so I went with a loaf of French bread.  (It is called French Bread Pizza, after all, right?)  Well, I would probably stick with the baguette next time.  The French bread made it so that the filling to bread ratio was a little off, and there was just a little too much filling.
I would cut the filling recipe in half.  I made a half recipe, and there was plenty of filling to feed 4 people.
I totally forgot to sprinkle on the thyme (as you can tell from the picture) and I would make sure not to skip that next time!
I opted to slice fresh mozzarella for the top instead of shredded mozzarella, and I would highly suggest that!!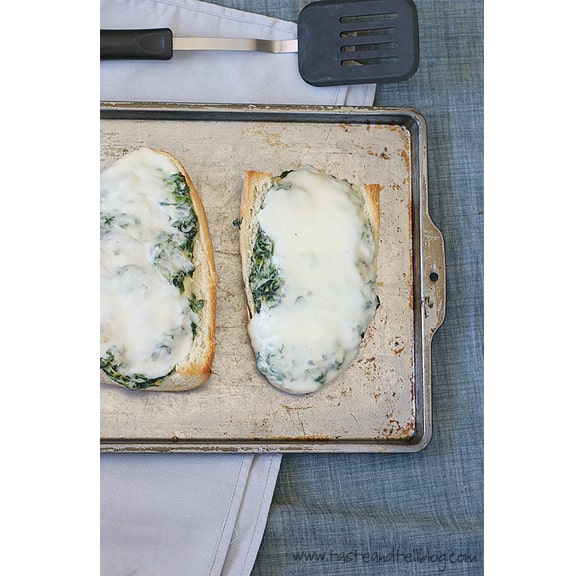 The recipe below is the original recipe without my changes.  But I think that this would be a great recipe to take and alter to your tastes!
Spinach-Artichoke French Bread Pizza
From Every Day with Rachael Ray March 2009
serves 4
total time: 30 minutes
1 baguette, quartered
2 tablespoons butter
2 tablespoons extra-virgin olive oil
1 onion, finely chopped
3 cloves garlic, finely chopped
salt and pepper
3 tablespoons flour
1 1/2 cups milk
1 pinch nutmeg
two 10-ounce boxes frozen spinach, thawed and squeezed dry
one 9-ounce box frozen artichoke hearts, thawed
1/2 cup grated parmigiano-reggiano cheese
2 cups shredded mozzarella or provolone cheese
2 tablespoons finely chopped fresh thyme
Preheat the oven to 400F. Arrange the bread, cut side up, on a baking sheet.
In a medium skillet over medium heat, melt the butter and olive oil together. Add the onion and garlic and cook until translucent, about 5 minutes. Season with salt and pepper. Stir in the flour and cook for 1 minute. Whisk in the milk, then add the nutmeg. Cook until thickened.
Pull the spinach apart, and add it to the thickened milk mixture, and then fold in the artichoke hearts. Stir in the parmigiano and season with more salt and pepper if needed. Remove from heat.
Spread the spinach artichoke dip on the baguette and top with the mozzarella cheese. Bake in the preheated oven until the cheese is melted, 10 to 12 minutes. Top with the thyme.
————————————-
Saturdays with Rachael Ray rules:
* You can link any blog post, present or past, as long as it is a Rachael Ray recipe.
* Your blog post must link back to this post, mentioning Saturdays with Rachael Ray.
That's it!! Simple, simple. Just make sure the recipe is a Rachael Ray recipe – it doesn't matter if it comes from her talk show, 30-Minute Meals, her magazine, or one of her cookbooks. But it must be from Rachael Ray. Any posts that don't follow these two rules will be deleted from the linky.
I can't wait to see what you've made!
0 Flares
Tweet
Email to a friend
0 Flares
×