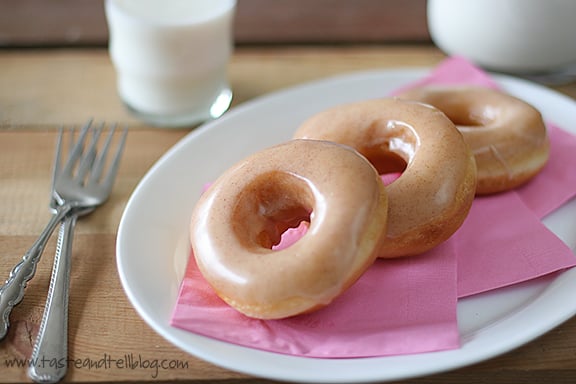 I love doughnuts. They are definitely a weakness for me. I crave them often, but rarely give in. I remember over 2 1/2 years ago, my sister had a baby. I was at the hospital visiting, and my mom had brought her a box of doughnuts. When I got pregnant with my youngest, that memory came back to me, and the whole pregnancy, all I wanted was doughnuts. I was seriously looking forward to having my baby, just so I could get a box of doughnuts while I was in the hospital. Ok, mostly excited for the baby, but I definitely was excited for those doughnuts as well! Sure enough, without even telling my mom about the craving, she brought me a box of doughnuts that first day in the hospital. And I ate way too many of them.
This is one reason I don't make doughnuts at home very often. I have no self control around them. But recently, Land O Lakes came out with a new product – a butter spread with cinnamon and sugar – already in the butter. And yes – the very first thing that popped into my mind was a hot doughnut, slathered with a glaze made from that cinnamon-sugar butter.
This doughnut experiment is my most successful to date. I won't even admit to how many of these I ate. The glaze was the perfect topping for these doughnuts. And it's probably a good thing that my local doughnut store doesn't sell these, because I'd probably be right there, first in line!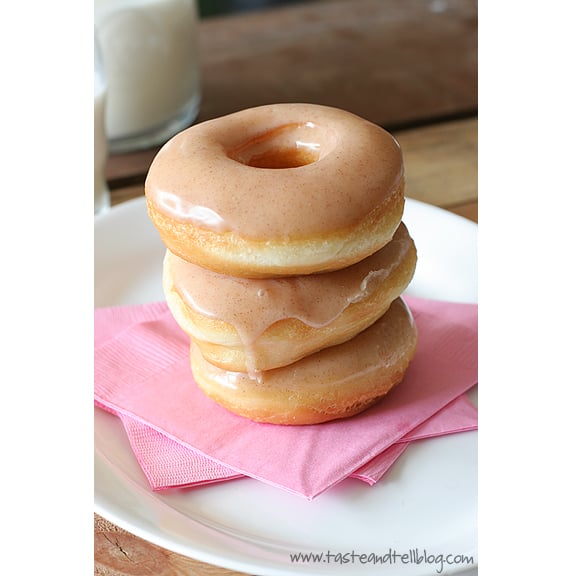 Cinnamon-Sugar Glazed Doughnuts
makes 18 doughnuts
2 (.25) oz packages active dry yeast
1/4 cup warm water
1 1/2 cups warm milk
1/2 cup white sugar
1 teaspoon salt
2 eggs
1/3 cup shortening
5 cups all-purpose flour
1 quart vegetable oil, for frying
1/3 cup Land O Lakes Cinnamon Sugar Butter Spread
2 cups powdered sugar
1 teaspoon vanilla extract
3-4 tablespoons milk
Sprinkle the yeast over the warm water and let sit for 5 minutes to foam.
In the bowl of a mixer, combine the yeast and water, warm milk, sugar, salt, eggs, shortening, and 2 1/2 cups of the flour. Mix on low speed until completely combined. Add in the remaining flour, 1/2 cup at a time, until the dough pulls away from the side of the mixer. (You may need a little more or a little less flour, depending on the humidity of where you are.) Place the dough in a greased bowl and allow to double in size.
Flour a surface and roll the dough out to 1/2-inch thickness. Cut with a doughnut cutter. Cover the doughnuts and allow to rise again until doubled in size.
When the doughnuts have almost doubled, heat the oil to 350° in a large heavy skillet or dutch oven.
To prepare the glaze, heat the Cinnamon Sugar Butter Spread in the microwave or in a small pan until melted. Stir in the powdered sugar and vanilla. Add in the milk 1 tablespoon at a time until it is thin enough to dip the doughnuts in.
Slide the doughnuts in the hot oil, a few at a time so not to crowd the pan. Turn over when the first side is golden brown – this only takes a minute or two. Cook on the second side to golden brown then remove from the oil to a wire rack. Allow the doughnuts to cool enough to handle them, then dip in the glaze. Return to the wire rack for the glaze to set up.
Disclosure:  this is a sponsored post from General Mills, but all opinions are my own.  I genuinely loved this product.