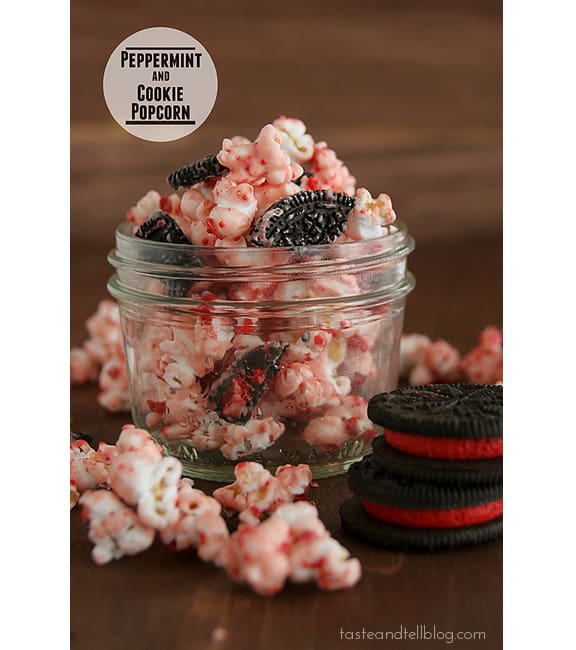 Someone please stop me!! It's pretty obvious that I'm going a little crazy on the sweets right now. But it's Christmas time, and I just can't seem to stop myself!
I am taking a break from the eggnog flavors today to bring you one of my other favorite holiday flavors – peppermint. This recipe is so ridiculously easy – you might end up cursing me because it's just too easy to whip up a batch of this popcorn to snack on.
Right before I had my baby, I bought a bag of the Candy Cane Hershey's Kisses. I stashed it away in my bag so that I could enjoy them at the hospital, but then completely forgot about them. A couple of days after we got home from the hospital, my husband found them, and we all spent the next couple days devouring those kisses. Even my peppermint hating husband and daughter couldn't keep their hands away from them. As I was eating one of those kisses one day, the idea popped into my head to coat popcorn with the holiday kisses. It almost sounded too simple – I was sure something would go wrong. But it did not go wrong at all – in fact, this popcorn was so easy and delicious!! The cookies were just an added bonus, but anytime you can throw Oreos into the mix, I say you do it!
This would be the perfect snack for gifting to neighbors or for eating with the family while watching Christmas movies. Either way, you might want to double the recipe, because it will go fast!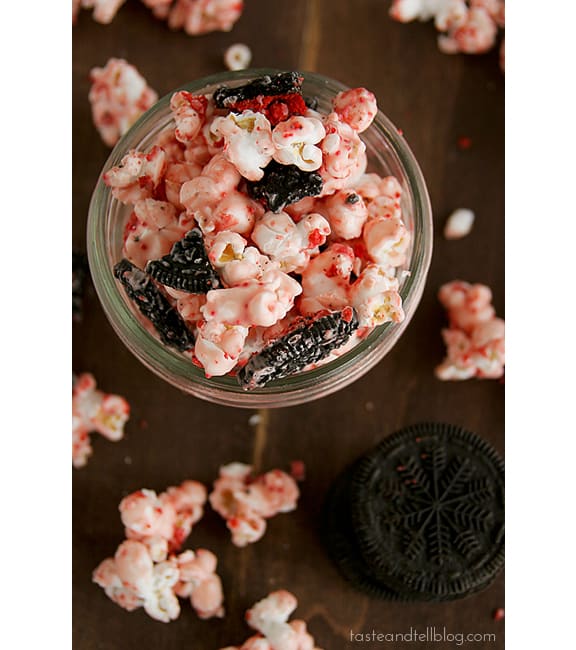 More ideas for those Candy Cane Kisses:
Peppermint Kiss Cookies from Taste and Tell
Candy Cane Kisses Chocolate Sponge Cake from Roxana's Home Baking
Festive Candy Cane Kiss Centered Brownie Bites from Picky Palate
Candy Cane Kiss Brownies from Baking Junkie
Holiday Peppermint Oreos from The Craving Chronicles
Linking to: Chef in Training, Mandy's Recipe Box, Nap Time Creations, Blessed with Grace