Great for breakfast or for dinner, this Ham and Cheese Pan Souffle is hearty and filling.
Now, I'm no stranger to chiles. I grew up in New Mexico, and I love chiles in everything. And I've cooked with them often. Usually, if I'm cooking with a spicier chile, I'll wear gloves, especially now that I have a baby and I wouldn't want my hands to get spicy and then get all over the baby. But I don't really bother with a mild chile. Well, to me, Anaheim chiles are not usually spicy. In fact, they are usually pretty mild. So I went about making this meal, and at some point, I must have put a finger in my mouth. All of a sudden, my mouth was on fire! At first, I didn't know where it came from. Then I tasted a bit of one of the chiles I used, and I couldn't believe how spicy it was!! I immediately tried to wash it off my hands with no luck. I searched the internet and even asked my Facebook friends for advice on how to get the spice off my hands so that I wouldn't accidentally touch the baby's face or get my fingers in her mouth. There were all kinds of solutions, but nothing that really worked. Luckily, the spice wore off pretty quickly and we were all ok.
And this dish was worth all the chile worry as well. I was afraid it was going to be too spicy to eat, but I actually liked the hearty kick that it had. And the chiles really mellowed out the next day, so the leftovers were perfect. If you are a fan of breakfast for dinner, this is one that you will love!
Ham and Cheese Pan Souffle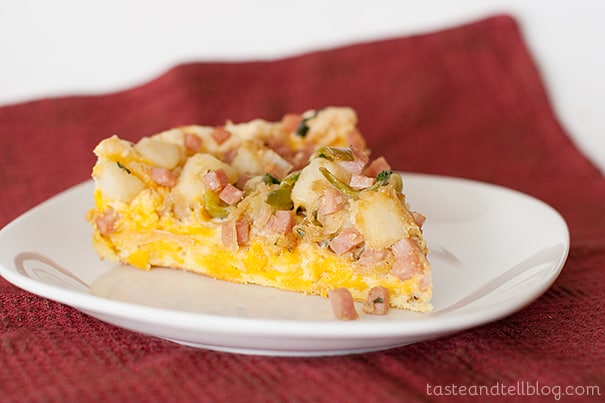 Great for breakfast or for dinner, this Ham and Cheese Pan Souffle is hearty and filling.
Ingredients
2 potatoes, peeled and cut into 1/2-inch cubes
salt
6 large eggs, at room temperature, separated
8 ounces cheddar cheese
1 tablespoon all-purpose flour
freshly ground black pepper
4 tablespoons extra-virgin olive oil, plus more if needed
1 onions, halved and thinly sliced
2 Anaheim chili peppers, halved, seeded and thinly sliced
1/2 pound boiled ham, cut into small cubes
1 teaspoon paprika
2 tablespoons chopped fresh parsley
1 clove garlic, minced
Instructions
Preheat the oven to 400. Cover the potatoes with water in a pot; season with salt, cover and boil until just tender, 2 minutes. Drain.
Whisk the egg yolks, cheese, flour, and pepper to taste in a bowl.
Heat a 10-inch ovenproof nonstick skillet over high heat. Add 2 tablespoons olive oil, the onion and chiles and cook until browned, 4 minutes. Add the ham and cook 3 minutes. Transfer the mixture to a bowl. Add the remaining 2 tablespoons oil and the potatoes to the skillet and cook until golden, 4 minutes. Add the paprika, parsley and garlic and cook 1 minute. Transfer to the same bowl.
Beat the egg whites, 2 tablespoons water and 1/2 teaspoon salt with a mixer until soft peaks form. Stir one-third of the whites into the yolk mixture, then gently fold in the rest. Oil the skillet, if dry, and place over medium-low heat. Add the egg mixture, cover and cook until the top just sets, 4 to 6 minutes. Top with the filling and transfer to the oven, uncovered, until set, 5 to 7 minutes.
Notes
http://www.tasteandtellblog.com/ham-and-cheese-pan-souffle/
Recipe from www.tasteandtellblog.com