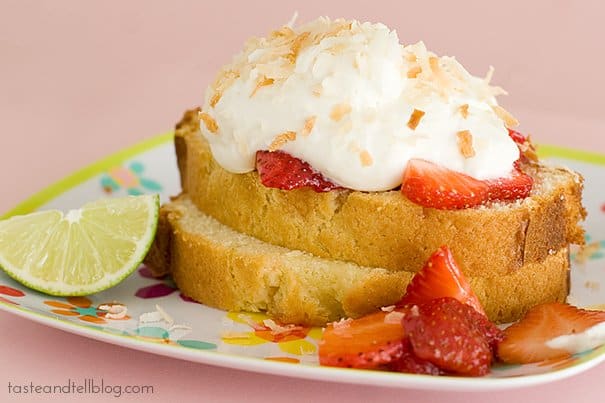 Spring in Utah is a funny thing.  Just last weekend, we spent hours at the park in 70 degree weather.  Then, on Sunday morning, we woke up to 4 inches of snow.  And it snowed all day.  And it's pretty much felt like winter again since then.  But, since I've lived in Utah for the last 13-ish years, I know to never think that the warm is here to stay until at least May!!
What do you do when you are stuck with cold weather but are craving summertime?  You make food that has the flavors of summer!!  The minute I saw this recipe, I knew that it would bring a little bit of sunshine into my life.  And let me tell you, this will definitely take you to that place!!
Let's start with the pound cake.  Generally, I don't have the best of luck making pound cake at home.  They tend to be too dry and bland.  But this pound cake was absolutely perfect!!  The perfect texture, the perfect moistness, and just the right amount of sweetness.  I think my husband and I could have eaten the whole loaf in one sitting!!  Then you take strawberries, douse them with lime juice and sugar, and when they are nice and syrupy, you serve them over the pound cake with a killer coconut whipped cream.  Top it with some toasted coconut – you just can't go wrong with this one!
Recipe Rating:  9 out of 10


Strawberry-Lime Shortcakes with Coconut Cream
from Our Best Bites Cookbook
serves 6
6 slices of Sour Cream Pound Cake (recipe follows)
4 cups sliced fresh strawberries
1/2 cup granulated sugar
4 tablespoons fresh-squeezed lime juice (about 2 limes)
3/4 cup toasted coconut (see below)
Coconut Whipped Cream
1 cup heavy cream
1/2 cup powdered sugar
2 teaspoons coconut extract
1 teaspoon vanilla
Mix sliced strawberries, sugar, and lime juice. Stir well and set aside. Stir occasionally over about 15 minutes. You want the sugar to dissolve and form a light syrup.
For the cream, place whipping cream in a bowl and beat with an electric mixer for about one minute. Slowly add in powdered sugar, and both extracts. Continue beating until soft peaks form.
Slice cake and spoon a layer of strawberries on top. Include the lime-syrup! Top with a generous dollop of whipped cream and sprinkle with coconut.
*for toasted coconut:  preheat the oven to 375F.  Spread the desired amount of sweetened coconut on a cookie sheet or other oven-safe dish.  Place in the oven and cook for about 2-5 minutes, depending on how much you are doing.  Stir often, about every 30 seconds, to avoid burning.  The coconut will be dry and lightly browned when done.
Sour Cream Pound Cake
from Our Best Bites Cookbook
serves 8-10
1 1/2 cups flour
1/4 teaspoon baking soda
1/8 teaspoon salt
1/2 cup butter, softened
1 cup sugar
3 eggs, room temperature
2 teaspoons vanilla
1/2 cup sour cream
Preheat oven to 350F.
In a small bowl, combine the flour, baking soda, and salt and set aside.  Beat the butter and sugar until light and fluffy, about 1 minute.  Continue beating and add eggs, one at a time.  Add the vanilla and sour cream.  Slowly add the flour mixture while beating, and beat just until combined.
Pour the batter into a greased 8-inch or 9-inch loaf pan and bake for 50-60 minutes or until a skewer comes out clean.  Cool for 10 minutes then remove from pan to cool completely.