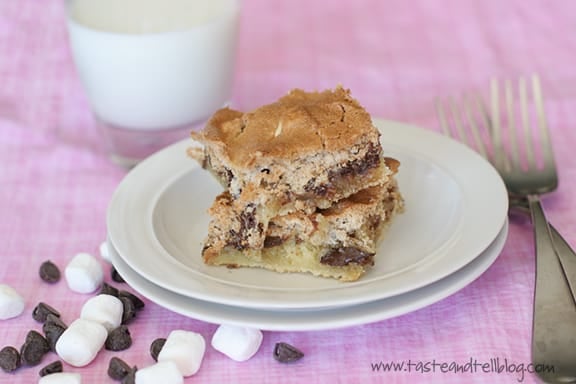 If there is one thing in this cookbook that has held my attention more than anything else, it's the desserts. (I guess that's how it is with everything, though – I have a huge sweet tooth!) As I was going through the cookbook, trying to decide what recipes to make this month, this recipe caught my attention. I bookmarked it, but then decided not to make it because I was afraid they wouldn't be something spectacular. But for some reason, I just kept going back to it. So much that I finally gave in and decided to make them.
Do yourself a favor right now – MAKE THESE. I'm not kidding. I had never had a Mud Hen before, but you can bet that I will be making these often. These are the kind of bars that you make for a pot luck, and afterward, everyone is asking you for the recipe. They look so simple and unassuming, but before you know it, you'll have eaten half of the pan. What's not to love? A cookie base covered with nuts, marshmallows and chocolate, and then you cover that with a brown sugar meringue. Seriously. Go make these. NOW.
Recipe Rating: 9.75 out of 10
———————————–
Don't take my word for it – check out these other bloggers that have made Mud Hens!
Sunday Baker
Scrambled Hen Fruit
Mommy's Kitchen
Your Homebased Mom