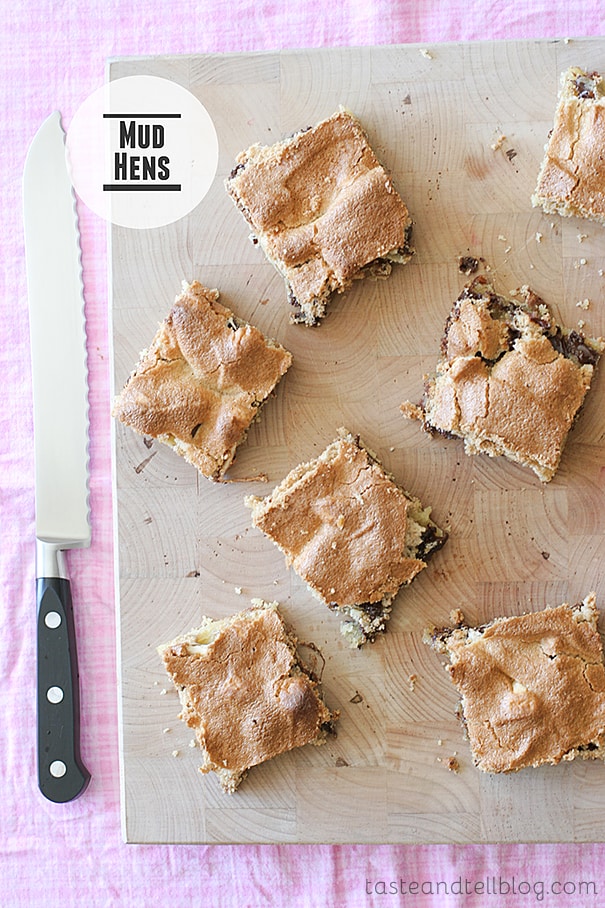 If there is one thing in this cookbook that has held my attention more than anything else, it's the desserts. (I guess that's how it is with everything, though – I have a huge sweet tooth!) As I was going through the cookbook, trying to decide what recipes to make this month, this recipe caught my attention. I bookmarked it, but then decided not to make it because I was afraid they wouldn't be something spectacular. But for some reason, I just kept going back to it. So much that I finally gave in and decided to make them.
Do yourself a favor right now – MAKE THESE. I'm not kidding. I had never had a Mud Hen before, but you can bet that I will be making these often. These are the kind of bars that you make for a pot luck, and afterward, everyone is asking you for the recipe. They look so simple and unassuming, but before you know it, you'll have eaten half of the pan. What's not to love? A cookie base covered with nuts, marshmallows and chocolate, and then you cover that with a brown sugar meringue. Seriously. Go make these. NOW.
Recipe Rating: 9.75 out of 10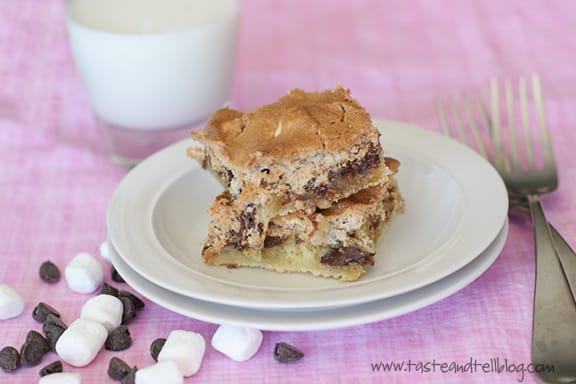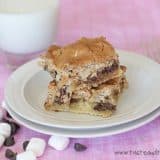 Mud Hens
---
Prep Time: 15 minutes
Cook Time: 40 minutes
Total Time: 1 hour 20 minutes
Yield: 12 bars 1x
Description
Recipe for a delicious cookie bar with marshmallows, chocolate chips and topped with a brown sugar meringue
---
Scale
Ingredients
1/4 cup shortening
4 tablespoons butter, at room temperature
1 cup granulated sugar
1 whole egg
2 eggs, separated
1 1/2 cups all-purpose flour
1 teaspoon baking powder
1/4 teaspoon salt
1 cup chopped nuts
1 cup mini marshmallows
1/2 cup semi-sweet chocolate chips
1 cup packed light brown sugar
---
Instructions
Preheat the oven to 350F. Butter a 9×13-inch baking pan.
In a large bowl, cream together the shortening, butter and sugar. Add in the 1 whole egg and 2 egg yolks (reserve whites for later) and mix well. In a separate bowl, sift together the flour, baking powder and salt. Add the dry ingredients into the creamed mixture and mix until full incorporated.
Spread the batter into the prepared baking dish. (You may need to use your hands to spread it out evenly.) Sprinkle the nuts over, followed by the marshmallows and the chocolate chips.
In a large bowl, beat the 2 reserved egg whites until stiff. Fold in the brown sugar. Spread evenly over the top of the batter.
Bake in the preheated oven for 30 to 40 minutes, or until lightly browned on top. Cool completely then cut into bars.
——————-
Recipe from Southern Plate
———————————–
Don't take my word for it – check out these other bloggers that have made Mud Hens!
Sunday Baker
Scrambled Hen Fruit
Mommy's Kitchen
Your Homebased Mom