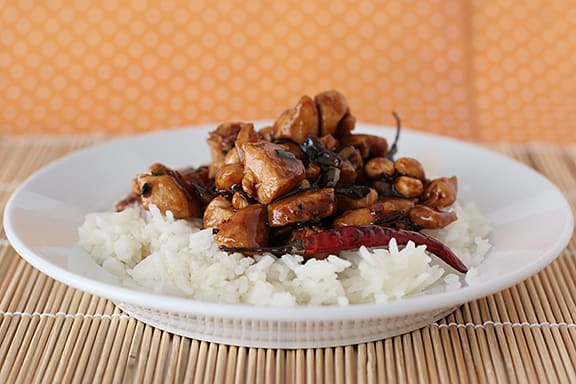 First of all, I want to welcome any new readers that are here today. I am having a giveaway on Giveaway Today, so if you are a regular reader, you need to head on over and try to win a couple of my favorite cookbooks. Check it out here. And if you are new here, I hope you take a minute to look around and I hope that you find some great recipes!
For this week's recipe from the Cookbook of the Month – The Shun Lee Cookbook – I decided to go with something I'm sure all of us have had at one time or another – Kung Pao Chicken. This isn't something I would normally make simply because my husband isn't a fan of spicy, and usually, Kung Pao Chicken is quite spicy. But I decided to go for it anyway, and just made it 2 batches – one without chilies and peanuts for him, and one batch with them for me. But honestly, the chilies didn't add any heat to this. And it could very well be the type of chilies I used, because I had some in my pantry and just went with them. Maybe I should have broken one or two of them open to release some of the heat, and maybe I'll try that if I make this again. But really, even without the heat, this meal was quickly devoured. By both me and my husband!
Recipe notes:
I'm not sure where to find hot bean sauce. I've looked quite a few places, and haven't found anything. I've been substituting black bean sauce, and honestly – I don't know how much of a difference it makes since I've never had hot bean sauce!
Once again, I didn't use a wok, simply because I don't have one. I just used a saute pan, which worked fine, but I'm sure it's much quicker and more efficient with a wok.
Make sure you have all your ingredients ready to go before you start cooking. This comes together very fast once it starts going on the stove!
Recipe rating: 4.5 out of 5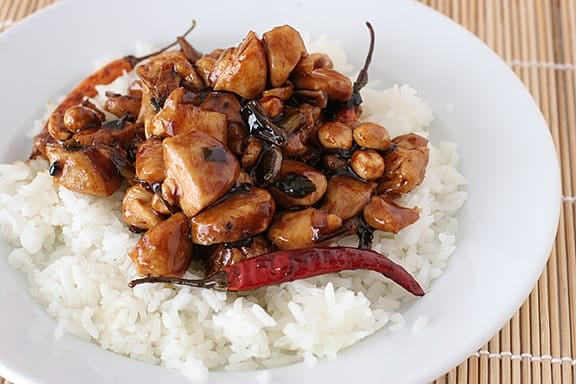 Kung Pao Chicken
from The Shun Lee Cookbook
Serves 4
total cook time: about 20 minutes (not including 30 minute marinating time)
12 ounces boneless, skinless chicken breast, cut into 3/4-inch cubes
1 large egg white, beaten until foamy
1 teaspoon cornstarch
1 teaspoon salt
Sauce
1/4 cup rice wine or dry sherry
2 tablespoons soy sauce
2 tablespoons red wine vinegar
2 tablespoons sugar
1 teaspoon cornstarch
vegetable oil, for passing through, plus 2 tablespoons
6 scallions, white and green parts, trimmed and sliced into 1/4-inch pieces
2 garlic cloves, peeled adn sliced 1/8-inch thick
10 small dried hot chilies
1 1/2 teaspoons hot bean sauce
1/2 cup salted roasted peanuts
1 teaspoon dark sesame oil
Mix the chicken, egg white, cornstarch, and salt in a bowl. Cover and refrigerate for 30 minutes.
To begin the sauce, mix the rice wine, soy sauce, vinegar and sugar in a small bowl, and set it aside. Dissolve the cornstarch in 2 tablespoons cold water in another small bowl, and set it aside.
Heat a large wok over high heat. Add enough vegetable oil to come about 1 1/2 inches up the sides of the wok, and heat it to 325F. Add the chicken pieces, one at a time so the pieces don't splash or stick to each other, and stir gently, keeping the pieces of chicken separate and cooking until they turn white, about 45 seconds. Using a wide wire-mesh strainer, transfer the chicken to a colander to drain. Discard the oil from the wok. Wipe out the wok with paper towels.
Place the wok over medium-high heat. Add the 2 tablespoons vegetable oil and heat until it is shimmering. Add the scallions, garlic, chilies, and hot bean sauce, and stir-fry until the scallions wilt, about 30 seconds. Return the chicken to the wok, add the rice wine mixture, and stir-fry until the chicken is heated through, about 30 seconds. Add the cornstarch mixture and stir until the sauce thickens, a few seconds more. Add the peanuts and sesame oil, and mix well. Serve immediately.
Look who has tried this recipe!