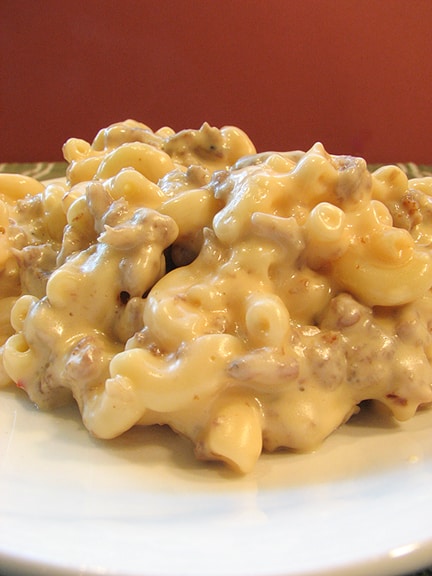 How is it that I can take a "Cooking Light" recipe and turn it into something completely not light? Maybe it's because it involves cheese, and I tend to go overboard when it comes to cheese. I decided to tackle the Cooking Light magazine I bought a few weeks back. I wasn't feeling super energetic, so I started off with what looked like an easy, fast meal – Stovetop Sausage Mac and Cheese. I stuck with the basic gist of the recipe, but didn't have any of the light ingredients in the house, so I used what I had. First of all, I just had some basic sage sausage, and used probably 8 oz instead of 4. Then, all we had was full fat milk, so no fat-free milk in the mac & cheese. The reduced fat sharp cheddar was substituted with regular sharp cheddar, and the Monterey Jack was substituted with Colby Jack. (I used about twice as much Colby Jack as was called for!! Did I mention I love cheese??) The rest of the recipe I didn't change. Not only was this super easy, but quite tasty as well. And in all honesty – it probably would have been just as good if I would have made it as written. I figured that by using what I had, I took the calorie intake from 433 calories a serving to 575 calories – still not horrible in my book. But the portion sizes are also very big – it makes 4 servings – and I could have easily eaten less than a fourth of the recipe. Taking all of this into acc
ount – light or not, this was a great weeknight meal!
I'm also going to enter this to Presto Pasta Nights hosted by Ruth at Once Upon a Feast. I might be too late for the roundup, but it's worth a try!!



Stovetop Sausage Mac and Cheese
from Cooking Light

Ingredients
4 ounces chicken and sun-dried tomato sausage (such as Gerhard's), chopped
1 1/4 cups fat-free milk
2 tablespoons all-purpose flour
3/4 cup (3 ounces) shredded reduced-fat sharp cheddar cheese
1/3 cup (about 1 1/3 ounces) shredded Monterey Jack cheese
1/4 cup (2 ounces) 1/3-less-fat cream cheese
1/2 teaspoon onion powder
1/4 teaspoon garlic salt
5 cups hot cooked elbow macaroni (about 8 ounces uncooked pasta) object2=">
Chopped fresh parsley (optional)
Preparation
Heat a large nonstick saucepan over medium-high heat. Add sausage; sauté 4 minutes or until browned. Combine milk and flour in a small bowl, stirring well with a whisk. Add milk mixture to pan; bring to a boil, stirring constantly. Reduce heat to medium. Stir in cheeses, onion powder, and garlic salt; cook 3 minutes or until cheeses melt, stirring constantly. Stir in pasta. Garnish with parsley, if desired. Serve immediately.
Yield
4 servings (serving size: about 1 1/4 cups)
Nutritional Information
CALORIES 433(29% from fat); FAT 13.9g (sat 7.8g,mono 3.8g,poly 0.9g); PROTEIN 23.6g; CHOLESTEROL 56mg; CALCIUM 340mg; SODIUM 538mg; FIBER 2.7g; IRON 2.4mg; CARBOHYDRATE 53.1g