Skip the box – this stovetop mac and cheese recipe is done in 20 minutes and is creamy and filled with vegetables.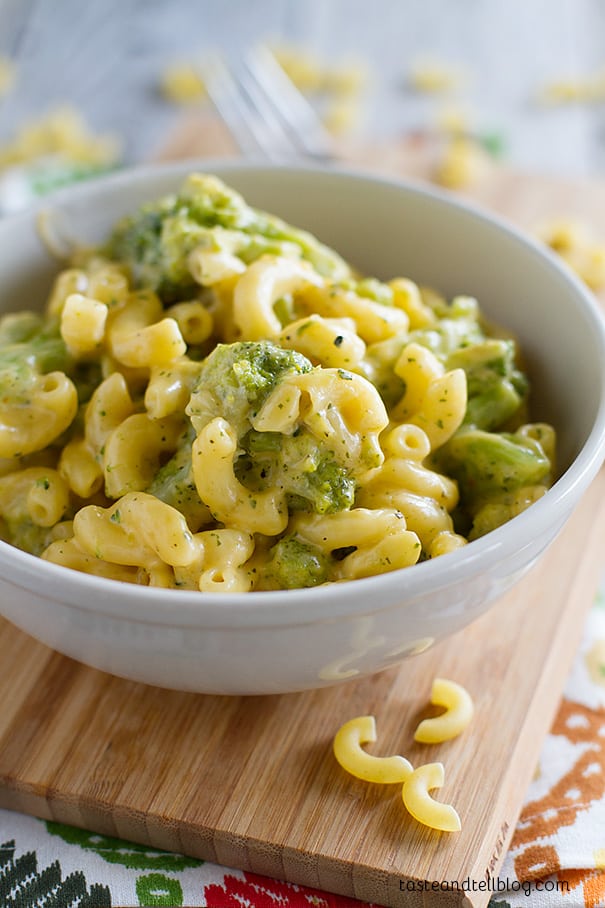 The dinner rut. How many of you have been there before?
Ok, honestly, as a food blogger, it's not a common problem because I'm trying new recipes so often. But it's something that I hear from a lot of people. They get tired of making the same things over and over again.
So why the same things over and over again? It may be that people are just comfortable cooking certain dishes. But I think a lot of the time, we start making the same things over and over again because we have found something that our families will eat. And something that the whole family enjoys is not always an easy thing to come by.
But then again, a set rotation of meals can sometimes get boring.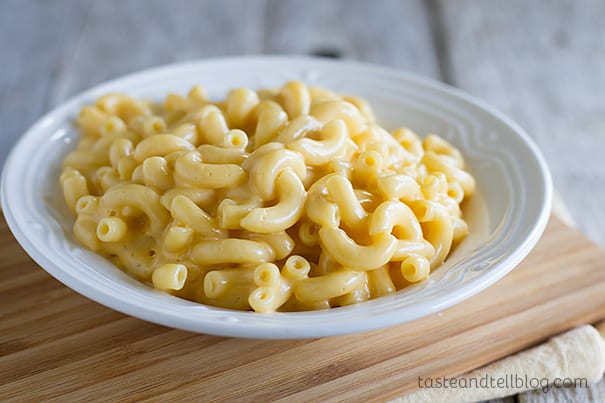 Like mac and cheese. My kids, like probably a lot of kids out there, love mac and cheese. I've made a lot of mac and cheese in my life, but our favorite is a stovetop mac and cheese recipe that takes 20 minutes to throw together. Rich and creamy – we all love it. But this mac and cheese can get kind of boring. And let's not forget to mention the lack of vegetables in this dish.
But I've got an easy fix for you today!! See that mac and cheese in the picture above? It's super easy to turn it into something even better, with the help of Green Giant Valley Fresh Steamers!
100% truth – I've actually been buying the frozen Green Giant vegetables for years. I've talked about this over and over again here, but I often struggle with side dishes, and the Green Giant vegetables are my life saver. So incorporating Green Giant Valley Fresh Steamers into one of my family's favorite dishes was a no-brainer. There are so many different flavors to choose from, but since my daughter's favorite vegetable is broccoli, I knew that adding the Tuscan Broccoli to our favorite stovetop mac and cheese would be a real winner. And I love that it turns the mac and cheese into a whole new meal, making it healthier with the addition of vegetables!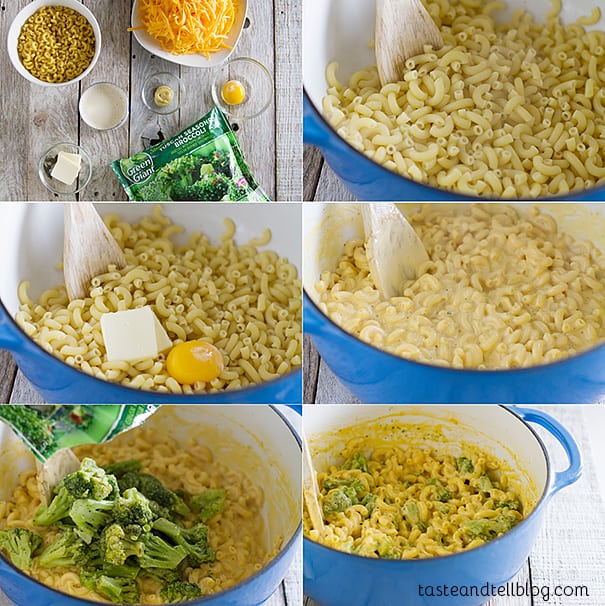 This stovetop mac and cheese is so super simple, making this great for a busy night or even for lunch. After cooking your noodles, you stir in butter and an egg yolk (the secret to thick and creamy mac and cheese!) Some evaporated milk and cheese go in next, and then it's finished off with the Green Giant Tuscan Broccoli. Your meal just went from boring to exciting!!
For more great recipe inspiration, make sure you visit the Green Giant website.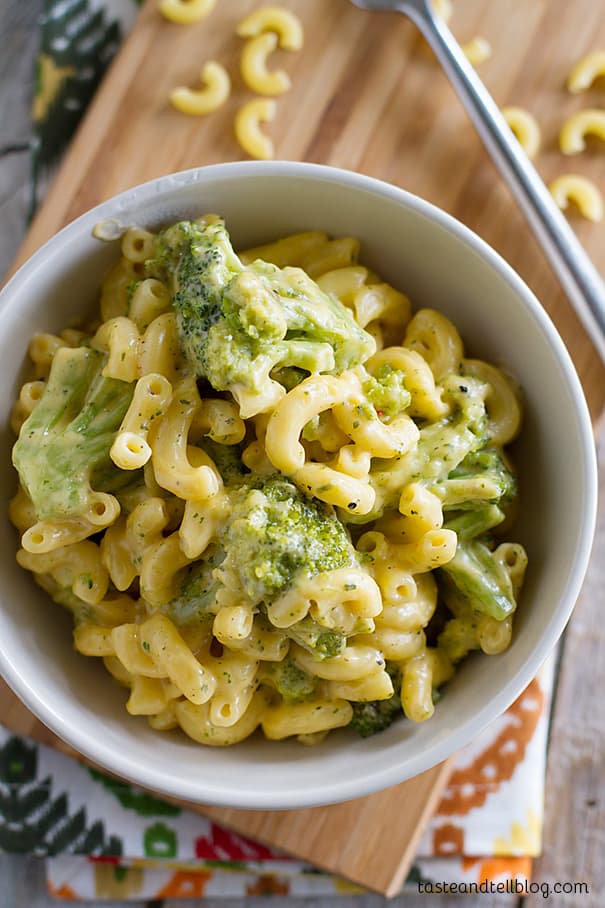 Like what you see here? Make sure you are following Taste and Tell for more great recipes and ideas!!

Facebook ** Pinterest ** Twitter ** Instagram ** Google+
or you can subscribe to my newsletter or Feedly or Bloglovin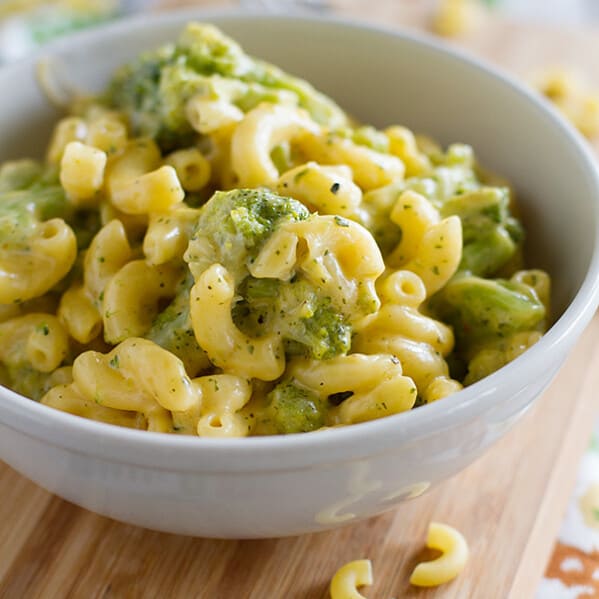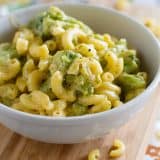 Tuscan Broccoli Stovetop Mac and Cheese
---
Prep Time: 5 minutes
Cook Time: 15 minutes
Total Time: 20 minutes
Yield: 4 servings 1x
Description
Skip the box – this stovetop mac and cheese recipe is done in 20 minutes and is creamy and filled with vegetables.
---
Scale
Ingredients
8 oz elbow macaroni
1 (11.8 oz) package Green Giant Tuscan Seasoned Broccoli
2 tablespoons butter
1 egg yolk
1 can (12 oz) evaporated milk
8 oz shredded sharp cheddar cheese
2 teaspoons Dijon mustard
salt and pepper, to taste
---
Instructions
Bring a large pot of salted water to boil. Cook the macaroni until al dente.
While the pasta is cooking, cook the vegetables according to the package directions.
Once the pasta is cooked, drain and return to the pan set over medium heat. Add the butter and the egg yolk and stir vigorously until it is completely combined. Stir in the evaporated milk, cheese and mustard. Stir until the cheese is melted and it has formed a creamy sauce. Stir in the vegetables and then season to taste with salt and pepper.
I am in a working relationship with Green Giant through Platefull, and this post has been sponsored. I'm so glad to be able to work with companies and organizations that I truly believe in. Thank you for supporting them, too.