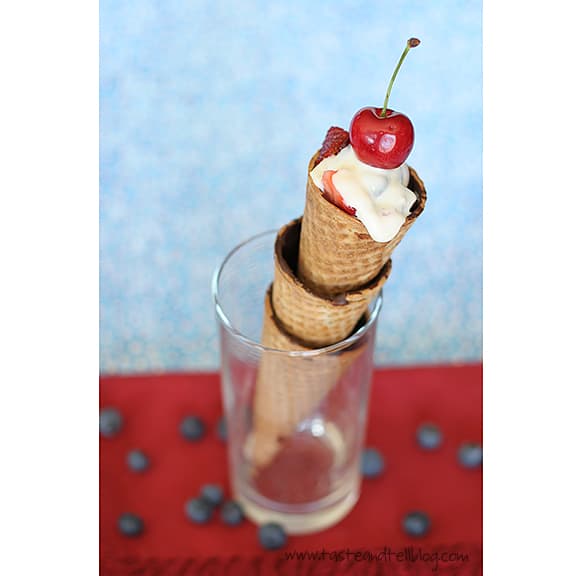 It's 4th of July Week here on Taste and Tell! All week, I've been bringing you festive red, white and blue recipes that will be perfect for the celebrations coming up. Make sure and link up your favorite red, white and blue recipes here. The linky will be up until July 4th!!
It's the last day of my 4th of July recipes. (Although I might be sneaking one more in next week!) It's kind of exciting that the 4th is on a Monday, because that just means that there will be a whole weekend full of activities. We have lots planned – including going to see the balloon festival, the parade, and of course – fireworks. We actually had some fireworks here locally a few weeks ago, and took the kids to see them. Abbi has seen fireworks before, but she was so young last year that I don't think she remembered them. She absolutely loved them this time around. So I know she'll just love the 4th of July!
When I went searching for a red, white and blue Rachael Ray recipe, I was actually kind of surprised that I had a hard time finding one. But then again, Rachael doesn't really do desserts, so I guess I shouldn't have been too surprised. I saw these cones, and decided on them. The more I thought about them, the more I worried that I wouldn't like them. I mean – it's sour cream. Wouldn't they be, well, sour?? I was really tempted to substitute some fresh whipped cream instead, but then at the last minute, I decided to follow the recipe. I'm so glad that I did. I just loved these. The sour cream mixture is sweetened with sugar and then flavored with lemon zest. If I hadn't made these myself, I would have never believed that they were made with sour cream. And the chocolate on the inside of the cones was just perfect. Everything about these was perfect. I used a low-fat sour cream, so I think my cream mixture was a little runnier that the recipe intended, but it still tasted great. And I know they don't really look red, white and blue in the pictures, but I promise there are blueberries in there!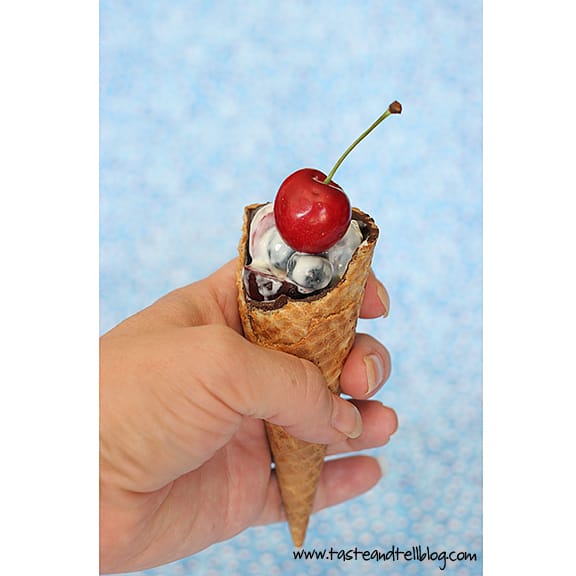 Berries and Cream Cones
adapted from Every Day with Rachael Ray June/July 2007
makes 10 cones
1 cup sour cream
4 tablespoons sugar, divided
grated peel from 1 lemon
juice from 1 lemon, divided
1/4 pound fresh cherries, halved and pitted, plus 10 more for garnish
1 pint mixed berries (I used strawberries and blueberries)
6 ounces milk, semi-sweet or dark chocolate
10 sugar cones
In a small bowl, combine the sour cream, 3 tablespoons of the sugar, the lemon peel and 1 to 2 teaspoons of the lemon juice. Refrigerate.
In another bowl, combine the halved cherries, the mixed berries, the remaining 1 tablespoon of sugar and 1 to 2 teaspoons of lemon juice. Refrigerate.
Break the chocolate into small pieces and place in a microwavable bowl. Microwave for 30 seconds at a time until the chocolate starts to melt. Stir until completely melted and smooth. Using a spoon, coat the insides of the cones with the chocolate. Place cones on a sheet of waxed paper or parchment paper on a baking sheet, and refrigerate until chocolate is set – about 15 minutes.
To serve, place a dollop of sour cream mixture in each cone, followed by some berries. Add another dollop of the sour cream mixture and garnish with a whole cherry.
————————————-
Saturdays with Rachael Ray rules:
* You can link any blog post, present or past, as long as it is a Rachael Ray recipe.
* Your blog post must link back to this post, mentioning Saturdays with Rachael Ray.
That's it!! Simple, simple. Just make sure the recipe is a Rachael Ray recipe – it doesn't matter if it comes from her talk show, 30-Minute Meals, her magazine, or one of her cookbooks. But it must be from Rachael Ray. Any posts that don't follow these two rules will be deleted from the linky.
I can't wait to see what you've made!