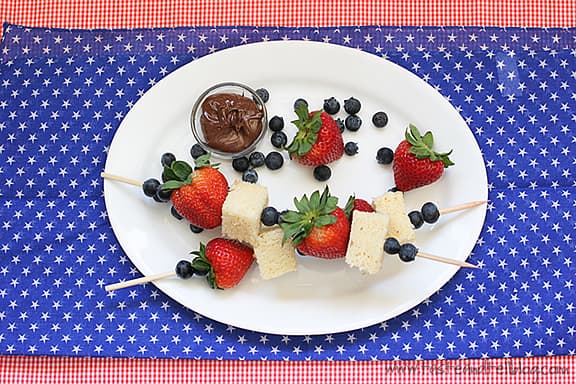 It's 4th of July Week here on Taste and Tell! All week, I'm bringing you festive red, white and blue recipes that will be perfect for the celebrations coming up. Make sure and link up your favorite red, white and blue recipes below!! I have one more recipe coming tomorrow!
When I decided to do a 4th of July week, I knew that there probably wouldn't be a red, white and blue dessert in this month's Cookbook of the Month. So I had to get a little bit creative and turn one of the recipes into a red, white and blue recipe! The minute I saw this recipe for Aunt Sue's Pound Cake, I knew that I could use it as a base. I originally was just going to put whipped cream, strawberries and blueberries on top of the cake, but then I decided it would be more fun to turn it into dessert kabobs. This dessert would be perfect for a 4th of July cook-out!
I have to admit that I did make this cake twice. I have this fear of overcooking pound cake. There is not much worse to me than dry pound cake. So I took the first one out way too early. The cake sunk in the middle as soon as I took it out of the oven, and continued to sink as it cooled. Yes, it was practically raw in the middle. But I'm taking full responsibility, because I knew I took it out a little early.
The second time I made it was when I decided to make it into kabobs. Instead of baking the cake in a tube pan, I made it in loaf pans to make it easier to cut into cubes. It worked like a charm. And it was a perfect pound cake. This is the kind of pound cake that gets the crackly top on top when it's baked, so you'll need to remove that before turning the cake into kabobs – but it's really no problem, because it makes a great snack while assembling the kabobs!!
I didn't include directions below to make the kabobs – basically just cut the cake into cubes and alternate strawberries, blueberries and the cake on wooden skewers!
Recipe Rating: 8.5 out of 10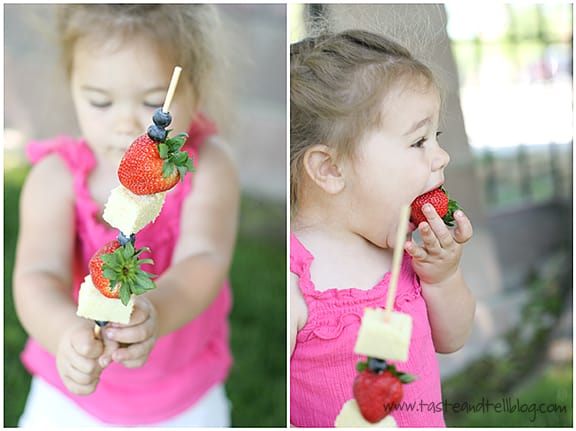 Aunt Sue's Pound Cake
from Southern Plate
6 eggs
1 cup butter
3 cups sugar
3 cups all-purpose flour
1 cup whipping cream
1 teaspoon vanilla extract
Grease and flour a tube pan. (If making into dessert kabobs, grease 2 loaf pans.) Set out the eggs and butter to come to room temperature.
In a large bowl, cream together the butter and sugar until smooth. Add in the eggs one at a time, beating for 1 minute after each addition. Sift the flour, then add it alternately with the whipping cream into the creamed mixture. Mix until fully incorporated. Stir in the vanilla.
Pour the batter into the tube pan (or equally into the 2 loaf pans) and place in a cold oven. Turn the oven on to 300F and bake for 80 to 90 minutes, until a toothpick inserted in the middle comes out clean. Cool completely before removing from the pan.