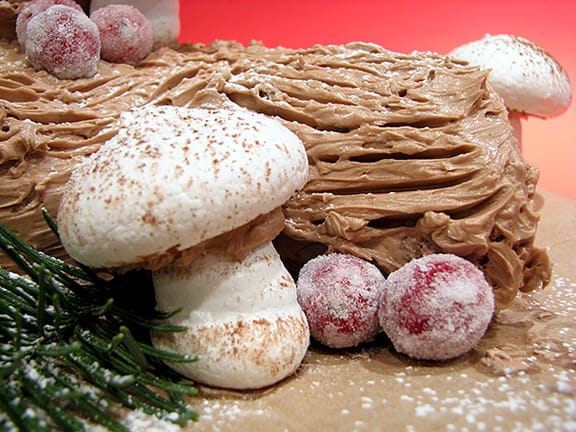 I have to make a confession – I was SO not excited about this month's Daring Baker's challenge. Why, you ask? Well, it requires decorating. And we all know how I feel about my decorating skills. I have been scared to death, and putting it off for as long as I could. I even contemplated skipping this month. In all honesty, it's been a crazy month, and I really haven't had time to do it – until today. It took me ALL day, but I did finish it, and guess what? I'm actually a little bit proud of it. I know it won't be the prettiest, fanciest, best looking Yule Log out there. But I didn't think I could do it – I thought mine would end up looking like a pile of you-know-what. But it actually looks like a log.
This month's challenge is brought to us by the founders of the DB – Lisa at La Mia Cucina, and Ivonne at Cream Puffs In Venice. The recipe for the genoise cake, the mushrooms and the outside buttercream come from Nick Malgieri's Perfect Cakes. The recipe can be found here.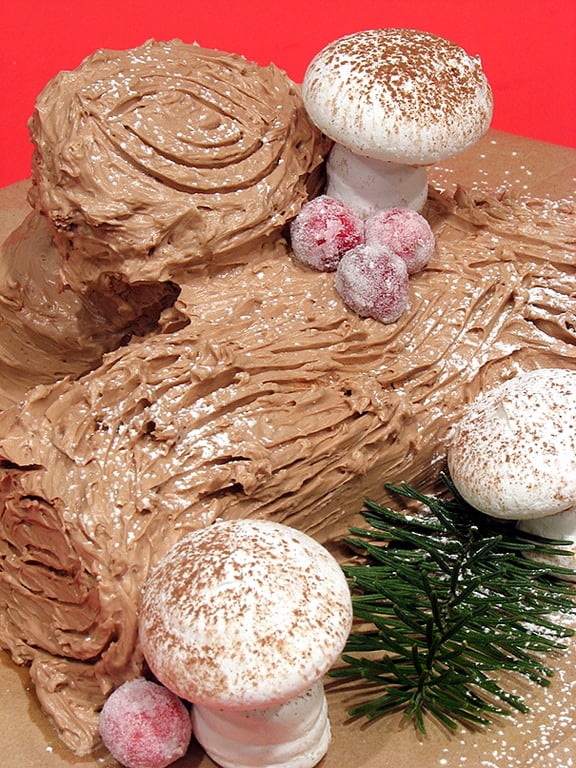 We were allowed a few modifications, and these are the things I changed.
1 – Since I'm not a coffee drinker, I changed the buttercream to a chocolate buttercream, versus the coffee buttercream. I melted about 2 1/2 ounces of semi-sweet chocolate, and when it was cooled, I stirred it in at the end. I didn't want the frosting to be too chocolate-y, and I think this amount of chocolate ended up perfectly.
2 – I filled my cake with a caramel buttercream. I was going to add hazelnuts as well, but realized I didn't have any at home, and didn't want to go back to the store!! The recipe I used for the caramel buttercream can be found here. This only makes a small amount, barely enough to fill the middle of the cake, so try not to eat too much before it makes it to the cake! This is the first time I've made this buttercream, and it was delicious! I will be using this recipe again!!
3 – I changed the genoise to chocolate. Since I only had a half sheet pan, I had to use the adjusted measurements. It was:
4 egg yolks
4 eggs
pinch of salt
1 cup sugar
1/3 cup cake flour
1/3 cup cornstarch
1/3 cup cocoa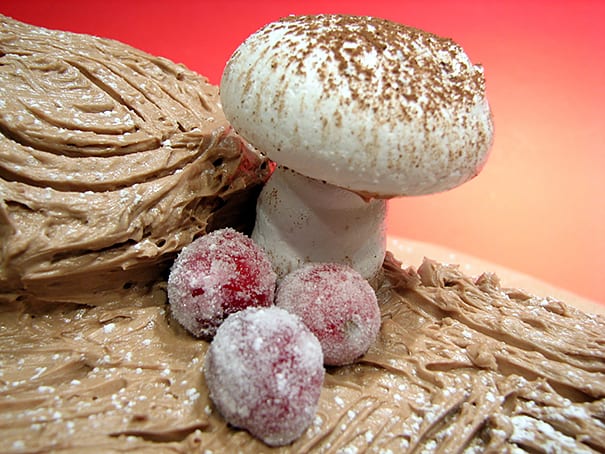 4 – The recipe I used for the sugared cranberries can be found here. (These are delicious!!)
Since I have lots going on before Christmas, I won't be posting anything else until after Tuesday. I will be around to see all of the Yule Logs out there, so if you haven't heard from me yet, I'll visit eventually!! To see the rest of the creations (going up today – the 22nd, and tomorrow, the 23rd) check out the Daring Bakers Blogroll.
I wish everyone a very Merry Christmas. I hope you will all be surrounded by family, friends, and the true meaning of Christmas!!