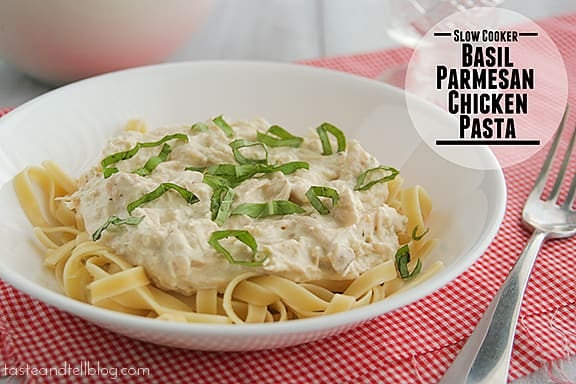 Yesterday was one of those crazy days.  An appointment to get Easton's hair cut first thing in the morning.  Then rushing home to meet a deadline, making an photographing a salad, and failing at an icing for a cake.  A quick shower (so glad I even had time to do that!!) then to a lunch, followed by some time getting to know the wonderful folks at Caputo's.  Rushing home after that so I could down my wonderful orange drink for my glucose test, followed by a doctor's appointment.  By the time I got home, I had a little bit of time to play and cuddle with the kiddos before putting them down for the night.  As I walked down the stairs, I could literally feel the swelling on my ankles.  Oh, the joys of the third trimester…
It was a crazy day, and days aren't usually that crazy for me, but I was wishing once evening hit that I would have thought ahead to throw something in the slow cooker for dinner.  Something like this Slow Cooker Basil Parmesan Chicken Pasta.  That sure would have made my day just a little bit less hectic!

This is the second slow cooker recipe using Progresso's new Recipe Starters. There's not much to say about this one, except that it was probably one of our favorites. And again, it's a super easy one. In fact, probably one of the easiest ones because it's basically a dump and cook recipe. You do have to cook the noodles before serving, but how hard is that?  Hurray for slow cookers!!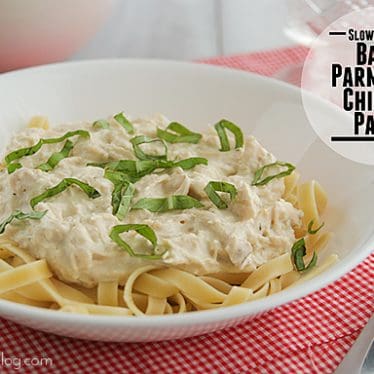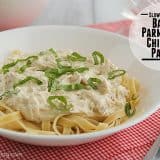 Slow Cooker Basil Parmesan Chicken Pasta
---
Prep Time: 5 minutes
Cook Time: 6 hours 30 minutes
Total Time: 6 hours 40 minutes
Yield: 4 to 6 servings 1x
Description
Pasta night is made easy with the slow cooked chicken pasta sauce with parmesan and basil.
---
Scale
Ingredients
2 pounds boneless, skinless chicken breasts
2 tablespoons butter, cut into small cubes
1 can (18 oz) Progresso Creamy Parmesan Basil Recipe Starter
8 oz cream cheese
1 lb fettuccine noodles
Fresh basil, for garnish
---
Instructions
Spray a 5 to 6 quart slow cooker with nonstick cooking spray. Place the chicken breasts in the bottom of the slow cooker. Top with the butter. Pour the can of Progresso Creamy Parmesan Basil Recipe Starter over the top of the chicken. Cover and cook on low until the chicken shreds easily, about 4-6 hours.
Using 2 forks, shred the chicken in the slow cooker. Cut the cream cheese into cubes and add to the chicken. Continue cooking on low until the cream cheese has melted, about 30 minutes. Stir to combine.
While the cream cheese is melting, bring a large pot of salted water to a boil. Cook the noodles until al dente. Drain and reserve.
Serve the sauce over the prepared pasta. Top with shredded fresh basil.

**This is a sponsored post, but as always, all opinions are my own.**