Rich brownies with a graham cracker crust are topped with marshmallows in these S'mores Brownies – a fun twist on s'mores.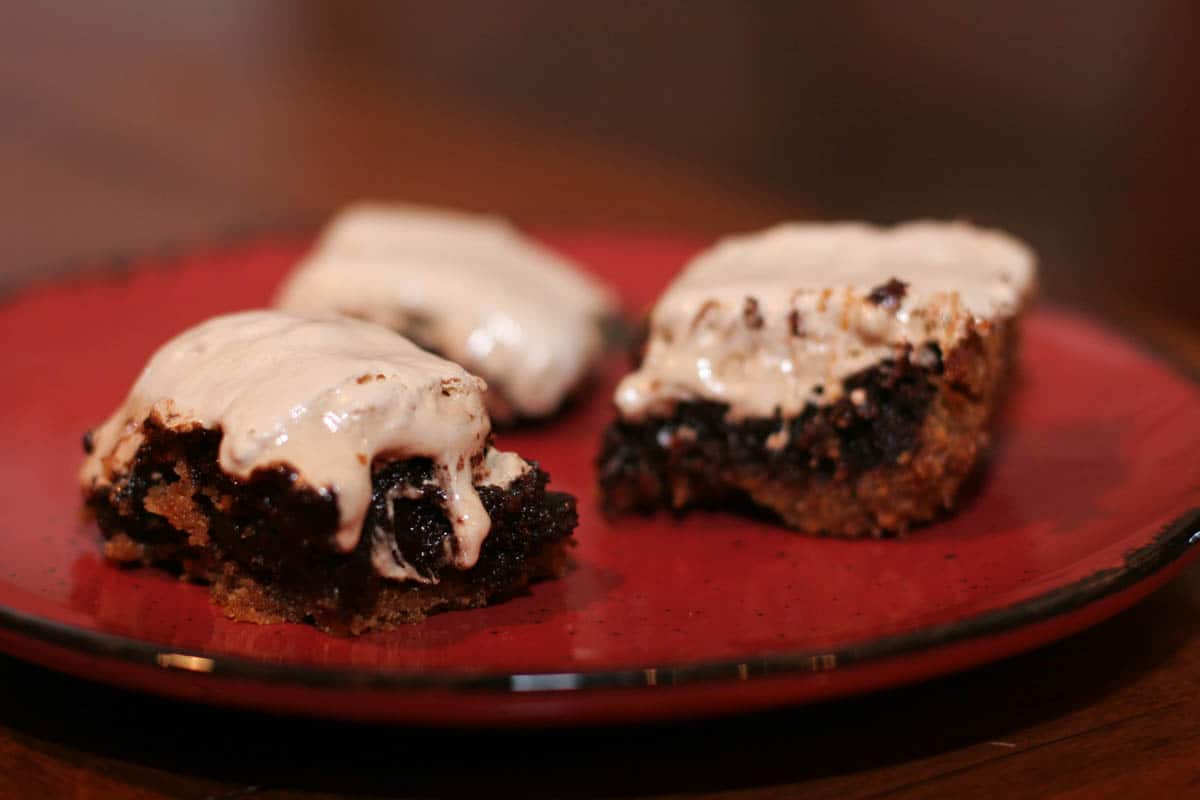 I love camping. In fact, now that it is the middle of winter, I find myself sometimes daydreaming of the summertime and spending the weekend in the mountains. And roasting hot dogs. And eating s'mores. I do love s'mores. It's a must have when you are sitting around a campfire.
But what do you do in the middle of the winter? I was so excited when I was contacted to try this Toasted Marshmallow Creme, made by Solo Foods. Sure, I'd had marshmallow creme before, but never toasted marshmallow creme!
When the package came, I was excited to see that I had 2 containers of the creme. The first was immediately opened, and both my husband and I took a big spoonful. I was so surprised – it did taste just like toasted marshmallows!! The remainder of that first container was enjoyed in peanut butter and toasted marshmallow sandwiches by my husband, and by the spoonful by me!
With the second container, I wanted to use it to bake something. I didn't quite know what, but I knew it needed a s'mores twist to it – being toasted marshmallow creme and all. The thought that kept coming to me was the brownies I had made several months ago with the graham cracker crust. The more I thought about it, I knew this would be the perfect base recipe. I was not disappointed, since I had made these brownies before. The toasted flavor was lost just a little bit in the rich brownies, but these still got eaten up! In fact, when I made them, we were on a little vacation at a cabin with my family, and people were digging into them before I had even sliced them up to take pictures! The picture was hastily taken, and doesn't really do them justice. They are super rich, so a little piece goes a long way.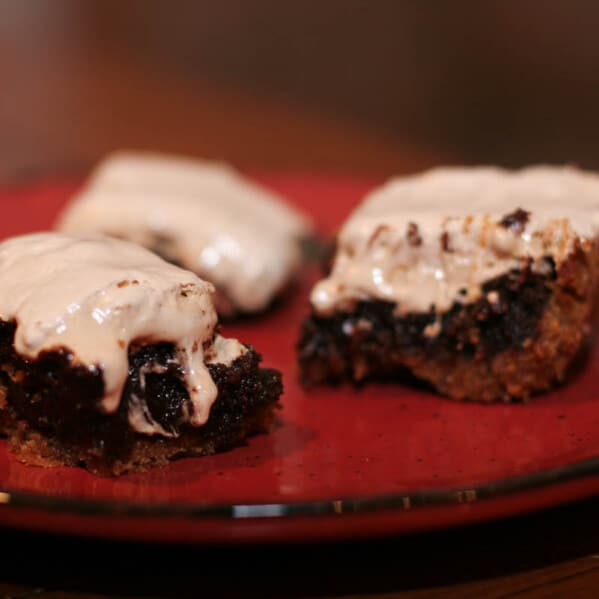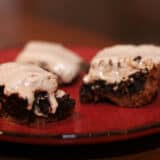 S'mores Brownies
---
Author:
Prep Time: 20 minutes
Cook Time: 0 minutes
Total Time: 20 minutes
Yield: 16 1x
Category: Dessert
Method: Baked
Cuisine: American
Description
Rich brownies with a graham cracker crust are topped with marshmallows in these S'mores Brownies – a fun twist on s'mores.
---
Scale
Ingredients
1/2 pound (2 sticks) butter
1 sleeve graham crackers (about 9 sheets)
1 cup plus 3 tablespoons sugar
2 ounces unsweetened chocolate, chopped
2 eggs
1 teaspoon vanilla extract
1/4 cup all-purpose flour
3/4 teaspoon salt
1 7 oz container of Toasted Marshmallow Creme (or regular marshmallow creme)
---
Instructions
Preheat the oven to 350F. Grease an 8-inch square baking pan.
Melt half the butter. In a food processor, pulse the graham crackers until they form coarse crumbs (or put them in a heavy-duty resealable plastic bag and whack them with a rolling pin.) Place the crumbs in a bowl; mix with the 3 tablespoons sugar and the melted butter until well combined. Press the crumbs into the bottom and all the way up the sides of the prepared pan. Bake the crust until light golden and almost firm, 12 to 15 minutes. Allow to cool.
In a saucepan over medium heat, melt the chocolate with the remaining butter, stirring until smooth. Whisk in the 1 cup sugar, the eggs, and vanilla. Fold in the flour and salt until just combined. Fold in the pecans.Pour the batter into the prebaked crust. Bake for 35 minutes, or until the center is just set. Top with the marshmallow creme and spread as evenly as possible. Return to the oven and bake for an additional 10 minutes. Store wrapped or in an airtight container at room temperature. The brownies will keep for 3 to 5 days.