Chicken Soong – a Chinese chopped chicken filling is served inside lettuce leaves for a delicious appetizer.
I'm always a sucker for a good lettuce wrap. That's why I've made a few versions that I've featured, like these Chicken Lettuce Wraps. So of course, when I see another recipe, I have to give it a try!! I'm actually really drawn to the appetizer section of this month's Cookbook of the Month – The Shun Lee Cookbook. So many of the appetizer recipes sound so good. And I'm glad that I made this one, because it was very delicious!!
One of these days, I'm going to invest in a good wok. I don't have one at all right now, and most of the recipes in this book are made using a wok. I just substituted a regular old skillet. The only complaint I had about this recipe was that it ended up a little bit oily. And maybe that's because I didn't have a wok. But it comes together super fast after you have all the prep work done. Make sure you have all your ingredients ready and in a row, because once you start cooking, expect to be done in less than 10 minutes. And one thing I didn't think about when I made these – these are appetizer portions. I made half the recipe, and I made them for dinner, and there really wasn't enough for two of us as a main dish. But we gobbled them right up!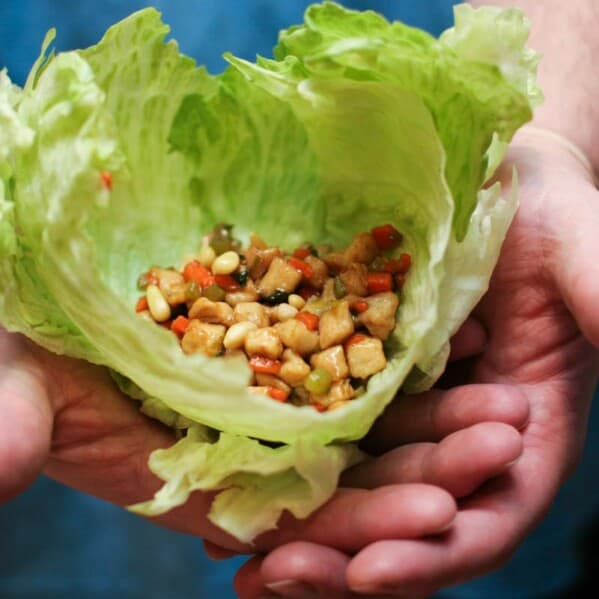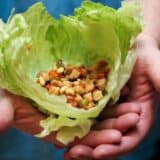 Chicken Soong in Lettuce Wrap
---
Author:
Prep Time: 15 minutes
Cook Time: 10 minutes
Total Time: 25 minutes
Yield: 4 appetizer servings 1x
Category: Appetizer
Method: Stove Top
Cuisine: Chinese
Description
Chicken Soong – a Chinese chopped chicken filling is served inside lettuce leaves for a delicious appetizer.
---
Scale
Ingredients
Chicken
8 ounces boneless, skinless chicken breast, cut into 1/4-inch cubes
1 1/2 teaspoons egg white (beat the white until foamy, then measure)
1 teaspoon cornstarch
1/8 teaspoon salt
vegetable oil
Sauce
2 tablespoons soy sauce
1 tablespoon red wine vinegar
1 tablespoon rice wine or dry sherry
1/2 tablespoon sugar
1 teaspoon ground white pepper
1 teaspoon cornstarch
Wraps
4 celery ribs, strings removed with a vegetable peeler, finely diced (1 cup)
4 scallions, white and green parts, trimmed and minced (3/4 cup)
3 carrots, finely diced (1/2 cup)
1 teaspoon dark sesame oil
2 teaspoons hoisin sauce
8 whole Bibb or iceberg lettuce leaves
2 tablespoons lightly toasted pine nuts
---
Instructions
To prepare the chicken, place the diced chicken in a medium bowl. Add the egg white, cornstarch, and salt. Toss to coat.
To prepare the sauce, whisk the soy sauce, vinegar, rice wine, sugar, and the white pepper together in a small bowl.
Combine the cornstarch and 1 tablespoon of water in a small bowl and set aside.
Heat a large skillet over high heat and add enough oil to come up the sides of the skillet 1 inch. Heat until very hot – almost smoking. Add the chicken and stir to keep the pieces from sticking together. Cook until they turn white, about 45 seconds to a minute.
Use a mesh skimmer to transfer the chicken to a colander to drain.
Carefully remove all of the oil but 2 tablespoons from the skillet.
Place back over high heat. Add the celery, scallions, and carrots and stir-fry for 45 seconds to a minute. Return the chicken to the skillet.
Stir in the sauce and cook for 30 seconds. Add the cornstarch-water mixture and cook until the chicken is cooked through and the sauce is thickened. Stir in the sesame oil. Transfer to a serving bowl.
To serve, spread 1/4 teaspoon of hoisin sauce down the center of each lettuce leave, then add 3 tablespoons of the chicken mixture and sprinkle with pine nuts. Serve immediately.
Recipe Notes: