With spirals of chocolate and peppermint dough, these "Kiss Me" Chocolate Peppermint Pinwheel Cookies are fun and minty and the perfect ending to a date night at home.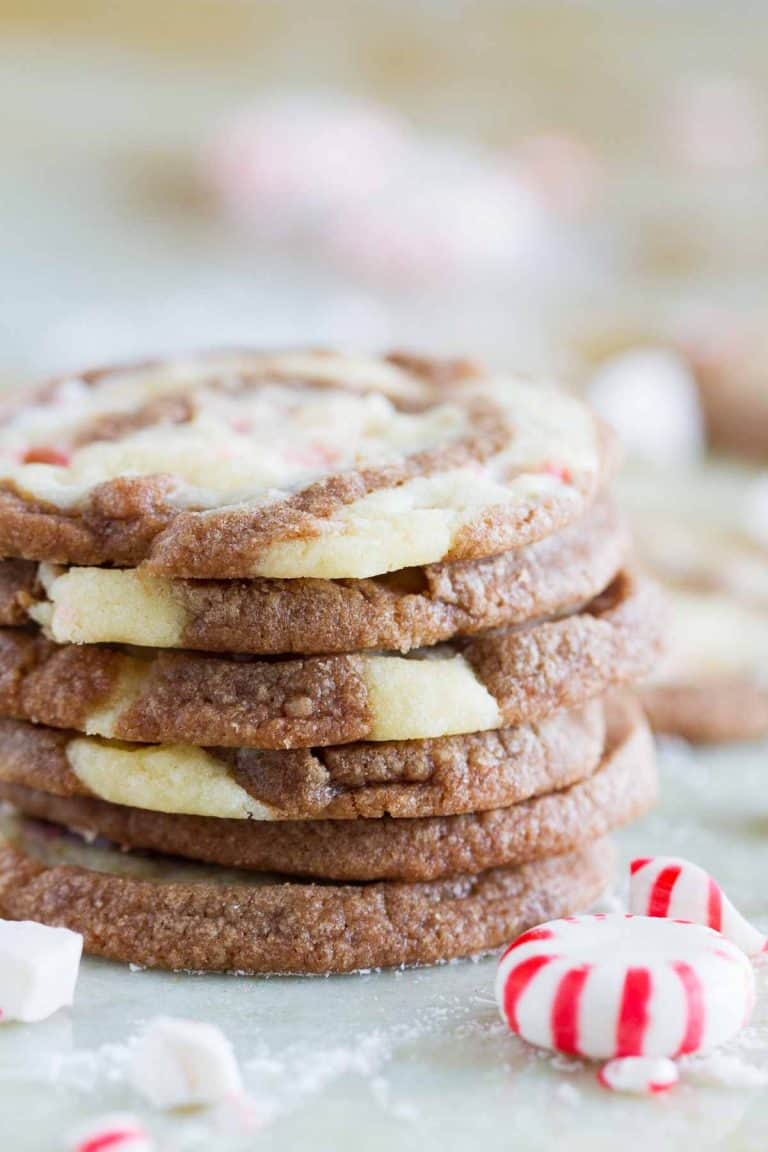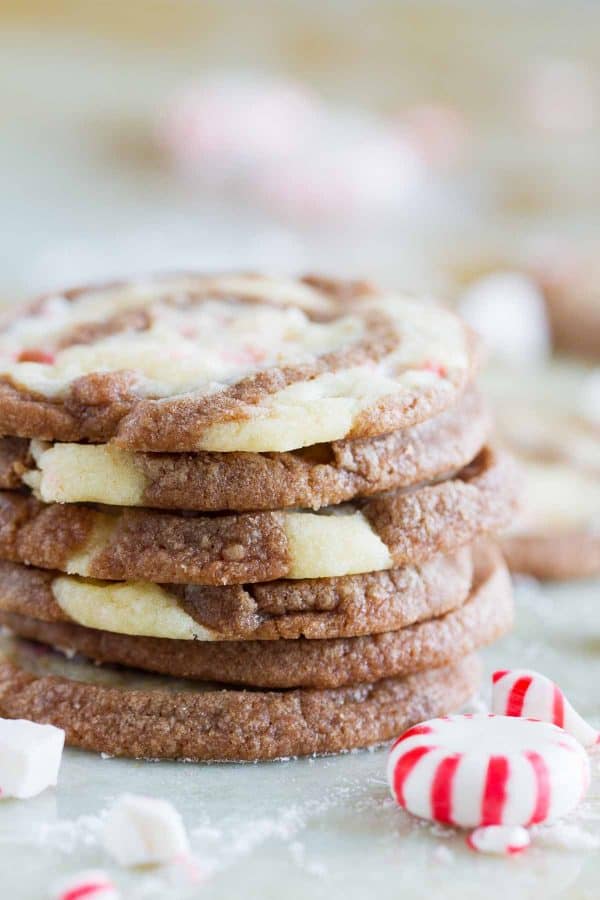 I'm teaming up with Crisco®, as a Crisco® Creator, to help inspire home cooks with new recipe ideas and cooking and baking tips. All opinions are my own.
Back when I was dating, I always said it would be a deal breaker if the guy didn't like to eat. Because if you haven't gathered yet – I kinda like food. 😉 I just didn't know how I would deal with a picky eater.
Luckily, I met my husband, and he loves food just as much as I do. And although his list of food dislikes is slightly larger than mine, we still share some of the same loves.
One of those loves is garlic and onions. In just about everything. Except dessert, of course. But neither of us are scared away by the smell or taste of garlic or onions.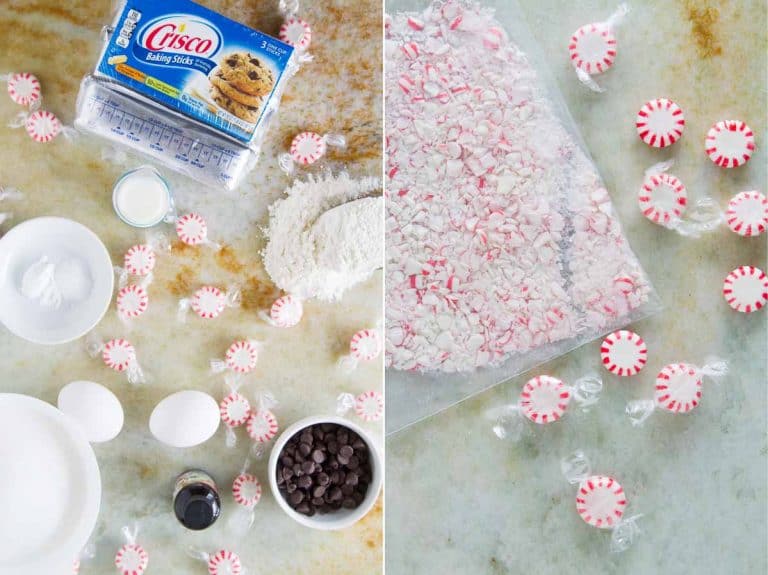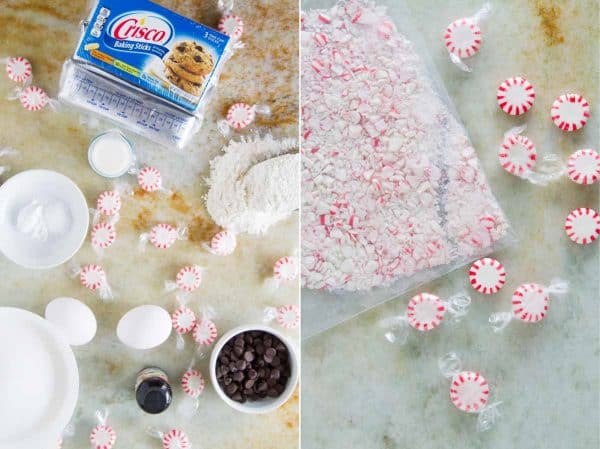 Now, why oh why am I talking about garlic and onions on a post about cookies? Well, Valentine's Day is upon us. The holiday of love. Whether you are married, dating, or maybe even just going on a first or second date this Valentine's Day, I've never been an advocate of avoiding certain foods at dinner because you're afraid of it ruining that kiss after dinner. In fact, some of my favorite Valentine's Day dinners include lots of garlic.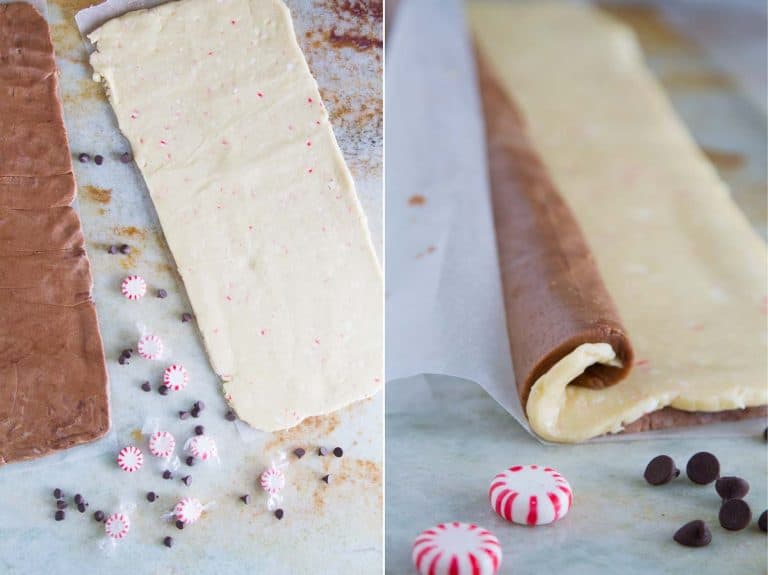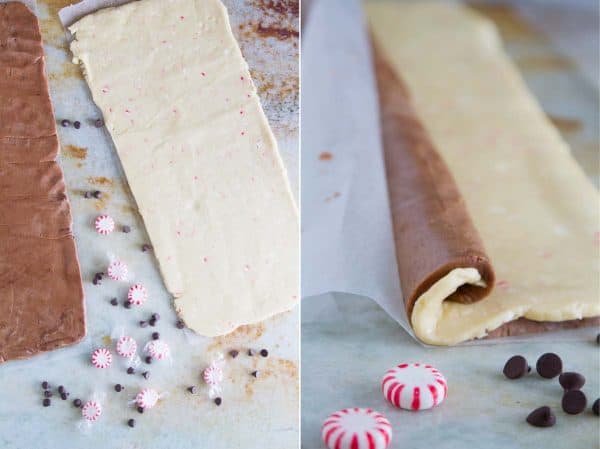 I've always said that 2 garlics cancel each other out, so if both my husband and I are eating a garlicky dinner, it's not a big deal. But what if you want that garlic but your date doesn't? You need something to counteract the garlic. Enter these "Kiss Me Cookies."
You may think that peppermint is mostly just a Christmas thing, but it's totally a Valentine's Day thing as well. Think about it – a nice, romantic (garlicky) dinner at home. Followed by one of these Chocolate Peppermint Pinwheel Cookies to freshen your breath and make it nice and kissable. Kissing and cookies – match made in heaven, right??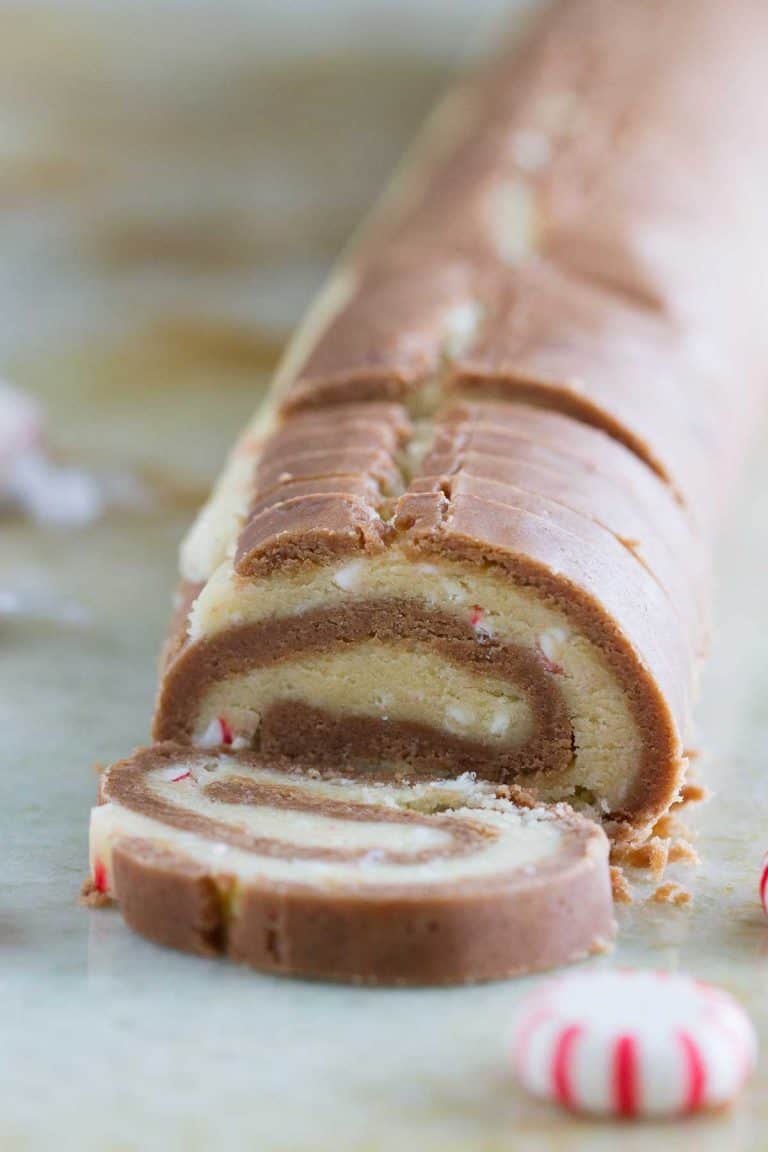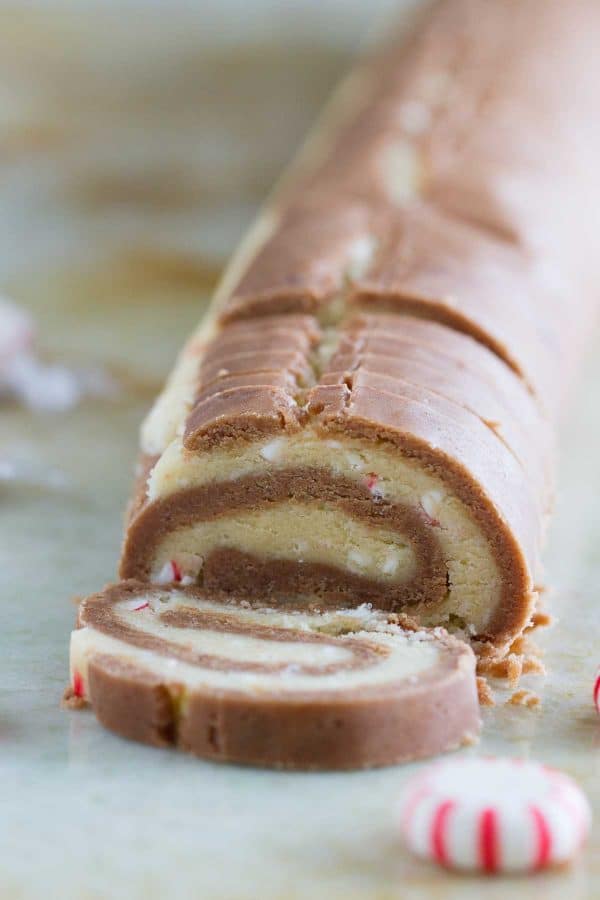 Let's not forget that these cookies are delicious, as well. I'm a soft cookie fan all the way. I love pinwheel cookies, but sometimes they are on the harder side, which I don't always love. So for these pinwheel cookies, I used Crisco® shortening, which helps to keep them super soft and chewy, just the way I love them. And to make things even easier, I could just use one stick of the Crisco® Baking Sticks All-Vegetable Shortening, which means no mess and no measuring. Crisco® All-Vegetable Shortening also has zero grams trans-fat per serving1 Win!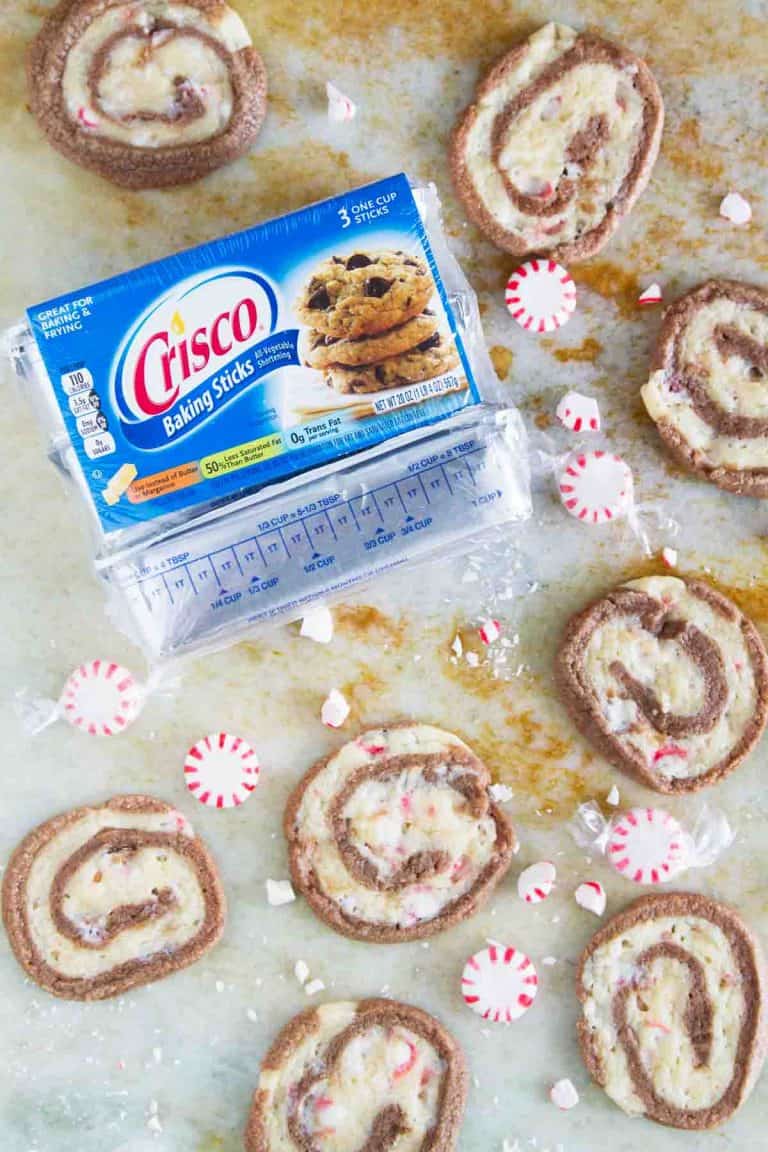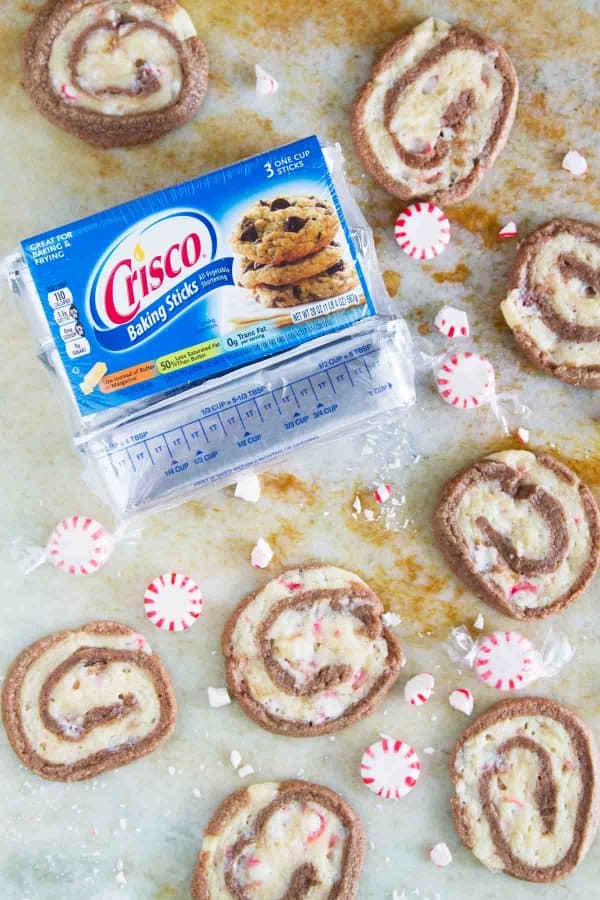 One hint with this dough is to keep it cold. If not all of your cookies are baking at the same time, keep the rest of the dough in the fridge. Even if it starts to heat up just a tad, it can get crumbly. But if you keep it cold, it's so much easier to work with. I like to refrigerate the dough after it's been rolled overnight, but if you are short on time, 2 hours should work.
So don't skip the garlic this Valentine's Day – as long as you have one of these Chocolate Peppermint Pinwheel Cookies, you'll be all set for a romantic night!
If you need more baking inspiration visit Crisco.com or search #CriscoCreators on social media to find more great recipes!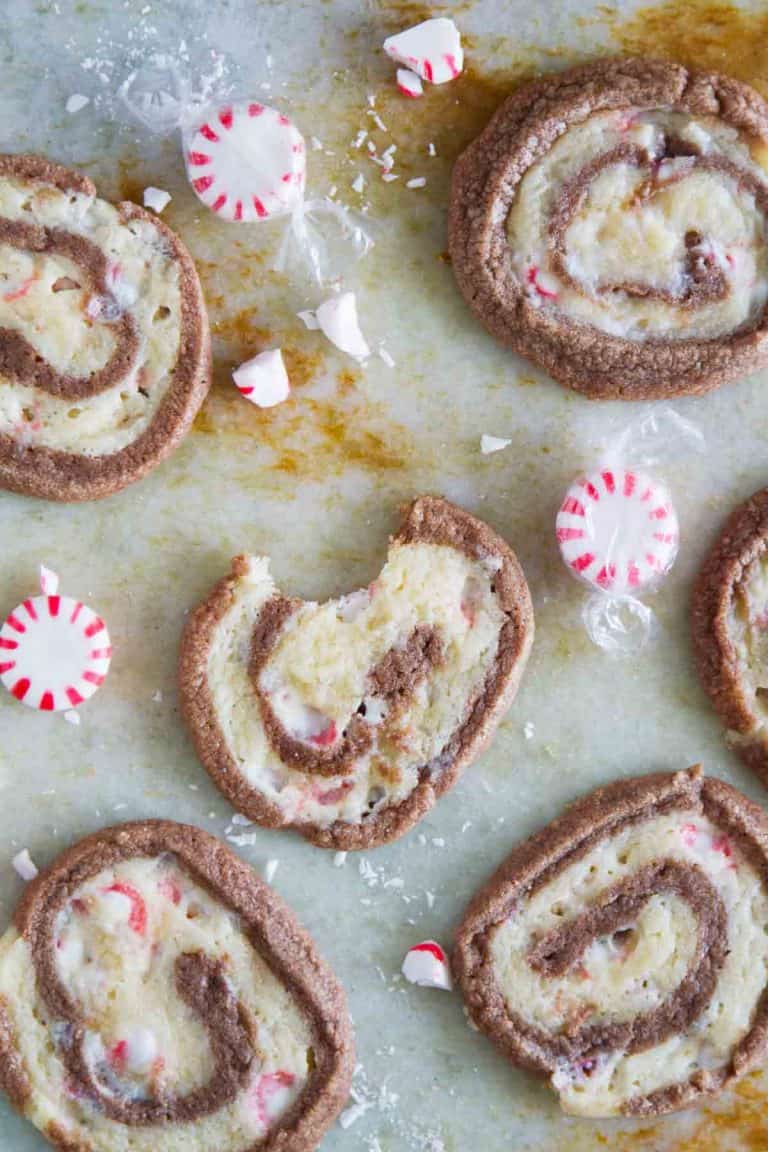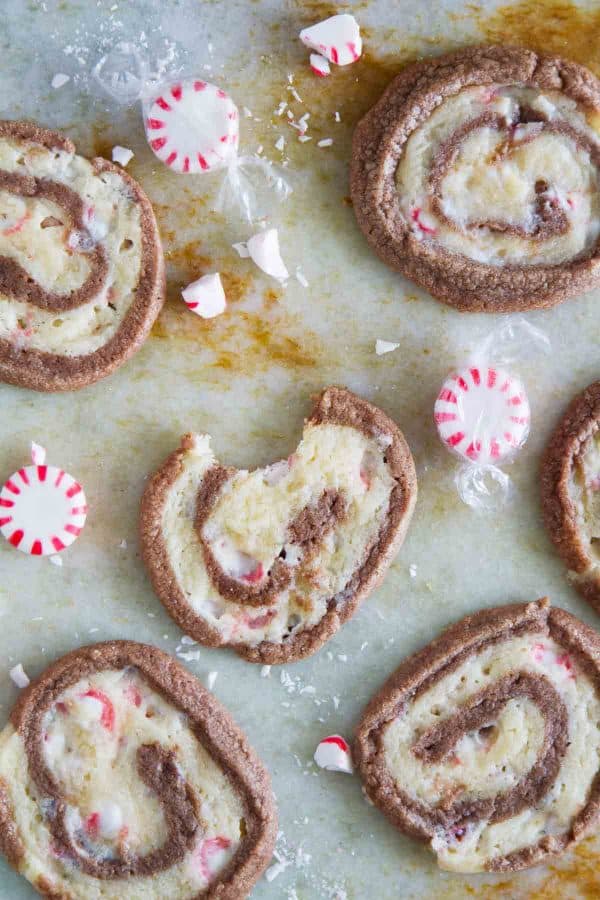 Like what you see here? Make sure you are following Taste and Tell for more recipes and ideas!
Facebook | Pinterest | Instagram | Twitter | Google+ | Weekly Newsletter | Feedly | Bloglovin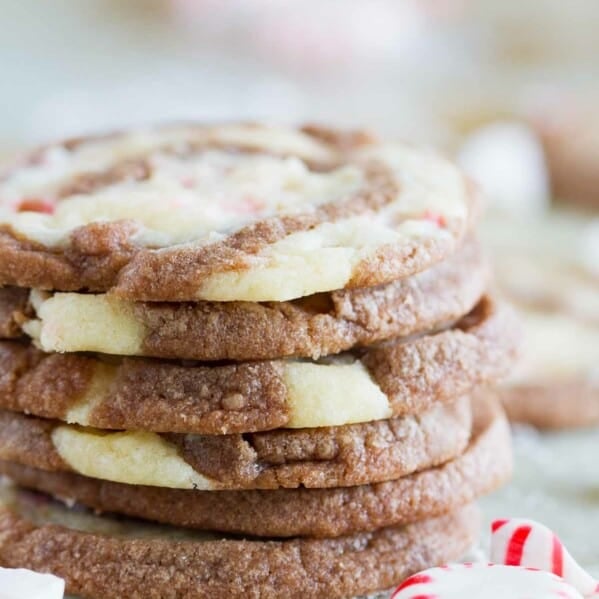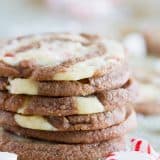 Chocolate Peppermint Pinwheel Cookies
---
Author:
Prep Time: 20 minutes
Cook Time: 8 minutes
Total Time: 148 minutes
Yield: 0 cookies 1x
Category: Dessert
Description
With spirals of chocolate and peppermint dough, these "Kiss Me" Chocolate Peppermint Pinwheel Cookies are fun and minty and the perfect ending to a date night at home.
---
Scale
Ingredients
1 stick Crisco® Baking Sticks All-Vegetable Shortening
1 1/2 cups sugar
2 eggs
2 Tablespoons milk
1/2 teaspoon salt
1/2 teaspoon baking powder
3 cups Pillsbury BEST™ All-Purpose Flour
1 teaspoon peppermint extract
15 starlight mints, (crushed)
2 ounces semi-sweet chocolate chips, (melted)
---
Instructions
Combine the Crisco® shortening with the sugar in the bowl of a mixer and cream together until light and fluffy, 3-4 minutes. Add the eggs, one at a time, scraping down the sides of the bowl in between additions. Beat in the milk. Add the salt and baking powder, followed by the flour. Beat just until the flour is incorporated.
Divide the dough in half. Stir the peppermint extract and the crushed peppermints into one half. Stir the melted chocolate into the other half.
Cut 4 pieces of waxed paper into 18×7 inch rectangles. Roll each half of dough between 2 of the pieces of waxed paper. Remove the top piece of waxed paper from each dough, and carefully place the peppermint dough on top of the chocolate dough, dough sides together. Remove the top piece of waxed paper.
Using the bottom piece of waxed paper as a guide, roll the doughs together, jelly-roll style. Wrap in the waxed paper, then wrap in plastic wrap and refrigerate until firm, at least 2 hours, preferably overnight.
Preheat the oven to 375ºF.
Remove from the refrigerator and remove the plastic wrap and the waxed paper. Cut the dough into 1/3" slices. Place 2 inches apart on greased baking sheets. Bake for 8-10 minutes, just until set. Let cool on the baking sheet for 5 minutes before transferring to a cooling rack to cool completely.
Recipe Notes:
If the dough starts to crumble, place back into the refrigerator. The dough needs to stay cold.
Don't miss a thing! Follow me on Pinterest to see what I'm pinning!
Visit Taste and Tell's profile on Pinterest.


1See nutrition information for fat and saturated fat content.
As a participant of the Crisco® Ambassador Program, I've received compensation for my time and product samples for review purposes. Opinions are my own. I'm so glad to be able to work with companies and organizations that I truly believe in. Thank you for supporting them, too.