Happy Saturday!!  I know I haven't been posting on the weekends, but well…  things didn't go the way they were supposed to a few nights ago, and I just couldn't wait any longer to bring you this recipe!!
For some reason, I don't make a lot of fish when I'm pregnant.  I know it's a good time to eat it – all of the omega-3 fatty acids and all.  But I don't normally crave it.  At least not enough to want to make it.  (Except I did have a very delicious salmon blt when eating out a few days ago!)  But really – meals like this are so easy to prepare, they should be right at the top of my meal list!!
This is one to add to your meal plan asap – while you can still get fresh dill without paying an arm and a leg for it.  Or maybe you are lucky enough to have some growing in your backyard.  This is an easy, 30 minute meal that any salmon lover will love!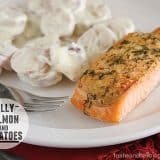 Dilly Salmon and Potatoes
---
Prep Time: 15 minutes
Cook Time: 15 minutes
Total Time: 30 minutes
Yield: 4 servings 1x
Description
Mustard and dill topped salmon fillets, served with a dilly potato salad.
---
Scale
Ingredients
1/2 cup sour cream
1/4 cup plain yogurt
4 tablespoons dijon mustard
3 tablespoons chopped fresh dill
salt and pepper
1 1/2 pounds small red potatoes, cut into 1/4-inch thick slices
4 salmon fillets
olive oil
---
Instructions
In a small bowl, combine the sour cream, yogurt, dijon and 2 tablespoons of the dill. Season to taste with salt and pepper.
Place the potatoes in a large pot and cover with water. Cook over high heat until the potatoes are tender. Drain and return to the hot pot. Add the sour cream/yogurt mixture and stir well.
Preheat the broiler. Place the salmon fillets on a baking sheet and spread the mustard over the tops. Season with salt and pepper and the remaining dill. Broil until the salmon is cooked through, about 10 minutes. Serve with the potatoes.
And the fun doesn't end there!!  Last week, I talked about my top 6 smart phone apps.  I said it before, but I couldn't live without my phone.  It helps me in so many ways.  Of course, I always need my email at my fingertips, but these days, a phone is so much more than just email!!
About a month ago, we started using the HTC One X from AT&T.  The challenge was to find ways that using phone technology helps me to create in the kitchen.  Here are just a few things that my family loved on this phone that we don't have or weren't using on our normal smart phones:
Google Goggles – my husband just discovered this one yesterday, so we just barely started playing around with it.  Basically you can take a picture of something in the program, and it will search Google for information about it.  I thought this would be perfect if you are out at a grocery store and come across an ingredient, and you aren't quite sure what it is.  Just take a picture through the app, and it will search the web for what it is!
Easy access to Google Docs – this one is great, because I can keep a running list of recipe ideas that I have on Google Docs.  And this phone can easily access my account, so it is at my fingertips whether I'm at home on my computer or out and about!  It also helps if I have a recipe typed up in Google Docs, and then I can cook it directly from my phone in the kitchen instead of bringing my laptop in.
Easy access to YouTube and your YouTube channels – I have to admit, I don't watch a whole lot of YouTube.  But my husband does.  This would be a perfect way for me to keep up on foodie videos!
AT&T Code Scanner – we have just been playing around with this one, as well.  You can scan a bar code from a product and find the best deals near you.  You can also find nutritional information as well.  This would be perfect for if you are trying to cut back on your grocery bill!
**I was provided with a phone and compensated for ingredients from AT&T. All opinions are my own.**