This quiche-like Savory Italian Tart is filled with Italian sausage, tomatoes, eggs and cheese, all on top of a puff pastry crust. Perfect for breakfast, lunch or dinner!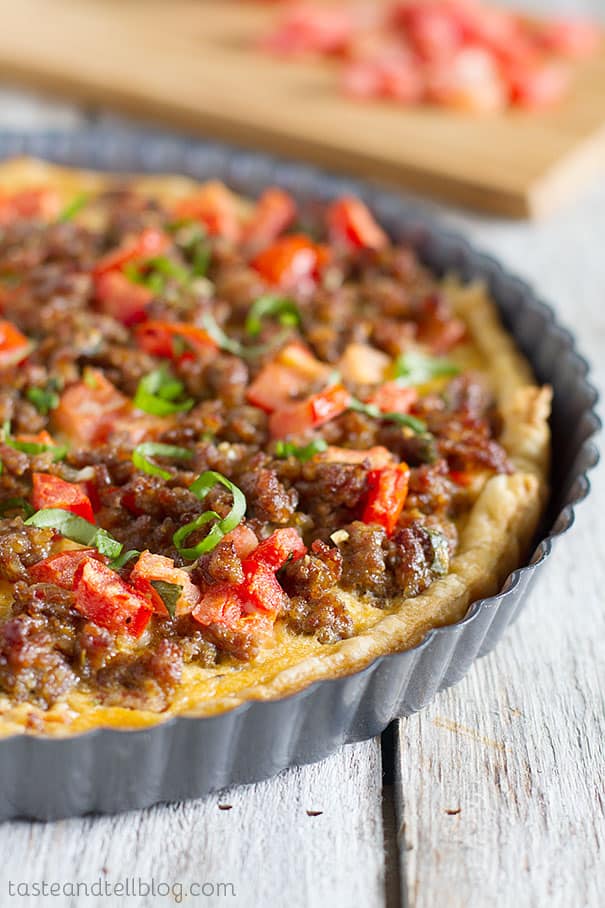 Photos Updated June 2014



Originally posted October 14, 2007 – I have been making so many recipes from the archives lately that I have a whole folder of them that I haven't even had time to update. After looking through that folder, I decided that I just had to repost this one today. If you are still having warm temps like we are, and are still able to get garden fresh tomatoes, they are perfect in this recipe. I especially love that this can be served for breakfast, lunch or dinner.

Sometimes you find good recipes in unexpected places. You would think that all of the best recipes come from the best restaurants, or the best cookbooks, or the best blogs. But sometimes, a really good recipe comes right off of the package of something!!
This Italian tart recipe was on the package for my tart pan that I bought awhile back. It sounded good, so I saved the cardboard that it was on, and finally took the time to make it a couple of weeks back. Not only was it quick and simple to prepare, it was delicious!! I made this back when I had a surplus of tomatoes from the garden, so it was a good recipe to use some of those up as well. (I am so far behind on blogging some of my cooking adventures!!)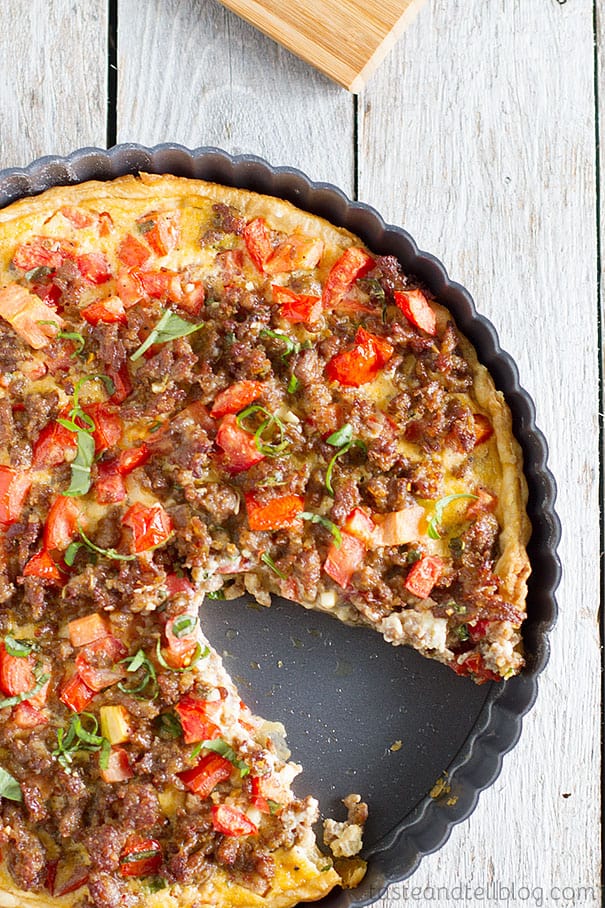 This is kind of a quiche-like dish, but quite a bit more substantial. The only thing I would be careful of is that it doesn't make for very good leftovers. The crust gets quite soggy, but it is still tasty to just eat out the filling!
After I made it, I typed out the recipe to file away, but threw away the cardboard before checking to see if there was someone to give credit to, but the tart pan is made by Wilton, so Wilton will get the credit!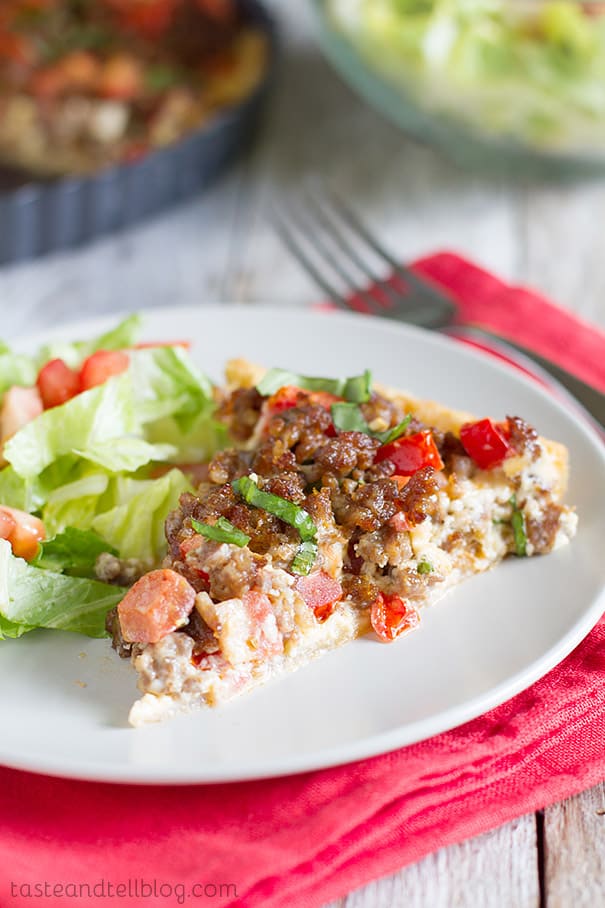 Like what you see here? Make sure you are following Taste and Tell for more great recipes and ideas!!

Facebook ** Pinterest ** Twitter ** Instagram ** Google+
or you can subscribe to my newsletter or Feedly or Bloglovin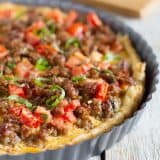 Savory Italian Tart
---
Author:
Prep Time: 10 mins
Cook Time: 25 mins
Total Time: 35 mins
Yield: 4-6 servings 1x
Description
This quiche-like Savory Italian Tart is filled with Italian sausage, tomatoes, eggs and cheese, all on top of a puff pastry crust. Perfect for breakfast, lunch or dinner!
---
Scale
Ingredients
1 package (8 oz.) refrigerated puff pastry dough
1 lb Italian sausage links, casings discarded
2 large tomatoes, diced
2 tablespoons chopped fresh basil
1 clove garlic, minced
2 tablespoons shredded Parmesan cheese
1/4 cup shredded cheddar cheese
3 tablespoons milk
2 eggs
1/2 cup heavy cream
1/2 teaspoon salt
1/4 teaspoon black pepper
---
Instructions
Preheat the oven to 425ºF.
Roll puff pastry on floured surface into a circle approximately 13 inches wide. Press dough into an 11-inch tart pan. Place a piece of foil sprayed with nonstick cooking spray over the dough and fill with dried beans or pie beads. Bake 8-10 minutes or until golden.
Meanwhile, cook sausage in a large skillet over moderately high heat, breaking it up as it cooks, until the sausage is no longer pink, about 7 minutes. Drain well. Transfer sausage to large bowl and add the tomatoes, garlic, basil, pepper, salt and cheese.
In separate bowl, whisk the eggs, cream and milk together. Combine both mixtures; mix well.
Pour into the baked shell and bake an additional 15 minutes. Reduce oven temperature to 350ºF. Bake an additional 10-12 minutes or until egg mixture is set and golden. Remove from oven; cool 5-10 minutes before cutting.
Recipe Notes:
Source: The packaging with the Wilton tart pan