Cool nights mean it's time for comfort food! This Enchilada Beef Stew is made in the slow cooker and has all the flavors of enchiladas in a comforting, hearty stew.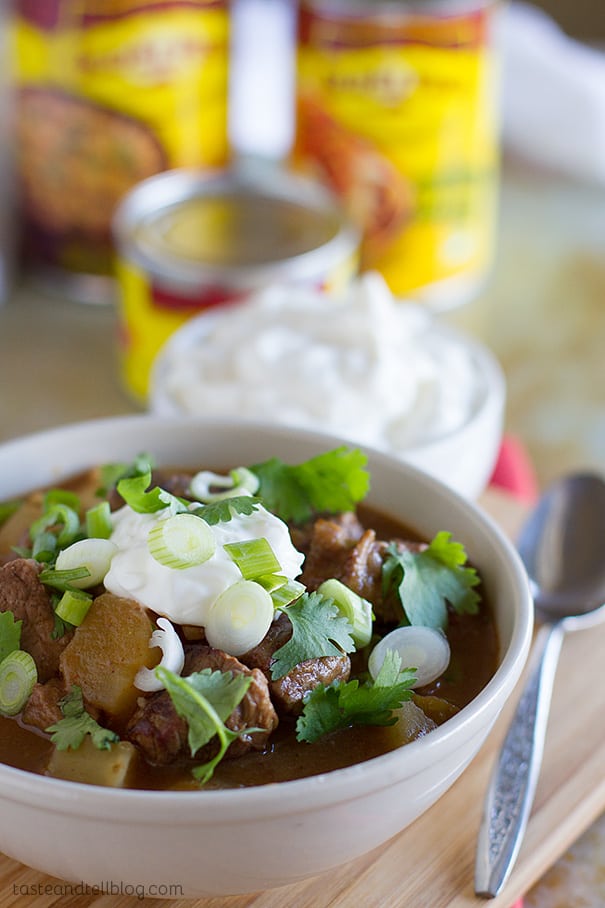 Times sure are different today than they were when I was a kid.
My daughter loves watching Youtube videos. I was in high school before people really had the internet at home. And there definitely wasn't Youtube!
But she loves to watch. She has a couple of channels that are her favorite, mostly these girls who basically just film what they are doing. Like going to the dentist, or teaching their dog a trick. (Who would have ever guessed that someone just filming their day would end up getting millions of views on Youtube?)

So now, she has this grand idea that she wants to be a "tv" star when she gets older. Because doesn't everyone want to be a Youtube sensation? She will take my phone and walk around the house, pretending that she is filming. She talks to the phone and tells everyone what she is doing. Every once in awhile, I'll find that she has actually recorded instead of just pretending, and I always get a good laugh out of watching those videos.
And she is definitely her mother's daughter, because she also loves to watch cooking videos, and will "make" her own sometimes. She especially likes to get a chair and pull it over to the counter while I am cooking, and she'll pretend to record and give a play by play on what is going on. Who knows – maybe I need to start filming her cooking, and give her a spot on my blog. That way she could take over when I'm ready to retire! 😉
I'm glad that she gets as excited about cooking as I do. And while this Slow Cooker Enchilada Beef Stew wouldn't make for an interesting cooking show, (it is a slow cooker recipe, after all – not the most exciting to watch), it sure was fun to come up with!!
This is one of those recipes that I threw together on a crazy morning, and I was so happy when I took my first bite to see that it actually turned out and was more delicious than I was even expecting. The ingredient list isn't long, and most of the ingredients are ones that I typically have on hand. It always makes me happy when I don't have to pick up very much from the grocery store!!
I have a couple of tips when it comes to this crock pot recipe – and pretty much every crock pot recipe in general. The first is to brown your meat if at all possible. Have you ever had meat (especially beef) that gets kind of mushy with no texture after it's been stewing in the slow cooker all day? Well, if you brown your meat ahead of time, this helps to combat that. Plus, browning the meat gives it so much flavor. Like Rachael Ray says – the color is flavor.
Speaking of Rachael Ray, my other tip comes from her, as well. Always add a fresh element to slow cooked food before you serve it. With this stew, it is the cilantro and green onions. That pop of freshness brings so much to this beef stew. And let's not fail to mention some color, because let's face it – stew is not the most glamorous or beautiful food. We all know that we eat with our eyes first, and the green from the fresh ingredients adds the visual element that this recipe needs.
As the nights get cooler, this Slow Cooker Enchilada Beef Stew is the kind of comfort food that I'm going to be craving. It's perfect for a busy day, or even perfect for a Sunday supper!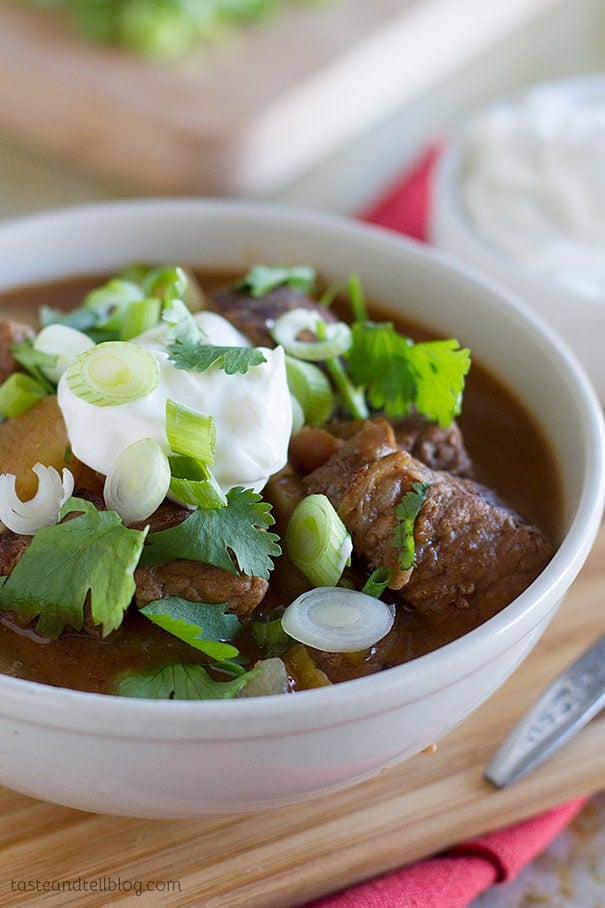 Like what you see here? Make sure you are following Taste and Tell for more great recipes and ideas!!

Facebook ** Pinterest ** Twitter ** Instagram ** Google+
or you can subscribe to my newsletter or Feedly or Bloglovin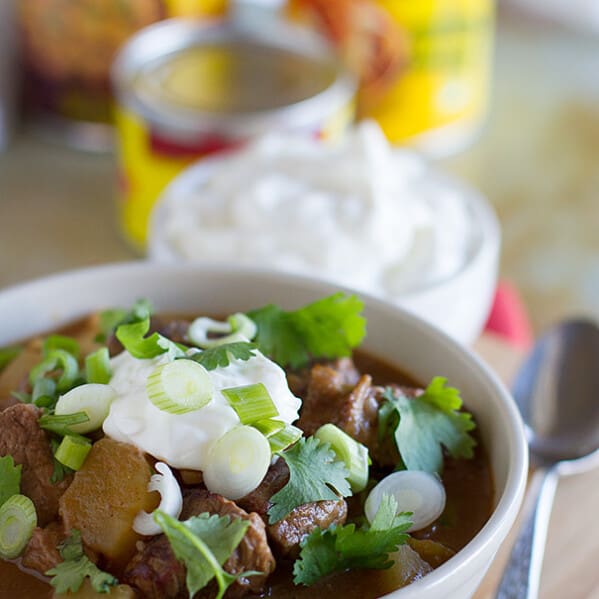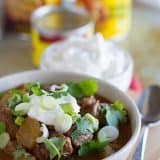 Slow Cooker Enchilada Beef Stew
---
Prep Time: 20 minutes
Cook Time: 6 hours
Total Time: 6 hours 30 minutes
Yield: 8 servings 1x
Description
Cool nights mean it's time for comfort food! This Enchilada Beef Stew is made in the slow cooker and has all the flavors of enchiladas in a comforting, hearty stew.
---
Scale
Ingredients
1 2 1/2-3 lb beef chuck roast
2 tablespoons vegetable oil
3 medium potatoes
1 can (16 oz) Old El Paso™ refried beans
1 can (14.5 oz) beef broth
1 can (10 oz) mild Old El Paso™ enchilada sauce
1 can (4.5 oz) Old El Paso™ Chopped Green Chiles
1 teaspoon ground cumin
salt and pepper
sour cream, for topping
chopped cilantro and green onions, for topping
---
Instructions
Cut the beef chuck roast into bite sized pieces.
Heat the vegetable oil in a heavy skillet over high heat. Working in 3-4 batches, add the beef and cook, just until browned. Remove to a bowl, then add the next batch. Continue until all of the beef has been browned, but not cooked through. Add the beef to a 6 quart slow cooker.
Peel the potatoes and cut into bite sized pieces. Add to the slow cooker with the beef.
Add the refried beans, beef broth, enchilada sauce, green chiles and cumin to the slow cooker. Stir to combine. Cook on low until the beef is cooked through and tender and the potatoes are soft, 6-8 hours. Season to taste with salt and pepper.
Serve the stew topped with sour cream, chopped cilantro and green onions.
I am in a working relationship with Old El Paso, and this post has been sponsored. I'm so glad to be able to work with companies and organizations that I truly believe in. Thank you for supporting them, too.